Posted by Dr. ARUDOU, Debito on June 28th, 2012
Books etc. by ARUDOU Debito (click on icon):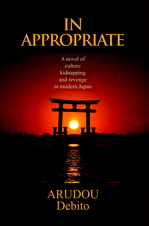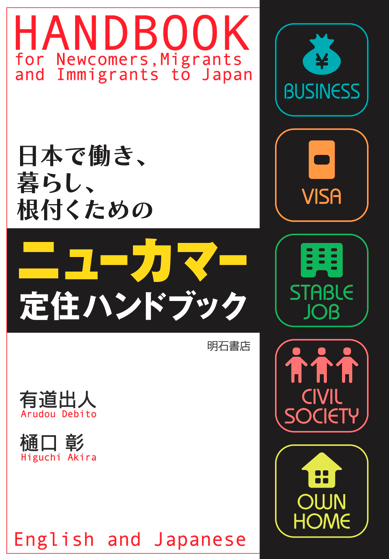 UPDATES ON TWITTER: arudoudebito
DEBITO.ORG PODCASTS on iTunes, subscribe free
Hi Blog. Following up on my blog post of June 10: "GOJ embryonic policymaking reboot for "co-existence with foreigners": Some good stuff, but once again, policy about NJ without any input from them", here is an evaluation of the GOJ's third meeting of June 15, 2012. It's taken a while to report on this since The Cabinet took their time putting the meeting's materials online, but here is the cover page for proceedings, courtesy of http://www.cas.go.jp/jp/seisaku/kyousei/dai3/sidai.html
(click to expand image)
Once again, let's walk through the materials provided. First up, the people (the yuushikisha "people of awareness" experts, presenting their views to the GOJ.  Here are the links:
As noted in my June 10 post, these are the backgrounds of the presenters:
Mr Suzuki Yasutomo is Mayor of Hamamatsu City, Shizuoka Prefecture (since so many NJ are clustered there working in factories; here's his "manifesto" linked, with emphases on NJ children's education, proper communication between Hamamatsu gaikokujin shimin (thank you) and the regular sort, and facilities).  Ms Nakayama Hiroko is the Kuchou of Tokyo Shinjuku-ku (where the famed "a lawless zone of foreign crime" Kabukicho is; however, here's her very well organized and readable "manifesto" for the next four years, which has decent mentions of, yes, "multicultural coexistence" and some proposals to back them up (see policies 51-53)).  Mr Tamura Taro is representative of the Multicultural Center Osaka (which works a lot with Nikkei Brazilian issues).  Ms Sakamoto Kumiko is head of NPO Aidensha (which works with Portuguese speakers etc. in Mie Prefecture explaining Japan's rules, helping them get homes and proper insurances, and assisting in translations etc.).  They all seem informed and on the level, albeit there is weighting towards dealing with Nikkeis rather than just NJs.  Now let's look at what they presented to the GOJ:
ITEM ONE:  Hamamatsu Mayor Suzuki's powerpoint:
Mayor Suzuki opens with an overview of the major changes in the makeup of NJ since 1990, with the doubling of the NJ population and then the drop after the "Lehman Shock" and Fukushima.  Particularly noted was the drop in their (local) Brazilian population (which makes the GOJ's focus on Nikkei NJ all that more puzzling, given the absence of the Chinese and Filipinas/nos, as the other top NJ (and growing, unlike the Brazilians) at this forum).  Suzuki makes the salient point that cities around Hamamatsu have been cooperating for more than a decade now to create policies helping their NJ residents (e.g., The Hamamatsu Sengen, up to now studiously ignored by the GOJ).  He gives the demographics of his NJ, particularly how long they've been here (nearly half for more than 15 years [!]), and that nearly half of them have Permanent Residency (and 83% have long-term visas).  He talks inter alia about Hamamatsu's measures taken (e.g., Japanese language teaching, in which 89% of teachers are "volunteers" not assisted by the GOJ), and laments that there is no compulsory education for NJ children guaranteed by law [!!].  He also talks about the "lack" (ketsujo, the same word used when decrying a lack of common sense) of unified policy or promotion on the part of the GOJ (particularly singling out the Cabinet for treating NJ as "a laborer problem" and over-focusing on Nikkei [!!!] concerns), and an overall "lack of aim to accept NJ" (gaikokujin no uke ire houshin no ketsujo).  He proposes a) that a joint integrated social policy be created and promoted at the national level; b) that teijuu (Long-Term Residency, a quasi-PR visa hitherto reserved for the Nikkei Brazilians and Peruvians) policies be expanded to all NJ; c) that a "NJ Bureau" (kyoku) be created in the short term, a "NJ Agency" (gaikokujin chou) be created in the medium term; d) that this "coexistence" series of meetings be made continuous; e) that a research council be established with more yuushikisha and people who have experience in education (gakushoku keikensha), and f) that a non-partisan politician group be created within the Diet to debate more on how to accept (uke ire) NJ. [!!!!]
(COMMENT:  Wow.  Let me just interject bowdlerized Hendrix here:  "Excuse me, while I kiss this guy!")
ITEM TWO:  Shinjuku-ku Head Nakayama's powerpoint:
Ms. Nakayama opens with a view "from the field" (genba de) of how NJ live their lives (I guess that's somehow better than having NJ actually there at the meeting).  Her 14-page but very readable powerpoint goes through the statistics of the NJ under her mandate:  11% of all residents (appropriately now worded as juumin) are NJ, with the top three quarters  (37% each) Koreans and Chinese; fewer PRs than the national average (far more people, particularly close to half of all the Chinese, are there on "student" visas (ryuugaku; shuugaku) due to the local J language schools and Waseda), along with a jump (more than doubling) in the number of PRs; a quarter of all NJs live in the (traditionally Korean district) of Ohkubo, and a fifth are young, in their twenties.  Interesting stats, but….  Just when you think this presentation will end as a show-and-tell, we get a few slides on Shinjuku-ku's attempts at multicultural coexistence policies:  Japanese language training (taught again by volunteers) at their Tabunka Kyousei Plaza, with a paid course (1500-4000 yen per semester) once or twice a week in ten locations, and a multilingual "consultation corner" in English, Korean, Chinese, Burmese, and Thai.  There is some Japanese language teaching for Grade and Jr. High schoolers both at the Ku-level and at some Ku-ritsu schools.  There some "guidelines" handbooks for life and disaster prevention in Korean, Chinese, English, and Japanese, and finally rah-rah the end of the presentation, where she says that we at the local level are doing lotsa stuff to help people, but there's a limit to what they can do:  We have to come up with a unified philosophy (ri'nen) for how we're going to systematize social welfare, employment, education, children's upbringing, and lifestyles for NJ, etc., etc.  There were no grounded proposals beyond that, making Ms Nakayama's presentation a definite anticlimax to Mayor Suzuki's suggestions.  In the end, this felt like a bureaucratic presentation justifying budgets.
ITEM THREE:  Multicultural Center Osaka Head Tamura's powerpoint:
Tamura also opens with the "genba de" view (sorry, must just be the title they were given by the bureaucrats, but Suzuki above shirked it), first introducing his NPO and what it does (promoting daibaashiti; okay, that sounds better to me than the hackneyed and misunderstandable "coexistence") though its five centers nationwide.  Tamura was deeply involved in the volunteer efforts for relief and recovery in Tohoku area over the past year.  Comes off as a good egg.  Then he gets to his points about NJ residents:  He pointed out three "weak spots" (3 tsu no zeijaku sei) in how NJ live their lives as J residents:  1) a language and customs barrier (i.e., lack of instruction and access to policy), 2) legal recourse (little to no translation systems or personnel, or guaranteed access to education or boards of education), and 3) misunderstandings and prejudices on the part of Japanese society (e.g., "Hey, they came here of their own accord so they can fend for themselves", or "the increase in NJ threatens our public safety").  This results in their being excluded from education, employment, accommodation, and welfare.  NJ should not be seen as "weak" in themselves, but rather as in a weakened position in society.  He advocates inter alia that 1) NJ be seen by society not as "temporary stayers" but as "permanent citizens" (eijuu suru shimin — with an effective chart comparing the rise of PR Newcomers over the PR Oldcomers on page 4); 2) gentle and sophisticated (teinei) policies for coexistence be created reflecting the diversity in NJ based upon their specific areas of residence (with four sophisticated models proposed for a) major cities, b) places with high NJ populations, c) suburbs, and d) provinces, quite specific in detail; page 5); 3) four groupings for dealing with the major parties to this issue — the local governments, the national government, the local Japanese residents and industry, and — yes — the NJ communities (finally, an acknowledgment of a sense of domestic ethnic community without it being construed as a threat to Japan); again, quite detailed on page 6); 4) consider the future Japan with one million NJ PRs (nearly at that point already), and what should be done about it — inter alia:  a) consultations with NPOs and local governments, b) not seeing problems as specifically "foreign problems", c) public acknowledging the good that NJ do for Japanese society, d) social workers that include NJ residents, and e) laws to back up any policies.  [!!!!!]  Very, very good stuff indeed!
ITEM FOUR:  NPO Aidensha Head Sakamoto's powerpoint:
Sakamoto gave a very thick and academic series of essays that probably put the bureaucrats to sleep, opening with an organizational chart of how NPOs and NGOs relate to society at large in their activities.  She gave an over-detailed laundry list of the activities her NGO has carried out (including how find free computer courses and how to register e-messages; filter, Ms. Sakamoto!).  Amidst some very meaningful jobs Aidensha does (e.g., assisting people out of DV situations, finding housing, assisting with visa and social insurance issues, etc.) was the overwhelming chaff of giving case studies and telling stories about their hard work, when all the audience merely wanted was conclusions and advice.  Her points, when filtered of chaff, useless stats, and photographs were inter a lot of alia, 1) helping non-native speakers of Japanese get around and fend for themselves, 2) educating NJ children, 3) resolving employment and unemployment problems, 4) finding stable lives and residences, and, er… f) we should be nice and respectful to one another.  When we get into what I call "Kumbaya Territory", you lose the bureaucrats.  I hope somebody patted her on the back for all her hard work, since that's what it seemed like she wanted.
The other five items at the links above were recap:  Items 1) and 2) were the Minutes and Attendees from the previous meetings (which I covered in my blog entry here), 3) was the schedule of meetings previous and future (the next one will be July 3, with more yuushikisha, and the fifth one will be at a later date and feature interim thoughts on what concrete policies to pursue).  Item 4 tells us who are the scheduled yuushikisha for the July 3 meeting (including — gasp! — an actual NJ, or rather, former NJ, naturalized former Brazilian Angelo Ishi of Musashi University, along with three other regular Japanese academics from Tsukuba, Keio, and Dokkyou Universities).  The final Item 5 was a summary of the points under consideration so far regarding realizing a "Coexistence Society with Foreigners" all over again.  The problems listed therein were also recaps of ones covered in my previous blog entry.
COMMENT:  Alright, this is a positive series of developments, with inputs much better than the first two meetings (it's a pity the short-sighted bureaucrats almost always get first dibs on agenda setting, with the people who might offer different opinions, such as Angelo Ishi, thrown in later down the line as an afterthought.  Nevertheless, it's a good Third Act in this political theatre, where people who contributed to the June 15 Meeting have made their points, two of them saying things I would have said (down to the semantics).  Good.  Still, however, no mention of that law against racial discrimination…
More on the July 3 Meeting when it goes online no doubt in a few weeks.  Thanks for reading.  Arudou Debito