Posted by Dr. ARUDOU, Debito on December 7th, 2012
Books etc. by ARUDOU Debito (click on icon):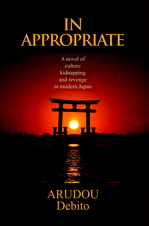 UPDATES ON TWITTER: arudoudebito
DEBITO.ORG PODCASTS on iTunes, subscribe free
Hi Blog.  As a follow-up to the Debito.org post a few weeks ago on putting trackable chips on all non-citizens, we have the same kind of push happening for Japan's citizens (as per this old article that got buried in my draft blog posts, sorry) for very different express reasons (except for the oft-claimed "convenience" of those being identified, with the unescapable whiff of policing).  That said, note how whenever there is an issue involving the infringement of civil/human rights for "citizens", there is also an ameliorating push to protect those rights with legislation (see second article below).  For "foreigners", however, all civil, political, and human rights are essentially left to the mandate of the policing Ministry of Justice, which frequently makes a hash of things.  But all this public concern over, say, privacy rights (whereas foreigners in Japan have had no guaranteed right to privacy in the Postwar Era, since the creation of the Foreign Registry Law)…  Again, it's one differentiation within Japan's discourse that alienates Newcomers and Oldcomers, and sets the stage for making disenfranchised exceptions for people who don't appear to be "Japanese".  Have a think about this dichotomy, and how the GOJ a) normalizes discrimination, while b) ironically tries to foist the same style of rights abrogations on the general public that have been long-tested upon the "gaijin guinea pigs".  Arudou Debito
///////////////////////////////////////////////////////
2012 February 15 – 21 [POLITICS]
Cabinet pushes citizen ID law
Japan Press February 15, 2012, courtesy of MMT
http://www.japan-press.co.jp/modules/news/index.php?id=2728
The Noda Cabinet approved bills at its meeting on February 14 that will assign an identification number to every citizen and every company, without regard to concerns over privacy abuse or to apprehensions about the possibility of having to pay more in taxes in order to receive better welfare services.
The identification system will collate personal information currently administrated under different programs such as for pension, healthcare, and taxation. The government states that it wants to implement a national ID system in January 2015.
There is now growing concern that such a national identity system could lead to invasion of privacy issues and may also be used to restrict government social security payments.
The government claims that a national ID system will provide easier access to social welfare programs for low-income families.
If that is the aim, it can use other means to provide benefits. What is the government's true motive?
Akahata reports that the true intention is the promotion of the idea that "social welfare is a benefit one pays for," which contradicts the established idea of social welfare as a basic human right. The government, in essence, aims to cut back on its payments for social welfare benefits and increase social welfare premiums on the general public.
Democratic Party of Japan member of the Lower House Tamura Kenji during a Cabinet workgroup meeting candidly stated that the introduction of a national ID system is aimed at strengthening tax collection.
The DPJ has since 2009 called for a national ID system as "essential" to "avoid paying unneeded or excessive social security benefits."
Japanese business leaders have also pushed for a national ID system. Chairman of the Japan Business Federation (Nippon Keidanren) Yonekura Hiromasa said point-blank, "That's for the purpose of cutting social security expenditures."
An opinion poll conducted in November last year by the Cabinet Office shows that more than 80% of respondents "do not know" about the proposal to introduce a national ID system. The government should not be allowed to proceed with the plan to introduce such a system while keeping it secret from the general public.
///////////////////////////////////////////////////////
The "Jinken Kyuusai Houan" wends its way through political channels
民主部門会議、人権救済法案を了承 反対派の意見押し切り
産經新聞 2012.8.29 11:24 [民主党]
http://sankei.jp.msn.com/politics/news/120829/stt12082911250005-n1.htm
民主党は29日、法務部門会議(座長・小川敏夫前法相)を開き、人権侵害救済機関「人権委員会」を法務省の外局に新設する人権救済機関設置法案(人権救済法案)を了承した。今後、党政策調査会で了承され、今国会中にも閣議決定される見通しだが、与野党の多数派が衆参両院で異なる「ねじれ国会」のため成立する可能性は極めて低い。
同法案をめぐっては「人権侵害の拡大解釈で憲法21条の表現の自由が侵される恐れがある」といった反対論が党内でも根強く、今国会での閣議決定は見送られてきた。だが、野田佳彦首相は8月23日の衆院予算委員会で今国会での法案提出に向け「必要な作業を進めていきたい」と答弁し、立法化を促していた。
この日の会議で、小川座長らは「党内での議論をもっと丁寧にやるべきだ」といった、立法化に慎重な議員らの反対意見を一方的に押し切り、了承した。小川座長は会議後、記者団に「これ以上議論してもいずれ党内がまとまる雰囲気ではなく、このタイミングで結論を出した」と述べた。
///////////////////////////////////////////////////////
 ENDS