Posted by Dr. ARUDOU, Debito on October 10th, 2012
Books etc. by ARUDOU Debito (click on icon):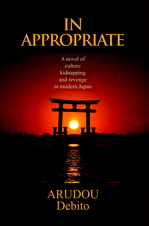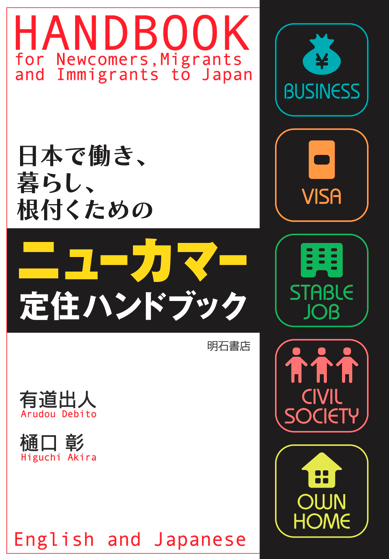 UPDATES ON TWITTER: arudoudebito
DEBITO.ORG PODCASTS on iTunes, subscribe free
Hi Blog. Before I wrote my monthly Japan Times column on the Senkakus/Takeshima Disputes published on Oct 2 (see it here), I wrote a completely different column that approached the issue from the back door:  How Japan's enormous focus on "genuine" and "legitimate" leads  to diversity getting subsumed.  And when it leads to diversity in opinion being subsumed, you get a society that is particularly susceptible to top-down control of not only the dominant social discourse, but also the very perception of reality within a society. And that leads us to crazy ideas such as a few far offshore rocks being worth all this fuss.
Heavy stuff. Unfortunately, the people who approve columns at The Japan Times didn't "get" it, even after two major rewrites and sixteen drafts. (Actually, in all fairness it wasn't only them — two other friends of mine didn't "get" it either. But two of my friends in academia did. And we suspect that it was just too "Ivory Tower" for a journalistic audience.) So eight hours before deadline, I rewrote the damn thing entirely, and what you saw published is the result.
But The Japan Times suggested that I blog it and see what others think. So here it is: The column on the Senkakus/Takeshima Disputes that I wanted to run. I think there are plenty of ideas in there that are still worth salvaging. But let me ask you, Debito.org Readers: Do you "get" it? Arudou Debito
/////////////////////////////////////
ON SANCTIONED REALITY, MAJORITARIANISM AND JAPAN'S DEMOCRACY
By ARUDOU, Debito
JUST BE CAUSE Column 56 for the Japan Times Community Page
To be published October 2, 2012
DRAFT SIXTEEN – version submitted for edits and rejected for publication
I recently attended an interesting talk. It discussed Japan's cultural conceit with the "real," "genuine," and "legitimate" as governed by the kanji "hon." For example, genuine articles are "honmono," the home of a famous product "honke", one's genuine feelings, intentions and character include "honki", "honne," "honshō" and "hongoshi," you get the idea.
That made me think: What makes something legitimately "genuine" or "real" in Japan? Public acknowledgment of authenticity, of course. Certification could be an official government document, strong media attention, or even positive word of mouth.
For example, an artist or writer instantly becomes worthy of attention and accolade after becoming a "Living National Treasure" or an Akutagawa Prize winner. (Remember, this is how future Tokyo Governor Ishihara got his start.)
Of course, by definition one needs public support to become popular, and popularity begets more recognition as celebrity.
But Japan takes the "popularity = recognition" concept one step further, to "popularity = more trustworthy." Unrecognized things tend to be seen as less legitimate in terms of quality or as a source of information.
For example, a restaurant without a write-up in the local tour guidebook can't be any good. If something's apparently unpopular, there must be something wrong with it. This is why tourist traps overseas pay big bucks to be featured in the Japanese "Hato Bus" media circuit.
So what is this column's epiphany? If popularity means something is more "real" and "legitimate," sole individuals and their opinions will have less influence over reality. This has a profound effect on Japan's democracy. Seriously.
Start with an everyday interaction: Remember when you asked a group their opinion (particularly in classrooms). What's the first thing most respondents do? Turn to their neighbors for affirmation.
Few are brave enough to immediately offer their "own opinion" because it might "not be commonly acceptable" (tsūyō shinai). There has to be a "consensus" before anyone declares anything definitive.
One exception, of course, is an opinion about Japanese behavior or culture. Ever notice how answers like, "because we're an island nation" or "we have a long history of being a closed society" are immediate and standardized? Because they are the "consensus responses" – commonly-held, thus legitimate. This is one reason why Japanese society is so susceptible to talking in stereotypes.
Point is, people here have to "read the air" (kūki o yomu) first to determine reality, which takes time, energy, and guesswork to concoct. Moreover, people who buck the trend with an unpopular opinion merely look like troublemakers. This tedious dynamic forces people to default into silence.
The exception to the silent default is when someone has enough power in the group to be a sempai. Or a bully. Both will if necessary browbeat people into their mode of thinking.
Thus, reality depends on the dominant group hierarchy maintaining the dominant discourse.
One problem with a "certified reality for mass consumption" is that minority views are unacceptable. By definition, if a majority does not support a minority view, then tsūyō shinai. After all, if enough people don't say or do it, it's not "The Real Japan." This majoritarianism acts as a natural brake on Japan's diversity.
But the bigger problem is the brake on dissent.
If people are more likely to "take seriously" a fact or opinion (and, due to a lack of training in critical thinking, people often have trouble telling the difference) just because they saw that fact or opinion on TV or in a newspaper, then people who control media outlets can create "consensus" by "changing the air."
This means that Japanese society, whose most trusted and ubiquitous media outlet is government-run, becomes more easily manipulated by officialdom.
Of course, the media manufactures public consensus in all societies. But in Japan's case, a hierarchical social dynamic enforced at all levels of society makes people particularly susceptible to top-down decision making.
This can be taken too far. We've witnessed a decade of "rampant foreign crime" grounded in police media campaigns instead of careful statistical analysis (Zeit Gist Oct. 7, 2003).
But now consider the current claims that a few faraway "islands" are sufficient reason to hate the local ethnic shopkeeper. Volume has shouted down reason.
Now add one more thing to the mix: "koe." In Japan, disembodied voices are often taken as legitimately as official voices. That's how Japan's media justifies rumor through anonymous sources, and how officials justify public policy by saying "koe ga atta" (there has been talk of…). This is further amplified by Japan's anonymous Internet culture, a bullying and outrage industry in its own right (JBC Feb. 3, 2009).
Eventually any bubble of commonly-held lies and distortions will pop. But when it pops in Japan, there is little denouement. Rarely are the brave individuals who initially offered dissent commended. Most dissenters realize it's too mendōkusai (bothersome) to pipe up and so in future just pipe down.
In sum, this social dynamic helps the ruling elite keep control of the status quo. And it's one reason why conservatives have spent their lives dismantling liberalized education (yutori kyōiku) – for heaven forbid that Leftist teachers ever indulge in critical thinking or encourage students to question authority!
There are consequences: Every now and then Japan's debate arenas fall into an echo-chamber "reality trap," where circular logic based on bad social science becomes mutually-reinforcing. We've seen the logical excesses in public outrages about, say, human rights, gender equality, foreign suffrage, and now Japanese territorial integrity with the Senkakus and Takeshima.
Once mired in this "reality trap," the most effective way to adjust the prevailing "reality" (aside from total defeat in a war) is by appealing to Japan's legitimacy overseas.
Since the Meiji Era, Japan has always wanted be taken seriously by the club of powerful countries. Due to the enormous cultural value placed upon hierarchy, Japan has aspired to join the club in a superior, respected position.
Yet most people know Japan as the "fragile superpower," and Japan's ruling elites know well that there is much to lose by creating trouble: Not only in terms of hard-won (and paid for) international esteem, but also economic resources if bullies and zealots irritate the neighbors.
Bully celebrities and zealots have gained much ground these past decades, legitimizing jingoistic interpretations of history in mainstream media. But I think the browbeaten public is betting that reason will soon prevail amongst ruling elites.
Why? Because Japan never wants to be seen as the aggressor in any conflict, or the bad guy in any situation.
Consider the dominant discourse in postwar Japan: We didn't engage in military conquest during WWII – a rapacious military leadership inflicted great suffering on all Japanese. Then we were subjected to horrific atomic bombings. After that, we had decades of miraculous prosperity generated from our own hard work. But then things slowed down even though we did our best. It's not our fault: Even our current mess was caused by force majeure – our volcanic archipelago, against which we stoically persevere. We are all victims.
What about dissenting opinions to this discourse, including the public's complicity in rooting out prewar Leftists, the wartime responsibility of the Showa Emperor, the granting of favorable terms of trade for reconstruction, and generations of government-industrial corruption through unaccountable bureaucratic rule? All drowned out under Japan's majoritarianism, delegitimizing unpopular opinions in favor of perpetual victimhood.
But not this time. It's pretty difficult to justify Japan's victim status with the Senkakus and Takeshima. The rocks are just an official distraction from the irradiating food chain and accelerating economic tailspin.
Back to the concepts of "genuine" and "legitimate." What good is this "islands" dispute if the other rich countries, looking increasingly to China as Asia's leader, won't see Japan as a "genuine" victim with a "legitimate" grievance?
Sooner or later the ruling elites, perpetually looking over their shoulder at world opinion, will tell the jingoists to tone it down — for business' sake. It's the effect of gaiatsu, or outside pressure.
Gaiatsu is basically the only way that Japan, once it gets into these ideological bully-pulpit spirals, will be calmed down. Because Japan's general public, structurally defanged by a culture of being unable to say or think anything is "real" or "legitimate" without certified permission, cannot stop itself when domestic bullies get too powerful. It needs somebody else to put the jingoism genie back in the bottle.
Outside world, it's nigh time to do it again.
1396 WORDS
ends