Posted by Dr. ARUDOU, Debito on October 13th, 2012
Books etc. by ARUDOU Debito (click on icon):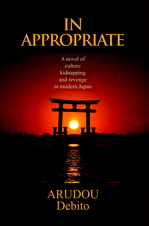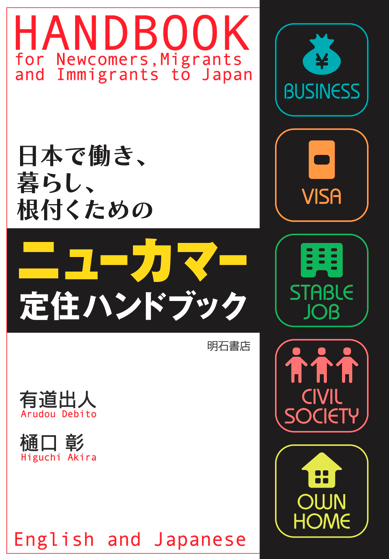 UPDATES ON TWITTER: arudoudebito
DEBITO.ORG PODCASTS on iTunes, subscribe free
Hi Blog. Something came up over the past month that deserves mention on Debito.org when it comes to putting all the "violent Chinese etc. protests against Japan" into some perspective. Something that was not given much audience in the Japanese media — far-rightists targeting domestic minorities in Japan due to the recent flap over some offshore rocks.
Yes, people say "both sides are guilty of saber rattling and banging nationalist drums."  But one thing I like to remind people is:  Who picked this most recent fight over the Senkakus? And who keeps perpetually stirring things up by having what I would consider a denialist view of history when it comes to being an aggressor and colonizer over the past hundred years? Sorry, but many of Japan's prominent leaders do. And they (deliberately, in this case) serve to stir up passions overseas. Then when people overseas protest this, who then suddenly claims that the foreigners are overreacting or Japanese are being targeted and victimized? Japan's leaders. And Japan's media, to rally the rest of the public.
However, Japan's victimization trope is being overplayed.  Japanese media, according to the Japan Times, is turning up the invective to compare Chinese protests to Kristallnacht. See here:
============================
The Japan Times, Sunday, Oct. 7, 2012
BIG IN JAPAN
Tabloids return fire, urge China business pullout
By MARK SCHREIBER
On Sept. 29, the 40th anniversary of the restoration of diplomatic relations between China and Japan, Sankei Shimbun editorial writer Ryutaro Kobayashi asked how it would be possible for Japan to continue discussions with a China that had "lost its national dignity."
Kobayashi was referring to the sometimes-destructive renhai (human wave) demonstrations in over 100 cities in China protesting Japan's nationalization of the disputed islands in the East China Sea, which resulted in billions of yen in damages to Japanese-owned businesses.
Scenes of angry mobs trashing stores and factories have led, not surprisingly, to viscerally emotional reactions in Japan's media. One common response has been a palpable sense of victimhood, of which perhaps the most extreme example appears in a 98-page "mook" (a short book in glossy A4 magazine format) from Shukan Asahi Geino devoted entirely to China, under the headline "Chugoku, fuyukai na shinjitsu" ("China: The unpleasant facts"). Superimposed over a photo of the ransacked branch of the Heiwado supermarket in Changsha, Hunan Province, is a caption that reads, "Sept. 16, 2012 will be inscribed in history as China's version of the Kristallnacht" (a reference to the notorious pogrom against Jews in Nazi Germany and Austria on Nov. 9, 1938).
Rest of the article at http://www.japantimes.co.jp/text/fd20121007bj.html
============================
Well, consider the following domestic actions by Japanese far-rightists against not just foreign business communities overseas, but actual NJ residents of Japan who have been living in Japan for generations (who, by all reasonable standards — including fighting and dying for the Japanese Empire — should be Japanese citizens by now). Are we seeing the same comparisons to Krystallnacht? And will we see those comparisons in the media once we get glass in the gutter and bloodied faces? If the standard for violence in Japan is also "verbal" (as in kotoba no bouryoku), then we're on our way.
Stop it, everyone, before you do something you might regret later. (Then again, perhaps not, if Japan's revisionist attitudes towards history continue to hold sway.) Arudou Debito
////////////////////////////////
Nationalists converge on Shin-Okubo's Koreatown
JapanToday.com KUCHIKOMI SEP. 18, 2012
http://www.japantoday.com/category/kuchikomi/view/nasty-nationalists-converge-on-shin-okubos-koreatown
Sandwiched between two major streets running parallel, the "Shin-Okubo Koreatown" in Tokyo's Shinjuku district is home to dozens of Korean-style restaurants and retail shops proffering goods that range from Korean cosmetics to items appealing to fans of "Hanryu" dramas.
Shukan Kinyobi (Sept 14) reports that on Aug 25, a large demonstration of rightists—who are upset over South Korea's territorial claims to Takeshima island (referred to as Dokdo in Korean)—marched through the neighborhood. The demonstration, whose organizers had tabbed "The Citizens' Great March to Subjugate South Korea," consisted of an estimated 500 demonstrators, many of who waved the militaristic "kyokujitsuki" (rising-sun flag), and who chanted such slogans as "Kankokujin wa kaere" (South Koreans go home) and "Chosenjin wa dete yuke!" (Koreans get out).
Things got even nastier after the march ended, when the marchers broke off into smaller groups of around 10 and moved from the main drag to the neighborhood's many small lanes, where they confronted shopkeepers with even more hostile remarks, such as "Chon-ko wa karere" (Go home, you Korean bastard") or "We'll kill you." They also intimidated compatriots they encountered with veiled warnings like "If you're a Japanese, then don't come to this area."
"It's very aggravating," a worker of a street stall selling confections is quoted as saying. "Some young visitors from South Korea got harangued by the protesters. Since that day, the number our customers has tapered off."
"It appears that the Zaitokukai (short for Zainichi Tokken wo Yurusanai Shimin no Kai or group opposed to special rights for Koreans in Japan) thinks it can build momentum for its movement by harping on the Takeshima and Senkaku issues," says journalist Koichi Yasuda, who authored a book titled "Pursuing the 'darkness' of Internet patriots, the Zaitokukai" (Kodansha), about the noisy group that has been boosting its membership through skillful use of the Internet.
"While I don't see any signs yet that they are increasing their influence, they still bear watching," Yasuda adds. "As far as they are concerned, discriminating against the 'zainichi' (Koreans in Japan) is everything, and they aren't terribly concerned about what will become of the disputed territories in the future. But they can use the timing of the dispute as a pretext for pushing their own agenda."
Some rightists also provoked clashes in the Chinese enclave adjacent to the north exit of JR Ikebukuro station, resulting in police being summoned.
When such run-ins occur, however, Shukan Kinyobi notes that it has been rare for Japan's mainstream media to devote much coverage. And even those who are confronted by the rightists tend to refrain from seeking sympathy from society, perhaps out of fears that any negative publicity will drive away their customers.
When the Shin-Okubo Merchants' Association was approached by Shukan Kinyobi for a comment, it declined on the grounds that "We haven't grasped the details." The Shinjuku branch of the Zainichi Korean Association replied, "There's nothing to discuss." The Chinese in Ikebukuro were also reluctant to speak to reporters.
A staff member at one Korean firm in Shin-Okubo confided to the magazine, "The South Korean embassy here sent out a warning advisory to Korean businesses and groups to the effect that from Aug 25, we should not approach demonstrators or make inflammatory remarks. 'Refrain from any activities that would put your safety at risk,' it advised.
"If trouble were to break out, nothing good would come from it, as far as we're concerned," he added.
As long as this country has no statute against hate crimes, Shukan Kinyobi opines, this kind of ethnic and racial discrimination will remain out of control. Sixty-seven years since the end of the Pacific War, the issue of "territorial disputes" is being used as a new pretext to abet what are long-term trends.
ENDS