Posted by Dr. ARUDOU, Debito on October 16th, 2012
Books etc. by ARUDOU Debito (click on icon):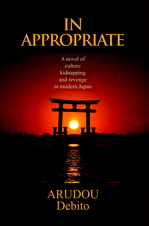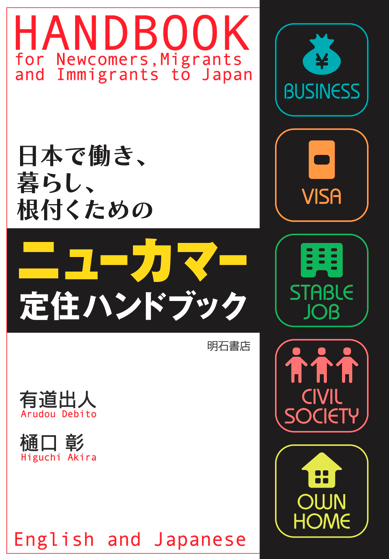 UPDATES ON TWITTER: arudoudebito
DEBITO.ORG PODCASTS on iTunes, subscribe free
Hi Blog. Debito.org Reader CJ submits the following ZakSPA! page talking about Japan's genetic internationalization in tabloid style: How "funny" it is to be a "half."
http://www.zakzak.co.jp/zakspa/news/20121009/zsp1210091400003-n1.htm
Reading through the articles (enclosed below), I'm of two minds about this. On one hand, it's good to have the media acknowledging that there are Japanese kids of diverse roots and experiences out there, with some tone of saying how silly it all is that so many people get treated in stereotypical ways (with a "roundtable of halfs" at the end giving their own views on the situation). On the other hand, the level of discourse gets pretty low ("some foreigner talked to me in Narita Airport in English and it was so frightening I felt like crying"), and an opportunity to actually address a serious issue of how Japan has changed is wasted on parts laughing, parts crybabying, parts confirmation that treating people as "different" because they look "different" is a natural, if not inevitable, part of life in Japan. I'll let Debito.org Readers read for themselves and decide whether this important topic is being broached properly.
Definitely not cool, however, is the topic page with the prototypical illustration of a "half":
We have not only some phenotypical "othering" going on here, but also the trope of "being foreign means you can't use chopsticks". One would think that most multiethnic Japanese (not to mention anyone regardless of nationality — it's a skill) would have few problems with that. But it's supposed to be funny, in a "microaggressive" sort of way. Har har. Arudou Debito
///////////////////////////////////
"一般人ハーフ"のトホホな体験談を紹介!外見、言葉、文化…
★[一般人ハーフ]のトホホな日常 ZAK X SPA! 2012.10.09
外見でトホホ編
バラエティ番組を中心に、今、ハーフタレントが大人気!しかし一般人ハーフは、いいことばかりじゃないようで、日本人離れした外見がトホホな事態を招くことも。
「高校に進学するときに引っ越しをして、誰も知ってる人がいない学校に。そしたら『あいつ何者?』って感じで、最初の1週間は周りからものすごく注目されました」(オランダとのハーフ男性)
初日の休み時間には、彼を一目見ようと学年中が押しかけ、廊下が黒山の人だかりになったとか。
「話しかけてくるわけでもなく、ワイワイ言いながら遠巻きに見てるだけで……。動物園のパンダになったような気分でした」って、どんなド田舎の学校だよ!?
「ハーフって○○だよね」という思い込みで、ミョーなことを言われちゃうこともある。
「『ハーフなのに背が低いよね』ってよく言われます。ベッキーだって158cmで、 私と一緒。背の低い白人ハーフもいることを知ってほしい(笑)」(ロシアとのハーフ女性)
逆に、「ハーフ」と聞いて視界にフィルターがかかってしまった例も。
「『やっぱり外国の人だからまつ毛が長いですね』『顔が小さいですね』と言われる。ホメようとしているんでしょうけど、現実と全然違う。だって、普通の日本人(父母ともに日本人=以下同)の平均と変わらないですから」と苦笑するのはスリランカとのハーフ女性。
「学生の頃はよく『金髪紹介しろよ』『妹いないの?』『姉さんいないの?』とか言われました(笑)」(ハンガリーとのハーフ男性)って、妹や姉がいたら何する気だ!?さらに「お母さんはキレイか?」とも聞かれたそうだが、いったい何を期待してるのやら。 ハーフにエロな妄想を抱く日本人は男女を問わないようで、「ガイジン顔(白人系)だからか、『エッチ好きなんでしょ』と言う人も。ルーマニアハーフの友達は『このおしり、本物?』と女性に触られたとか」(ドイツとのハーフ女性)とは、同性でもセクハラの域。
「新宿の風俗で"ウマ並み"と思われて断られた。腹が立つより切なかった」(イタリアとのハーフ男性)ってのは、ある意味うらやま……いや、お気の毒さまでした。
///////////////////////////////////
■言葉でトホホ編
ハーフの皆さんが日本人に必ず一度は言われるというセリフ。それは「○○語で何か話して!」だ。
「腹が立つとまではいかないけど、ロシア語を話せるとわかったら、『何かしゃべってみて』と言われるのが困る。何かってナニ?」(ロシアとのハーフ女性)
聞いたところで、さっぱりわかりゃしないだろうにねえ。
仕方なく何か適当にしゃべったとしても、「ハンガリー語は(日本人には)ピンとこない言語なので、しゃべると必ずビミョーな空気になる」(ハンガリーとのハーフ男性)というのも切ない。
別の意味でタチの悪いのが、「語学を少々たしなんでいます(キリッ」という日本人だとか。
「社内で英語がペラペラとされている人が、自分との関わりを避けようとするので笑ってしまった」(イタリアとのハーフ女性)という程度ならカワイイもの。
「フランス語が少しできる日本人女性には、必死にフランス語を使おうとする人が多いですね。気がつけば私は日本語で話し、相手は限られたフランス語で返している状態に。お互いの会話のリズムが悪くなるし、正直、迷惑です」(フランスとのハーフ女性)
気分だけはパリジェンヌのつもりなのかもね……。
普通に日本語で話しただけで驚かれたり「お上手ですねー」とホメられたりするのは日常茶飯事。そこで「『やぶさかでない』とか、『さもありなん』みたいな言葉を使うと、驚き度が3段階ぐらいアップする」(アメリカとのハーフ男性)ってのも何だかなー。
///////////////////////////
■言葉でトホホ編
ガイジン顔を見るや否や、「日本語が話せない」と勝手に思い、妙な対応をする日本人も多い。
「日本で、初対面の人に『○○でーす!』と日本語であいさつしているのに、私と一緒に来た日本人に『このコ、どこのコ?』と聞かれること多数。日本語で話しかけてるんだから、私に聞いてー」(ドイツとのハーフ女性)
耳で聞いた「日本語のあいさつ」より、目の前の「ガイジン顔」のほうが脳内で勝っちゃったのね。
「夜に車を運転中、ナンバープレートを照らすランプが切れていたらしく、パトカーに『止まりなさい』と言われたのですが、警官は自分の顔を見るや『日本語わかりますか?』。日本語がわかるから停車したんですけどね」(オランダとのハーフ男性)とはごもっとも。
「駅員に日本語で発車ホームを尋ねたら変な英語で返され、何言ってるかわからなくて電車に乗り遅れたことがあります」(スイスとのハーフ女性)となると大迷惑だ。
英語で話しかけるならまだしも、インチキ外国人化する人もいる。
「『ニホンゴ、ワカリマスカ?』『コレ、ヨメマスカ?』と、カタコトで話しかけられることが。『はいはい、わかりますよ!』と大声で答えてます」(カナダとのハーフ女性)、「日本語で話しているのに、やたらカタカナ語や外来語を使ってくる」(アメリカとのハーフ女性)って、お前はルー大柴か!
「図書館で本を読んでいたら、中年男性がそーっと近寄ってきて、『日本語読めるんですか?』と聞かれました。日本語を読めない人が、本を開いて見つめて何をするというのでしょう?」(フランスとのハーフ女性)
実は、ナンパだったのかも!?
■トイレで外国人に英語で話しかけられてビビった!
日本生まれの日本育ちだったり、非英語圏と日本のハーフだったりで「英語が話せない」というハーフは少なくない。それゆえトホホな思いをすることも。たとえば、トルコとのハーフ男性の場合、「日本の私立中高一貫校に入ったら、みんな私よりも英語ができて、中1の頃はバカにされました」。
日本人だけでなく、外国人にも英語が話せると見られてしまう。
「子供のとき成田空港のトイレで、隣に来た外国人からいきなり英語で話しかけられた。どう返していいかわからず、"最中"なので逃げられず、怖くて泣きたくなりました」(オランダとのハーフ男性)
「困るのは英語で道を尋ねられたとき。わかる英語だけ言って、あとは日本語で対応。悲しいのは、クラブで英語で声かけられて日本語で答えるとガッカリされること。『ヤダー、ニセモノじゃん!』って」(アメリカとのハーフ男性)
でも、最近は慣れて「そういう反応を楽しんでる」のだそうだ。
/////////////////////////
■文化でトホホ編
「日本と○○のハーフです」と言うと、その国の文化や国民性に関するステレオタイプなイメージを押しつけられるのもハーフの悩み。
「『ドイツと言えばビール!サッカー!お城!ロマンティック街道!』と言われますね。あと、『シャウエッセン』(笑)。それは日本で売ってるソーセージでしょ。ドイツとはまったく関係ないよ……」(ドイツとのハーフ女性)
まあ、日本人がフジヤマ、ゲイシャ、テンプラとか言われるようなもんか。ただ、当たってる場合もあって、「『父親がロシア人』と答えると『お父さんは大酒飲み?』と聞かれる。でも、本当に大酒飲みなので『ウイスキーならオンザロックで7杯くらい』と正直に答える」と苦笑するのはロシアとのハーフ女性。とはいえ、「『バナナで釘が打てるのか』『プーチンは好きか』とかも聞かれるけど、そんなん知らんがな!」とのことだ。
相手に興味を持つのはいいけれど、「初対面で親しくもないのに、根掘り葉掘り"取り調べ"みたいに聞くのはやめてほしい」(カナダとのハーフ女性)と、うんざりしているハーフは多い。
「日本人であると説明しても同列に扱ってもらえず、失礼な質問攻めにあったり、執拗な外国人キャラづけによるからかいを受ける」(ハンガリーとのハーフ男性)なんて声も。ガイジン顔だからってハーフタレントと同じようにイジられたら、そりゃウザいよな。
その点、日本人にとって馴染みの薄い国の場合は、「お国はどちらと聞かれたら、『半分ポーランドです』と答える。オランダやポルトガルなどと違って、日本人にポーランドのイメージがない。だから、それ以上あまりツッコまれない。ある意味ラク」(ポーランドとのハーフ男性)だとか。たまに聞かれるのは「酒をたくさん飲むんだろ?」で、「これは本当(笑)。ドイツとロシアに挟まれた国だからねー。ポーランドではウオッカをショットグラスのストレートで飲む。最高でボトル2本空けたことがあります。日本人の友達はつぶれちゃいます(笑)」って、それは個人差あるのでは……?
///////////////////////////////////
■文化でトホホ編
ハーフの食生活にも、誤解と偏見がいっぱいだ。
「牛丼屋で黙って座っていたら、スプーンにフォークまで出してくれるが、黙ってお箸で食べる」(ハンガリーとのハーフ男性)
「コンビニのおにぎりを食べてると『似合わないね』『違和感ある』と言われ、パン類やピザなどを食べてると『似合うね』と言われる」(アメリカとのハーフ男性)
フランスとのハーフで現在は主婦の女性は「『家では何料理を作るの?』と食生活に変な興味を持たれることに辟易しています」と眉をひそめる。
「日本人が想像するようなフランス料理を家で作るわけがありません。普通に日本の家庭料理です、と答えると驚かれたり、フランスの食事が恋しくないのかと心配そうに聞かれるのにも、ややうんざり」
いまだ日本人の"おフランス"イメージは抜けず!?
「ハーフというだけで、その国を代表する人みたいな扱いをするのはやめて!」と訴えるのは、スイスとのハーフ女性。
「たとえばコーヒーに角砂糖を2個入れると、『スイス人はコーヒーにお砂糖を2個入れるんですね』と言われます。違います。私がそうしているだけです。2個の人、1個の人、ブラックで飲むスイス人もいます。個人差をまったく無視し、私のすべての行動をスイスと結びつけないでください……」
逆に「『我々日本人は~』と聞かされるのも疲れます。『私の母も日本人やけど全然ちゃうで!』と言いたくなる」と憤慨する。
「高齢の方には『先の大戦では日独伊三国同盟でしたね』と、やけに好意的な人がたまにいる」(ドイツとのハーフ女性)ってのも、喜んでいいのかどうなのか。
戦争がらみでは「『北方領土を返せ』と言われる。直接言われたり、知らない人からメッセが来たり」(ロシアとのハーフ女性)って、お門違いもいいところだ。
別の意味で非礼極まりないのが下ネタ関係。「ガイジン=エッチという先入観からか、妙に下ネタを振ってくる人、やめてほしい」(アメリカとのハーフ女性)、「『ロシアの女性ってエッチも情熱的なんだよね~』『ハーフとエッチしたことないからさせて~』とか言う男。バイカル湖に沈めたい」(ロシアとのハーフ女性)など怒りの声多数。
何を勘違いしてるのか知らんけど、そういう輩は味噌汁で顔洗って出直してこーい!
///////////////////////////////////////
■ハーフ座談会
サンドラ:まずは"ハーフあるある"から。「その顔で○○?」ってよく言われませんか?
荒川:「その顔でヒロシ?」とよく言われます(笑)。純日本人に見られたことは皆無。イギリス人の友達にも「ガイジン顔」「日本人には到底見えない」と言われたことがあります。
中澤:初対面ではなく、長い付き合いの友達でも、和食を食べていると「似合わないねー」と言われます(笑)。
一同:あるあるー!
中澤:おにぎりの中身は「梅干しじゃなく、せめてツナにしろ」とかね(笑)。
サンドラ:私たちガイジン顔の人に「おにぎりが似合わない」と言うのは、日本人に「ハンバーガーが似合わない」「ステーキ食べるな」って言っているようなもの(笑)。
林:マックで食べてると、「めっちゃ似合う」とか言われます。別に嫌な気分はしないけど。
サンドラ:知らない日本人から声かけられることも多いですよね。
小林:いきなり「英語しゃべって」と来ることも。さすがに小学生、大きくても中学生くらい。
荒川:小さい子が必ず「アメリカ人だ!」と言うのが不思議。「英語人だ!」って言われたことも(笑)。
齋藤:急いで駅の階段を駆け上がっていたら、知らない人が突然「グッドモーニング!」って。とっさに「おはようございます!」と返してしまいましたが、妙な感じでした(笑)。
中澤:話したがるおじさんとかいませんか?飲み屋でフッと目が合うと、急に英語で話しかけてきたりするような--。
林:俺はそういうの嫌。露骨に"嫌ですオーラ"出してます。
中澤:自分はわりと話します。頑張ってるんだな、と思って。でも、さっきまで俺、日本語で話してたんだけど……という(笑)。
サンドラ:顔見知り程度の人が、英語の練習したくて誘ってくることって、ありますよねー。
一同:あるあるー!!
齋藤:「私、英会話習いたいから、ランチでもどう?今から全部英語ね」って(苦笑)。
中澤:そういうときは、しゃべらないですね。母が英会話の先生をしているんですが、1時間何千円でやっているわけです。それと同じことをタダでやれって言われているようなものですから。
小林:英語関連で言うと、私が日本語話せるとわかっているのに、親戚がときどき会話に英単語を交ぜて話してきますね。「はい、これお茶、ティーね」とか……。
一同:(爆笑)
林:俺は日本生まれで英語は頑張って勉強して覚えたのに、テストでいい点数取っても「ハーフだからいいよな」って言われたことがあります。
小林:私も母がフランス人だから英語は関係ないんですけど、小中学校と、まあまあ勉強はできるほうだったんです。それで、英語も成績よかったんですが、周りはやっぱり「ラクしていい点数取れていいねえ」って感じで。
齋藤:私は中1まではよかったんですけど、中2のときに赤点取ってしまって(笑)。そこから頑張って勉強するようになりました。
サンドラ:ハーフと言うと「家では何語で話すの?」というのもよく聞かれる質問ですよね。
中澤:「父とは日本語、母とは英語」と言うと「じゃあ両親の間では?」って聞かれて「英語です」って。そういうのをいちいち答えなきゃいけないんですよね。
サンドラ:もっと進むと、「夢は何語で見てるんですか?」「寝言は何語ですか?」とか。
中澤:「痛いときは『アウチ!』って言うの?」とか(笑)。
サンドラ:あと「ミドルネームはないの?」というのも。
一同:それは必ず聞かれますね。
荒川:小さい頃はミドルネームがありましたが、自分はそれが嫌だった。病院などで名前を呼ばれると、みんなが一斉に注目する。親に懇願して、小学校に上がる前に今の名前に変えた。昔は今より金髪でほかの子と全然違うから、見た目もコンプレックスでした。
中澤:わかります!自分も小さい頃、髪が真っ茶で目立つから、それで先生に目をつけられたし。
■半分は日本なのに日本の部分はスルーされる
サンドラ:「どこの国?」と聞かれるのはいいけど、聞いてどうするのかなって気もする。「どっちがドイツ?」「父」と言うと、もう次は「お父さんとお母さん、どこで知り合ったの?」となる。
中澤:勝手に家系図を作られているみたい(笑)。
小林:どうして初対面の人に、そこまでファミリーストーリーを話さなきゃならないの?
齋藤:普通、親のなれそめなんか聞かないよね。で、ハーフと知ってから「俺、鹿児島と兵庫のハーフだから」とか言う人も。
一同:いるー!超あるある!
サンドラ:いろいろ聞かれながら、半分日本人なんだけどなあ、って思います。日本とドイツだと言っているのに、日本はスルーでドイツのことばかり。それが悔しい。
中澤:日本人が出身地の話で仲間意識を持つのはわかるけど、ハーフ相手だと仲間探しではなく違いを探してるって感じがする。
サンドラ:純日本人でもみんなが直毛の黒髪ではないのに、そこから外れると「違う人」。そう教育されてきたから、大人になっても「ハーフは違う人」と思うのかも。
小林:母の国のフランスだけでなく、「日本のどちら?」って、父の国のことも聞いてくれたらうれしい。同じ和歌山出身の人なら、すごく盛り上がれそう。でも、聞かれたことはありません(笑)。
中澤:日本の中に現にある多様性に目を向けてほしいですよね。
サンドラ:若いギャルたちは意外に「どこの国の人?」とか聞いてこない。もう少しで「いろんな日本人がいる」というのが"普通"になるかもしれませんね(笑)。
■司会 サンドラ・ヘフェリンさん ドイツ育ちの日独ハーフ。日本在住歴15年。著書『浪費が止まるドイツ節約生活の楽しみ』(光文社)、『ハーフが美人なんて妄想ですから!!』(中公新書ラクレ)ほか。HP「ハーフを考えよう」http://half-sandra.com/
ENDS