Posted by Dr. ARUDOU, Debito on November 20th, 2012
Books etc. by ARUDOU Debito (click on icon):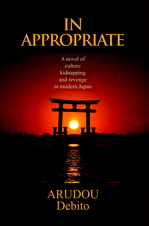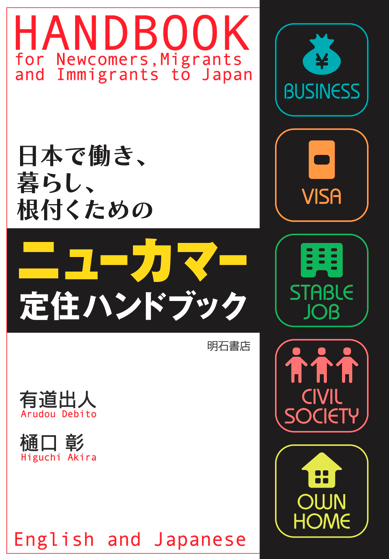 UPDATES ON TWITTER: arudoudebito
DEBITO.ORG PODCASTS on iTunes, subscribe free
Hi Blog.  I didn't know the New York Times was in the habit of writing eulogies before their subject dies.  But that's essentially what happened earlier this month with their write-up on Donald Keene.
Frequent readers of Debito.org will remember why I take such a dim view of Keene's ignominious actions at the twilight of an illustrious career.  I've devoted a Japan Times column to how a scholar of his standing used poor social science in his public statements alluding to the "Flyjin Myth" and the fiction of foreigners as criminals.  Despite this, Keene has still refused to acknowledge any of the good things that NJ residents have done (not only in terms of disaster relief "in solidarity" with "The Japanese", but also on a day-to-day basis as workers, taxpayers, and non-criminals).  Nor has Keene amended his public statements in any way to reflect a less self-serving doctrine — thus elevating himself while denigrating others in his social caste.  In essence, Keene has essentially "pulled up the ladder behind him", stopping others from enjoying the same trappings of what the NYT claims is "acceptance".  Thus, how NJ sempai in Japan (even after naturalization) eat their young to suit themselves is a fascinating dynamic that this article inadvertently charts.
This article represents a missed research opportunity for an otherwise incredibly thorough reporter (Martin has written peerless articles on Fukushima, and I simply adored his report on the Ogasawaras).  How about this for a research question:  Why else might The Don have naturalized?   I say it doesn't involve the self-hugging cloaked as some odd form of self-sacrifice.  How about investigating the fact that while gay marriage is not allowed in Japan, adoption (due to the vagaries of the Koseki Family Registry system) is a common way for same-sex partners to pass on their inheritance and legacies to their loved ones — by making them part of their family.  Naturalization makes it clear that there will be no extranationality conceits to interfere with the smooth transfer of claims.  This article could have been a fine peg to hang that research on.
Not to mention the fact that even seasoned journalists at the NYT can fall for The Fame:  Ever hear of the old adage that enables many a minority to receive the veneer of "acceptance" despite all the racialized reasons to deny it?  It's called:  "They'll claim us if we're famous."   Yes, so many lovely "thanks" from strangers in coffee shops; but as I've written before, The Don sadly won't be around for any denouement once The Fame inevitably fades.
(Then we get to a few semantic issues unduly unsophisticated for the NYT:  the old stereotypes within about Japan as "a racially homogeneous nation" — haven't we gotten beyond that yet?  Well, there is a sop thrown in to qualify the reconfirmed Flyjin Myth with "many foreign residents and even Japanese left the country."  Yes, EVEN Japanese left Japan.  Huh.  Of course, under normal circumstances, NJ would never stay and Japanese would never leave, even if the food chain is getting irradiated and the GOJ, as Martin has so assiduously reported in the past, has been unforthright about it.  But that's me putting on my semantic "microaggression" cap; excuse the digression…)
Anyway, if one gives the NYT the benefit of the doubt here, I think the tack of the article should have been, "A person has to jump through THIS many hoops in order to be considered 'one of them' [sic] in Japan?  Go through all of this, and you should be 'accepted' by the time you are, oh, say, ninety years old."  Instead, this development is portrayed as a mutual victory for The Don and Japan.
Why is this not problematized?  Because this article is a eulogy — it's only saying the good things about a person (not yet) departed, and about a society that will not realize that it needs New Japanese who are younger and able to do more than just feebly salve (instead of save) a "wounded nation".  That's the bigger metaphor, I think, The Don's naturalization represents to today's Japan.  Arudou Debito
////////////////////////////////////////////////////
New York Times, November 2, 2012
Lifelong Scholar of the Japanese Becomes One of Them
By MARTIN FACKLER, courtesy of AH
http://www.nytimes.com/2012/11/03/world/asia/with-citizenship-japan-embraces-columbia-scholar.html
TOKYO — WITH his small frame hunched by 90 years of life, and a self-deprecating manner that can make him seem emotionally sensitive to the point of fragility, Donald Keene would have appeared an unlikely figure to become a source of inspiration for a wounded nation.
Yet that is exactly how the New York native and retired professor of literature from Columbia University is now seen here in his adopted homeland of Japan. Last year, as many foreign residents and even Japanese left the country for fear of radiation from the Fukushima nuclear accident that followed a deadly earthquake and tsunami, Dr. Keene purposefully went the opposite direction. He announced that he would apply for Japanese citizenship to show his support.
The gesture won Dr. Keene, already a prominent figure in Japanese literary and intellectual circles, a status approaching that of folk hero, making him the subject of endless celebratory newspaper articles, television documentaries and even displays in museums.
It has been a surprising culmination of an already notable career that saw this quiet man with a bashful smile rise from a junior naval officer who interrogated Japanese prisoners during World War II to a founder of Japanese studies in the United States. That career has made him a rare foreigner, awarded by the emperor one of Japan's highest honors for his contributions to Japanese literature and befriended by Japan's most celebrated novelists.
Dr. Keene has spent a lifetime shuttling between Japan and the United States. Taking Japanese citizenship seems a gesture that has finally bestowed upon him the one thing that eludes many Westerners who make their home and even lifelong friendships here: acceptance.
"When I first did it, I thought I'd get a flood of angry letters that 'you are not of the Yamato race!' but instead, they welcomed me," said Dr. Keene, using an old name for Japan. "I think the Japanese can detect, without too much trouble, my love of Japan."
That affection seemed especially welcome to a nation that even before last year's triple disaster had seemed to lose confidence as it fell into a long social and economic malaise.
During an interview at a hotel coffee shop, Japanese passers-by did double takes of smiling recognition — testimony to how the elderly scholar has won far more fame in Japan than in the United States. A product of an older world before the Internet or television, Dr. Keene is known as a gracious conversationalist who charms listeners with stories from a lifetime devoted to Japan, which he first visited during the Battle of Okinawa in 1945.
BUT what is perhaps most remarkable about Dr. Keene is that Japan, a racially homogeneous nation that can be politely standoffish to non-Japanese, has embraced him with such warmth. When he legally became a Japanese citizen this year, major newspapers ran photographs of him holding up a handwritten poster of his name, Kinu Donarudo, in Chinese characters. To commemorate the event, a candy company in rural Niigata announced plans to build a museum that will include an exact replica of Dr. Keene's personal library and study from his home in New York.
He says he has been inundated by invitations to give public lectures, which are so popular that drawings are often held to see who can attend.
"I have not met a Japanese since then who has not thanked me. Except the Ministry of Justice," he added with his typically understated humor, referring to the government office in charge of immigration.
With the patient air of someone who has tussled with Japanese bureaucracy before, he listed what he called the absurd requirements imposed upon him to take Japanese citizenship, including documentation to prove his completion of elementary school in New York City. Still, in a nation that welcomes few immigrants, Dr. Keene's application was quickly approved. To become Japanese, Dr. Keene, who is unmarried, had to relinquish his American citizenship.
His affection for Japan began in 1940 with a chance encounter at a bookstore near Times Square, where Dr. Keene, then an 18-year-old university student at Columbia, found a translation of the Tale of Genji, a 1,000-year-old novel from Japan. In the stories of court romances and intrigue, he found a refuge from the horrors of the world war then already unfolding in Europe and Asia.
Dr. Keene later described it as his first encounter with Japan's delicate sense of beauty, and its acceptance that life is fleeting and sad — a sentiment that would captivate him for the rest of his life.
When the United States entered the war, he enlisted in the Navy, where he received Japanese-language training to become an interpreter and intelligence officer. He said he managed to build a rapport with the Japanese he interrogated, including one he said wrote him a letter after the war in which he referred to himself as Dr. Keene's first P.O.W.
LIKE several of his classmates, Dr. Keene used his language skills after the war to become a pioneer of academic studies of Japan in the United States. Among Americans, he is perhaps best known for translating and compiling a two-volume anthology in the early 1950s that has been used to introduce generations of university students to Japanese literature. When he started his career, he said Japanese literature was virtually unknown to Americans.
"I think I brought Japanese literature into the Western world in a special way, by making it part of the literary canon at universities," said Dr. Keene, who has written about 25 books on Japanese literature and history.
In Japan, he said his career benefited from good timing as the nation entered a golden age of fiction writing after the war. He befriended some of Japan's best known modern fiction writers, including Yukio Mishima and Kenzaburo Oe. Even Junichiro Tanizaki, an elderly novelist known for his cranky dislike of visitors, was fond of Dr. Keene, inviting him to his home. Dr. Keene says that was because he took Japanese culture seriously.
"I was a freak who spoke Japanese and could talk about literature," he joked.
Japanese writers say that Dr. Keene's appeal was more than that. They said he appeared at a time when Japan was starting to rediscover the value of its traditions after devastating defeat. Dr. Keene taught them that Japanese literature had a universal appeal, they said.
"He gave us Japanese confidence in the significance of our literature," said Takashi Tsujii, a novelist.
Mr. Tsujii said that Dr. Keene was accepted by Japanese scholars because he has what Mr. Tsujii described as a warm, intuitive style of thinking that differs from what he called the coldly analytical approach of many Western academics. He said that this has made Dr. Keene seem even more Japanese than some of the Japanese novelists whom he has studied, like Mr. Mishima, an ultranationalist influenced by European intellectual fads.
"Keene-san is already a Japanese in his feelings," Mr. Tsujii said.
Now, at the end of his career, Dr. Keene is again helping Japanese regain their confidence, this time by becoming one of them. Dr. Keene, who retired only last year from Columbia, says he plans to spend his final years in Japan as a gesture of gratitude toward the nation that finally made him one of its own.
"You cannot stop being an American after 89 years," Dr. Keene said, referring to the age at which he got Japanese citizenship. "But I have become a Japanese in many ways. Not pretentiously, but naturally."
ENDS