Posted by Dr. ARUDOU, Debito on January 8th, 2013
Books etc. by ARUDOU Debito (click on icon):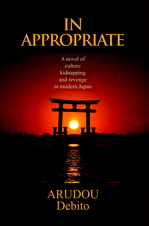 UPDATES ON TWITTER: arudoudebito
DEBITO.ORG PODCASTS on iTunes, subscribe free
"LIKE" US on Facebook at http://www.facebook.com/handbookimmigrants
Hi Blog.  Second in a series of two of prominent passings is American Senator Daniel Inouye, a notable Congressman who held on to his congressional seat longer than even legacy legislator Ted Kennedy.  As per the local obit excerpt below, he had a quite glorious career in the military as part of the groundbreaking 442nd (some veterans I've even met in Hawai'i), then was a pathbreaker for Asian-Americans as a public servant.
http://www.kitv.com/news/hawaii/Sen-Daniel-K-Inouye-dead-at-age-88/-/8905354/17808008/-/wsjrh/-/index.html
Senator Inouye began his career in public service at the age of 17 when he enlisted in the U.S. Army shortly after Imperial Japan attacked Pearl Harbor on December 7, 1941. He served with 'E' company of the 442 Regimental Combat Team, a group consisting entirely of Americans of Japanese ancestry. Senator Inouye lost his arm charging a series of machine gun nests on a hill in San Terenzo, Italy on April 21, 1945. His actions during that battle earned him the Medal of Honor.
But consider how he was able to do this, as pointed out by submitter PKU:
http://en.wikipedia.org/wiki/442nd_Infantry_Regiment_%28United_States%29
President Roosevelt announced the formation of the 442nd Infantry Regimental Combat Team (the "Go For Broke" regiment), saying, "Americanism is not, and never was, a matter of race or ancestry." Ultimately, the draft was instated to obtain more Japanese–Americans from the mainland and these made up a large part of the 14,000 men who eventually served in the ranks of the 442nd Regiment.
Now this is important.  Even as least AS FAR BACK AS FDR (the better part of a century ago), we had the United States at the highest levels of public office attempting to disentangle race/national or social origin from nationality.
This is something that Japanese society to this day has never accomplished (Japan's Nationality Law still requires blood for citizenship, and from that derives the entanglement of race and legal status).  Nor is Japan really trying.  I speak from personal experience (not to mention court precedent) when I say that civil and political rights in Japan are grounded upon being "Japanese", and "Japaneseness" is grounded upon phenotype (i.e., "looking Japanese").  This MUST be untangled by Japan if it ever hopes to encourage people to come in and settle down as "New Japanese", not to mention allow people of mixed heritage to breathe as people of color and diversity.  But I neither see it happening soon, nor are progressive steps even being taken towards it (I am in fact arguing that Japan in recent years has been regressing… see here, here and here).
As further proof of the helpfulness of a society with notions of citizenship disentangled from race/national or social origin, we have another Senator from Hawaii who just got elected, Mazie Hirono — and she wasn't even born in the United States!  She was born in Japan.
Now, you might say that, well, Finland-born Caucasian Dietmember Tsurunen Marutei has also been elected to high office in Japan, so big deal.  But Tsurunen has been at his post for more than a decade now, and he's squandered the opportunity by settling into it like a sinecure — doing just about nothing for the rights of NJ in Japan (such as not even bothering to attend or send a rep to a UN CERD meeting at the Diet on May 18, 2006).  In fact, Tsurunen has even gone so far as marginalize and gaijinize himself!  If one gives him the benefit of the doubt (I don't, but if), such are the effects of constant pressure of being socially "Othered" in Japan, despite his legal duty to uphold his constitutional status as a Japanese citizen and an elected official.
In comparison, the hurdles Hirono overcame were significant but not insuperable.  Even though she was nowhere near as articulate or politically thoroughbred as her Republican opponent, former Hawai'i Governor Laura Lingle, Hirono still grossed nearly double the votes (261,025 to 155,565) last November 6 to clinch the seat.  Further, if the legacy of Inouye is any template, I think Hirono will do more than just settle for being a symbolic sphinx in her role as a legislator.  Because she can — in a polity which can elect people for life despite their foreign (or foreign-looking) backgrounds, she has more opportunities in society than Tsurunen ever will — or will make for himself.
My point is, the disentanglement of race/social origin from nationality (i.e., rendering clearly and politically at the highest levels of government) is something that every state must do if it is to survive as a nation-state in future.  Given its demographics, especially Japan.  Arudou Debito
//////////////////////////////////////////////
November 6, 2012, 10:59 PM JST
Hirono Becomes First U.S. Senator Born in Japan
By Yoree Koh
http://blogs.wsj.com/japanrealtime/2012/11/06/japanese-born-woman-set-to-make-u-s-election-history/
Associated Press, Courtesy of CC
UPDATE: U.S. Democratic Rep. Mazie Hirono defeated former Hawaii Gov. Linda Lingle on Tuesday night, according to the Associated Press. Ms. Hirono becomes the Aloha State's first woman senator as well as the first Japan-born immigrant to be elected to the U.S. Senate.
As Japan's politicians jockey over when to hold the next general election, one of Japan's own is on the cusp of making U.S. election history.
Recent polls show Democratic Rep. Mazie Hirono is favored to win the open Senate seat in Hawaii when voters cast their ballots Tuesday. If successful, Ms. Hirono will usher in a wave of firsts. She will be the first Japanese immigrant to be elected senator. She will also be the first Buddhist and Asian-American woman. She will be the first woman senator to represent the Aloha State, and is already the first foreign-born woman of Asian ancestry to be sworn into Congressional office.
The 65-year-old congresswoman was born in Fukushima, the northeastern prefecture where the tsunami-damaged Fukushima Daiichi nuclear plant is located. When she was 8 years old, her mother moved the family to Hawaii. Ms. Hirono once said the immigrant experience and being raised by a single mother in economically difficult circumstances made her a "feisty and focused" lawmaker. She became a naturalized citizen in 1959, the same year Hawaii became a state.
Regardless who wins, Hawaii will get its first woman senator. Ms. Hirono, currently serving her third term in the House of Representatives, is up against former Gov. Linda Lingle, a Republican and long-time political rival to whom Ms. Hirono lost the 2002 gubernatorial race. The two women are chasing the seat opened up by Hawaii's 88-year-old junior senator, Daniel Akaka, a Democrat. After a 36-year career, Mr. Akaka, the Senate's only Chinese American, announced his retirement last year.
Scores of Americans of Japanese descent have been elected to public office since World War II. Case in point: If Ms. Hirono wins, both senators from the Aloha State will be of Japanese descent. Senior senator Daniel Inouye, who is also a Democrat, made his own imprint on Asian American history as the first Japanese American to serve in the U.S. House of Representatives and later, the Senate. The 88-year-old Mr. Inouye has been a senator since 1963, making him the second-longest serving senator in U.S. history.
There have been only five Asian American senators until now. Four have represented Hawaii and one has represented California.
But no Japanese-born–or any Asian-born for that matter–has been elected to the Senate. According to the U.S. Senate Historical Office, of 1,931 senators who have been sworn in since 1789, there have been 58 born outside the U.S. Most immigrated from Ireland (16), England (12) and Canada (10). One each came from Cuba, Mexico, Antigua and Sweden. People who have been U.S. citizens for at least nine years are eligible to be senator.
Ms. Hirono is a familiar face among Hawaii's Democratic establishment. Since returning from the mainland after earning a law degree from Georgetown University, she served for 14 years in the state legislature, eight years as lieutenant governor and is currently in her fifth year in the U.S. House of Representatives. Her one election failure was her bid to become governor in 2002. But it raised her profile, both at home and in Japan. State broadcaster NHK covered her campaign extensively and had plans to televise the 2002 election live, according to a Chicago Tribune story.
Ms. Hirono, whose immigrant story seems to resonate with Hawaii's diverse voting population, has campaigned fully backing President Barack Obama's platform, casting her opponent as a Republican lackey. The Hawaiian-born president recently recorded a radio ad for Ms. Hirono, noting that she once worked with his late grandmother, Madelyn Dunham.
"So Mazie isn't just a reliable partner of mine in Washington; she is part of my ohana at home in Hawaii. Now, I need Mazie's cooperative style and commitment to middle-class families in the U.S. Senate," said the president in the ad released Saturday. "Mazie is a nationally recognized leader in early childhood education. A staunch defender of Medicare and Social Security."
Ms. Lingle's campaign challenges Ms. Hirono's past claims of support for the middle class. "Contrary to her rhetoric and her efforts to portray herself as caring about working people, Mazie Hirono's actions clearly illustrate either that her words are just talk or that she simply does not understand the impact of her votes," said Retired Maj. Gen. Robert Lee, Ms. Lingle's campaign manager, in a statement on Oct. 23.
In the final days of campaigning, polls indicated Ms. Hirono breaking away from her opponent with as much as a 22-percentage-point lead.
ENDS