Posted by Dr. ARUDOU, Debito on December 27th, 2012
Books etc. by ARUDOU Debito (click on icon):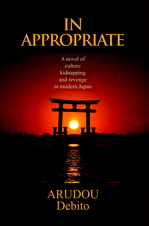 UPDATES ON TWITTER: arudoudebito
DEBITO.ORG PODCASTS on iTunes, subscribe free
Hi Blog.  A bit of good news.  A member of a nasty Rightist group was sentenced to a year in jail for harassing a Japanese company for using a Korean actress in its advertising.  That's hopeful, as we are seeing examples of xenophobia in Japan going beyond internet and political-arena bile (as well as signposted exclusionism) and into the street for race-bating and interpersonal confrontation.  Without some kind of brake like this court decision, it's only a matter of time before somebody goes too far and we have race riots in Japan.
I would have liked to have seen a little more detail in the article below about the timeline of the harassment.  I can speak from personal experience that it can take a year or more between an event and a conclusive court decision in Japan, so how responsive is Japan's judiciary being here?  Also, note that this case is not punishing somebody for hate speech against an ethnic group or a person in Japan — it's protecting a Japanese company against threatening behavior, a bit different.  I will be more reassured when we have a (similarly criminal, not civil) case involving arrest, prosecution, and jail time for an individual threatening an individual on the grounds of his/her ethnicity/national origin.  But I don't think that will happen under the current legal regime, as "the government does not think that Japan is currently in a situation where dissemination of racial discriminatory ideas or incitement of racial discrimination are conducted to the extent that the government must consider taking legislative measures for punishment against dissemination of racial discriminatory idea, etc. at the risk of unjustly atrophying lawful speech…"
That assessment was made by the MOFA to the UN more than a decade ago.  Given what I see are xenophobic tidings in Japan these days, I think it's time for an update.  Arudou Debito
////////////////////////////////////////
Nationalist sent to jail after harassing company using Korean actress in advertising
By Adam Westlake / December 18, 2012 / Courtesy JK
http://japandailypress.com/nationalist-sent-to-jail-after-harassing-company-using-korean-actress-in-advertising-1820111
A court in Japan has sentenced an extreme nationalist to one year in jail after he began a hate-based harassment campaign against a Japanese company that used a popular South Korean actress in its magazine and television advertising. The situation peaked when 44 year old Hitoshi Nishimura, along with three other men, forced their way into the Osaka headquarters of the pharmaceutical firm and demanded to know why the company was using someone with an anti-Japanese background.
Nishimura said the actress Kim Tae-Hee was a South Korean activist herself when he entered the Rohto Pharmaceutical building and began making angry threats. He stated Kim participated in activities that asserted Seoul's claims over the disputed Dokdo / Takeshima Islands, which are located in between Japan and South Korea, and have been the source of tensions for decades. In video footage of the intrusion, Nishimura is seen as yelling at the company's officials and claiming to represent "angry Japanese throughout the country."
The court sentenced Nishimura to a one-year jail term for making threatening acts, but no information has been released on the other three men. While somewhat overshadowed by the eruption of escalating tensions between China and Japan, the latest round of the territorial dispute with South Korea was kicked off in August when President Lee Myung-Bak made an unexpected visit to the islands. This resulted in protest from the Japanese government, as well as back-and-forth displays of nationalism on both sides. In one example, a group of South Korean swimmers, including a celebrity athlete, swam in a relay to the islands. Vocal groups in Japan began criticizing television broadcasters that showed Korean dramas, and even recently Korean pop-music acts have been left out of events and getting less airtime.
[via My Sinchew]
ENDS