Posted by Dr. ARUDOU, Debito on February 14th, 2013
Books etc. by ARUDOU Debito (click on icon):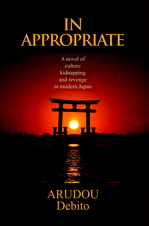 UPDATES ON TWITTER: arudoudebito
DEBITO.ORG PODCASTS on iTunes, subscribe free
Hi Blog. In a sad precedent, we have a clear case of death through overwork being officially recognized as such for a NJ doctor.  It's sadder that it has taken so long (more than two years) for that official recognition to come through.  I've long realized that Japan has at times some pretty crazy work ethics (and a peer group atmosphere that encourages people to give their all, even until they die), but it seems even more crazy for NJ to leave their societies to come to a place that will work them to death.  Especially as a NJ "trainee", where they have even fewer labor-law rights than the locals who are in similar work circumstances.  This situation has to be known about, since Japan's immigration laws aren't allowing a labor market where enough doctors (even imported ones) can satiate the perpetual labor shortage being referred to below.  Only when GOJ authorities realize that the jig is up, because the international labor force is avoiding Japan as a harsh labor market to work within, will things change.  Arudou Debito
/////////////////////////////////////////////
Death of Chinese medical intern recognized as work-related
December 26, 2012 (Mainichi Japan), courtesy of Yokohama John
http://mainichi.jp/english/english/newsselect/news/20121226p2a00m0na015000c.html
A regional labor standards inspection office in Aomori Prefecture has recognized that a Chinese trainee doctor who was working at a municipal hospital died from overwork, a lawyer representing the victim has disclosed.
It is reportedly the country's first case in which a foreign doctor working in Japan has been recognized by a labor standards office as having died from overwork.
The Hirosaki Labor Standards Inspection Office in Aomori Prefecture acknowledged that the 2010 death of Lu Yongfu, a Chinese trainee doctor at a municipal hospital in Hirosaki, was work-related, in a decision on Dec. 20. Lu died at the age of 28 after working up to 121 hours overtime a month.
Ayako Hiramoto, a lawyer representing the victim, revealed the labor office's decision during a news conference on Dec. 25.
According to the office, Lu had worked between 84 and 121 hours overtime per month before he died of an acute circulatory disorder in November 2010. His average monthly overtime hours surpassed 80 hours — the criteria for certifying death from overwork, or "karoshi" in Japanese.
The trainee was on duty almost all weekends except for the summer break, and had two to four night shifts a month that left him working on day shifts the following day without enough sleep, according to the labor office.
Lu had arrived in Japan in 2002 and graduated from the school of medicine at Hirosaki University in Aomori Prefecture before starting his internship at the hospital in April 2010.
Hiramoto said there were at least six other cases in Japan in which trainee doctors had died from overwork in the past.
"Regional areas are suffering from a serious shortage of doctors, while the management of their work hours is sloppy. Drastic measures need to be taken," she said.
ENDS
=================================
Original Japanese story
過労死:中国人研修医に初認定、残業最大121時間
毎日新聞 2012年12月25日 19時01分
http://mainichi.jp/select/news/20121226k0000m040047000c.html
青森県弘前市の同市立病院で研修医として勤務中の10年11月に急性循環器不全で亡くなった中国人の呂永富さん(当時28歳)について、弘前労働基準監督署が、長時間過重労働が原因だとして労働災害を20日付で認定した。代理人の平本紋子(あやこ)弁護士が25日、記者会見して明らかにしたもので、日本で働く外国人医師の過労死が認められたのは初めてという。
平本弁護士などによると、呂さんは02年に訪日し、弘前大学医学部を卒業。10年4月から同病院で研修医として外科や内科、救急部門の外科で勤務した。労基署の認定によると、この間最も短い月で84時間、最長で121時間の時間外労働をし、平均は過労死認定基準の80時間を超えていた。夏休み以外はほとんどの土日に出勤し、月2〜4回の宿直で十分な睡眠を取れないまま日直勤務についていた。
研修医の過労死は平本弁護士が把握しているだけでも過去6件。同弁護士は「地方の医師不足は深刻な上、研修医の労働時間管理はずさん。抜本的な対策が必要だ」と話している。
弘前市立病院の東野博院長は「労災認定されたことを重く受け止め、労働環境の再点検を行いたい」と話した。【東海林智】
ENDS