Posted by Dr. ARUDOU, Debito on January 5th, 2013
Books etc. by ARUDOU Debito (click on icon):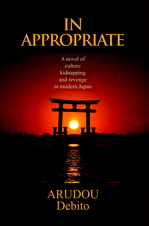 UPDATES ON TWITTER: arudoudebito
DEBITO.ORG PODCASTS on iTunes, subscribe free
"LIKE" US on Facebook at http://www.facebook.com/handbookimmigrants
Hello Blog.  Let me devote this blog entry (one of two, next one in three days) to the passing of a historical figure whose importance within Japanese history cannot be overstated.  Beate Sirota Gordon, a woman in a committee of men drafting the Japanese Postwar Constitution, wrote articles that remain fundamental to the rights Debito.org has devoted decades to upholding:  Article 14, which guarantees that "All of the people are equal under the law and there shall be no discrimination in political, economic or social relations because of race, creed, sex, social status or family origin."  The other, Article 24, states (excerpt), "Marriage shall be based only on the mutual consent of both sexes and it shall be maintained through mutual cooperation with the equal rights of husband and wife as a basis. With regard to choice of spouse, property rights, inheritance, choice of domicile, divorce and other matters pertaining to marriage and the family, laws shall be enacted from the standpoint of individual dignity and the essential equality of the sexes;" this guarantees fundamental human and civil rights to women that weren't present under the horrible Prewar Ie Seido (which among other things made people into property).  A hearty Debito.org salute to Gordon for a life well lived and opportunities to improve Japanese society well taken.  NYT obituary enclosed below.
A few Debito.org-esque comments:  One is that the NYT's claim below of "Ms. Gordon was the last living member of the American team that wrote Japan's postwar Constitution" is probably erroneous.  That honor probably belongs to an old teacher of mine when I was at Cornell, Milton J. Esman, who was born in 1918 and is apparently still alive (see his resume page two here).  (Wikipedia also notes that Gordon was not the only woman assigned to the group either, as economist Eleanor Hadley was also present.)
Second, reflecting upon Gordon's life when eulogizing, it is important to note a number of fundamental rights enshrined in the Japanese Constitution that have remained unenforced.  One is of course the lack of a law against racial discrimination (which is unconstitutional under Article 14 but not illegal in the Civil or Criminal Code), meaning racial discrimination can be (and is) "practiced undisturbed", as the UN has noted in the past, in a "deep and profound" manner (despite Japan effecting the UN Convention on Racial Discrimination in 1996; we're now approaching seventeen years of unkept promises).  The other I will just mention is the clause of "essential equality of the sexes" mentioned above in Article 24.  Despite the Equal Employment Opportunities Law of 1986, Japan still maintains an immense gender-wage gap:

Screen capture courtesy ILO, "Work, Income, and Gender Equality in East Asia", page 34.
Japan ranks at the very bottom (basically on par with ROK and Malaysia), and although the research notes that comprehensive comparisons cannot be made, the point still remains that women in Japan earn less than half of what men in Japan make for comparative work.  Wage differentials may be true in all societies (I know of no society where gender-pay equality is systemwide), but this egregious a gap is unbecoming of a developed country, and shows the lack of good-faith drafting or enforcement of constitutionally-grounded laws in Japanese society.
Finally, we have seen how much trouble the Japanese elite has gone to circumvent and undermine the Postwar "Peace Constitution".  We can start with the translation into Japanese (that Gordon's group missed despite their fluency) that limited Article 14's interpretation of constitutional protections for "all of the people" to Japanese citizens only.  We can go on to talk about the unconstitutional standing military that is the JSDF and the right of education limited to citizens only in the Fundamental Law of Education.  Plenty more, if people wish to point that out in Comments.  And now, with the new PM Abe government, we can look forward to proposals for constitutional revisions to restore Japan's military in name and allow for a remilitarization of Japan.
I wonder what Gordon would say now about Japan's December 2012 rightward swing.  My guess is that she would lament her work remaining unaddressed if not being undone.  Arudou Debito
/////////////////////////////////////////////////////
Beate Gordon, Long-Unsung Heroine of Japanese Women's Rights, Dies at 89
By MARGALIT FOX
Published: January 1, 2013
http://www.nytimes.com/2013/01/02/world/asia/beate-gordon-feminist-heroine-in-japan-dies-at-89.html
Courtesy of lots of people, particularly DY and CRF
Beate Sirota Gordon, the daughter of Russian Jewish parents who at 22 almost single-handedly wrote women's rights into the Constitution of modern Japan, and then kept silent about it for decades, only to become a feminist heroine there in recent years, died on Sunday at her home in Manhattan. She was 89.
The cause was pancreatic cancer, her daughter, Nicole Gordon, said.
A civilian attached to Gen. Douglas MacArthur's army of occupation after World War II, Ms. Gordon was the last living member of the American team that wrote Japan's postwar Constitution.
Her work — drafting language that gave women a set of legal rights pertaining to marriage, divorce, property and inheritance that they had long been without in Japan's feudal society — had an effect on their status that endures to this day.
"It set a basis for a better, a more equal society," Carol Gluck, a professor of Japanese history at Columbia University, said Monday in a telephone interview. "By just writing those things into the Constitution — our Constitution doesn't have any of those things — Beate Gordon intervened at a critical moment. And what kind of 22-year-old gets to write a constitution?"
If Ms. Gordon, neither lawyer nor constitutional scholar, was indeed an unlikely candidate for the task, then it is vital to understand the singular confluence of forces that brought her to it:
Had her father not been a concert pianist of considerable renown; had she not been so skilled at foreign languages; and had she not been desperate to find her parents, from whom she was separated during the war and whose fate she did not know for years, she never would have been thrust into her quiet, improbable role in world history.
Nor would she have been apt to embark on her later career as a prominent cultural impresario, one of the first people to bring traditional Asian performing arts to audiences throughout North America — a job, pursued vigorously until she was nearly 70, that entailed travel to some of Asia's most remote, inaccessible reaches.
The daughter of Leo Sirota and the former Augustine Horenstein, Beate (pronounced bay-AH-tay) Sirota was born on Oct. 25, 1923, in Vienna, where her parents had settled.
When she was 5, her father was invited to teach at the Imperial Academy of Music in Tokyo, and the family moved there for a planned six-month stay. Mr. Sirota soon became revered in Japan as a performer and teacher, and they wound up living in Tokyo for more than a decade.
Beate was educated at a German school in Tokyo and, from the mid-1930s on, after the school became far too Nazified for her parents' liking, at the American School in Japan. In 1939, shortly before her 16th birthday, she left for Mills College in Oakland, Calif. Her parents remained in Japan.
In December 1941, after the attack on Pearl Harbor, it became impossible to contact Japan. Beate had no word from her parents, and no money.
She put her foreign language prowess to work: by this time, she was fluent in English, Japanese, German, French, Spanish and Russian.
Obtaining permission from Mills to take examinations without having to attend classes, she took a job at a United States government listening post in San Francisco, monitoring radio broadcasts from Tokyo. She later worked in San Francisco for the United States Office of War Information, writing radio scripts urging Japan to surrender.
Beate Sirota received her bachelor's degree in modern languages from Mills in 1943 and became a United States citizen in January 1945. At war's end, she still did not know whether her parents were alive or dead.
For American civilians, travel to Japan was all but impossible. She went to Washington, where she secured a job as an interpreter on General MacArthur's staff. Arriving in a devastated Tokyo on Christmas Eve 1945, she went immediately to her family's house. Where it had stood was only a single charred pillar.
She eventually found her parents, who had been interned in the countryside and were malnourished. She took them to Tokyo, where she nursed them while continuing her work for General MacArthur.
One of MacArthur's first priorities was drafting a constitution for postwar Japan, a top-secret assignment, begun in February 1946, that had to be finished in just seven days. As the only woman assigned to his constitutional committee, along with two dozen men, young Beate Sirota was deputized to compose the section on women's rights.
She had seen women's lives firsthand during the 10 years she lived in Japan, and urgently wanted to improve their status.
"Japanese women were historically treated like chattel; they were property to be bought and sold on a whim," Ms. Gordon told The Dallas Morning News in 1999. "Women had no rights whatsoever."
Commandeering a jeep at the start of that week in February, she visited the libraries in Tokyo that were still standing, borrowing copies of as many different countries' constitutions as she could. She steeped herself in them and, after seven days of little sleep, wound up drafting two articles of the proposed Japanese Constitution.
One, Article 14, said in part, "All of the people are equal under the law and there shall be no discrimination in political, economic or social relations because of race, creed, sex, social status or family origin."
The other, Article 24, gave women protections in areas including "choice of spouse, property rights, inheritance, choice of domicile, divorce and other matters."
The new Constitution took effect in 1947; the next year, Beate Sirota married Joseph Gordon, who had been the chief interpreter for American military intelligence in postwar Japan.
In the 1950s, Ms. Gordon joined the staff of the Japan Society in New York, becoming its director of performing arts. In that capacity, she introduced many Japanese artists to the West, including masters of traditional music, dance, woodblock printing and the tea ceremony.
In 1970, she became director of performing arts at the Asia Society in New York. She scoured Asia for talent, bringing Balinese gamelan ensembles, Vietnamese puppeteers, Mongolian dancers and many others to stages throughout the United States and Canada. She retired in 1991 as the society's director of performances, films and lectures.
Ms. Gordon's husband, who became a real estate developer, died last August. Besides her daughter, she is survived by a son, Geoffrey, and three grandchildren.
For decades, Ms. Gordon said nothing about her role in postwar Japan, at first because the work was secret and later because she did not want her youth — and the fact that she was an American — to become ammunition for the Japanese conservatives who have long clamored for constitutional revision.
But in the mid-1980s, she began to speak of it publicly. The release of her memoir, "The Only Woman in the Room," published in Japanese in 1995 and in English two years later, made her a celebrity in Japan, where she lectured widely, appeared on television and was the subject of a stage play and a documentary film, "The Gift From Beate."
In recent years, amid renewed attacks on the Constitution by Japanese conservatives, Ms. Gordon spoke out ardently in its defense.
Ms. Gordon was awarded the Order of the Sacred Treasure, a high honor bestowed by the Japanese government, in 1998. But perhaps the greatest accolade she received came from Japanese women themselves.
"They always want their picture taken with me," Ms. Gordon told ABC News in 1999. "They always want to shake my hand. They always tell me how grateful they are."
ENDS