Posted by Dr. ARUDOU, Debito on April 15th, 2013
eBooks, Books, and more from ARUDOU Debito (click on icon):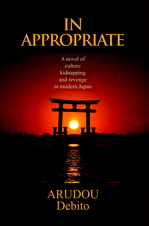 UPDATES ON TWITTER: arudoudebito
DEBITO.ORG PODCASTS on iTunes, subscribe free
"LIKE" US on Facebook at http://www.facebook.com/debitoorg
http://www.facebook.com/handbookimmigrants
https://www.facebook.com/JapaneseOnlyTheBook
https://www.facebook.com/BookInAppropriate
Hi Blog. In the vein of the recent discussion on treatment of NJ in Japanese media, here's food for thought from a Debito.org Reader under the pseudonym "Bignose".  I'm intrigued but not 100% convinced, so I'll open this one up under the Discussions heading for lighter moderation. Arudou Debito
//////////////////////////////////////////
Cute Kobito and Control Fantasies?
January 6, 2012
Hi Debito, It's Bignose here.Remember those stereotypical pictures of Caucasian gaijin so beloved in this country? Looks like theeeey're back with a vengeance!  I am filing this with you to see what you and other readers think.
Initially I thought the point I want to make might be a stretch; that I might be being hypersensitive. It's possible to see insults where there are none, or that comments received are misinterpreted through cultural misunderstandings, poor language ability, things taken out of context. So I am going to be quite careful what I say. But after long, long experiences living in Japan, to put it in a nutshell, I smell a rat.
In a sense, to me, the theme I am about to raise resonates with the issue over "Mr. James," remember, our lovable goofy Kakakana Japanese spewing junk food munching baseball fan? I know you received a lot of criticism about raising this issue. For me the acid test is what would happen if the boot was on the other foot. If a major junk food conglomerate in the U.S. was selling teriyaki burgers flaunted by a slit-eyed, bespectacled, broken Engrish speaking salariman hairi lecommending TERIAKI BURGA, how would the Japanese embassy feel about it. I am not sure they would be happy happy happy about it all.
To the item at hand. It's about othering and control fantasies referring to a "lost paradise" (a shitsuraken perhaps?) that was Japan when foreigners were cute and mainly for entertainment.
A few nights ago my wife (who is Japanese) and I and our infant child were having dinner at a friend's place. Our friend is a longstanding one, she's known and worked with my wife when they were at a major Japanese advertising company 15 years ago and our friend, who is in her 40s, is a professional and an account manager. She speaks reasonably fluent English and has done home stays, a year abroad, etc.
So the three of us were round our friend's place where she cooked a lovely dinner and then she introduced us to a "must watch" waraibangumi called こびとづかん. I was very interested because as a father I monitor Japanese kids programs my wife wants to show our child quite closely, avoiding programs that I think are problematical (too cute, squealing, gender stereotypes and having very young performers, especially young girls, performing adult routines…and it's not only my wife and I that find groups such as AKB48 extremely disturbing and problematic on many, many levels). I always try to balance out any media experiences my child has with Japanese media with alternatives in English, either from the U.S. or the UK, for example.
Courtesy http://blogs.yahoo.co.jp/singing_d_more/GALLERY/show_image.html?id=61443344
So my friend put on several こびとづかん segments from her DVD collection:
https://www.youtube.com/results?client=safari&rls=en&q=こびとづかん&oe=UTF-8&um=1&ie=UTF-8&sa=N&tab=w1
As I watched it, I thought fine, fine, it looks like a decent story, very entertaining. But I wondered, why is this kiddies program so entertaining for adults? Why is it such a hit? My friend's eye were glowing, and she was clearly getting very excited.
By the second minute I started to find the patronizing tone grating, largely because it reminds me of how I am still sometimes treated by Japanese people dealing with gaijin, you know as if we are some sort of stupid alien pets. Or perhaps sometimes it's just trying to be kind and well meaning to the alien. Or perhaps it's just me, I was thinking.
As soon as our little critter appeared in the third minute, I realized I felt a little bit uncomfortable, but I couldn't put my finger on why.
http://www.youtube.com/watch?v=95dEI_hCwIQ
[NB:  Note that the newspaper put down as a cage to catch the critter is in English…]
Then suddenly in just on the 4th minute, our friend starting squealing in laugher. As our stupid but harmless character [kakure momojiri] she loved so much because he was so cute was inching his way up the trap showing his pink ass, our friend squealed out "XXXXX-san, it looks just like YOU!" and she started giggling uncontrollably.
I went along with it but I felt even more unsettled. I do want to say that her friend has never seen my (admittedly) pink-ish ass and secondly I don't think our lovable momo-munching kobito friend looks like me. I'm relatively slim, even if I am not as young as I used to be.
But when our little friend ….whoops!…bikkuiri !!! hilariously plopped into the tender trap prepared for him, the yen started to fall, so to speak.
Before I go any further, I'd like readers to look at the other pictures from the set of characters for this series:
Notice anything?
Bignoses! They all look like that older grumpy University English teacher you had that you didn't really like and had to put up with, with his strange alien ideas and his attitude problem at not playing the game and being "yasashii," i.e. entertainment.
They even have blackfaced "kokujin" characters with even bigger flatter noses and big lips.
Where are the Asian characters? There are none.
As I watched further, more things fell into place. The lovable western looking kobito is lured into a world thinking he's going to get his nice juicy peach, not knowing in fact that he's going to be completely controlled as a lovable pet that is going to be patted and taken care of until his part is played.
It struck me why this children's program such a huge hit with adults. On one level they are great stories, but I really am not sure that it is a good lesson to take creatures out of nature and turn them into entertainment pets. But as they are not humans and with only limited intelligence, no harm done, no doubt! Yep, an there are many more problematical kiddies programs out there involving sexualization and gender stereotyping, violence and etc. and all sorts of garbage from just about anywhere you care to name in the world.
But on another level, this to me seems all about appealing to the control fantasies of othering gaijin. Controllable kobito lovingly lured into traps by their own stupidity to be cared for and controlled and as entertainment for Japanese.
I thought about it and I thought about it. I said to my wife, am I being oversensitive? She was completely confused. So I said, well, what if all these kobito had slanted eyes and were yellow and this was a U.S. show. Would you feel comfortable about it. Then the penny dropped for her too.
There is a lot more could say at this point, but I just wanted to share this with other Debito readers to see what they thought.  "Bignose."
ENDS