Posted by Dr. ARUDOU, Debito on January 29th, 2013
Books etc. by ARUDOU Debito (click on icon):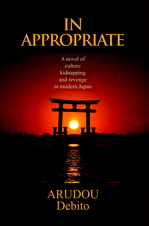 UPDATES ON TWITTER: arudoudebito
DEBITO.ORG PODCASTS on iTunes, subscribe free
"LIKE" US on Facebook at http://www.facebook.com/debitoorg
http://www.facebook.com/handbookimmigrants
Hi Blog. There has been discussion within a previous blog entry about establishing a YouTube channel that can screen information videos/vlogs/etc. on topics Debito.org is concerned about. This is not unusual, as many advocacy groups have their own YouTube channels (such as Sakura TV, dedicated to disseminating far-rightist and historically revisionist views).
My vision for a Debito.org would be information that NJ in Japan could use for improving their lives in Japan, such as What to do if… a cop stops you for an ID check — filming some Shokumu Shitsumon proceedings as has happened with Japanese citizens here, here, and here (my favorite). As submitter MJ wrote in to me privately (he has taken videos of cops who have backed off from harassing him once they realized they were being filmed):
fwiw:
– I've never had to follow through on threat to upload to youtube because they backed off without me showing ID.
– uploading video is relatively straightforward; a youtube/vimeo/etc. account will come with instructions
– edited versions are best, the shorter the better while leaving in the salient action
btw, you could make a youtube Debito channel…
(yes, a dedicated, Debito-supporting, internet-techie volunteer would be a nice thing ;-))
In other words, filming these proceedings in action may act as at least a primary information source, at best a deterrent.  The threat of accountability stops many a bureaucratic abuse.
For the record, my level of commitment to this project is lending the Debito.org brand to support pre-screened videos. But I sadly have neither have the time nor the expertise to establish or maintain a Debito.org Channel (maintaining Debito.org by itself is a full load). Sorry. So let me open this blog entry up to comments about interest, expertise, and commitment, and if people wish for me to get them in touch with one another off list, let me know. (If you wish to maintain your privacy, please use a pseudonym when communicating with each other, and please use a dedicated email address for this project.)
Alright, what say everyone? I personally think it's a great idea and I'll do what I can to help. Arudou Debito