Posted by Dr. ARUDOU, Debito on February 19th, 2013
Books etc. by ARUDOU Debito (click on icon):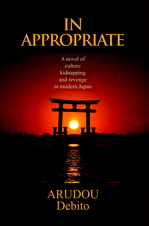 UPDATES ON TWITTER: arudoudebito
DEBITO.ORG PODCASTS on iTunes, subscribe free
"LIKE" US on Facebook at http://www.facebook.com/debitoorg
http://www.facebook.com/handbookimmigrants
Hi Blog. I just want to say a brief word of thanks to Donald Richie for a life well lived on the occasion of his passing (thanks AS for the notification) yesterday at age 88. We'll add articles as they come out in commemoration, but here's the first brief one from Yahoo News/Asahi Digital:
/////////////////////////////////////////
http://dailynews.yahoo.co.jp/fc/entertainment/movie/?1361296907
ドナルド・リチーさん死去 黒沢・小津らを海外に紹介
朝日新聞デジタル 2月19日(火)20時2分配信
黒沢明、小津安二郎、溝口健二ら日本映画の質の高さを海外に紹介した米国出身の映画評論家ドナルド・リチーさんが、19日午後1時26分、東京都内の病院で死去した。88歳だった。
米オハイオ州生まれ。1946年に来日し、米軍機関紙スターズ・アンド・ストライプスの記者に。コロンビア大進学のため帰国し、54年に再来日。英字紙ジャパンタイムズなどで映画評を執筆した。59年、外国語による最初の体系的日本映画論「ザ・ジャパニーズ・フィルム」(共著)を発表。カンヌ国際映画祭の溝口特集に企画協力するなど、欧米での日本映画への関心を高めることに貢献した。
68~73年には米ニューヨーク近代美術館の映画部長を務め、日本映画の大規模上映を実現した。主な著書に「映画のどこをどう読むか」「黒沢明の映画」「小津安二郎の美学」など。83年、第1回川喜多賞。実験映画作家の顔も持ち、舞踏の土方巽、作曲家の武満徹らの協力で前衛的な作品を制作した。
朝日新聞社
最終更新:2月19日(火)22時58分
/////////////////////////////////////////
The era of the pioneering Immediate Postwar hands-on Japanologists is truly and inevitably coming to an end. First Edwin Reischauer (long ago in 1990; I managed to meet him and host a talk by him and his wife Haru at UCSD in 1989), then Edward Seidensticker (2007), now Donald Richie (for whom Debito.org has had praise for in the past for his healthy attitude of "swallowing Japan whole"; I met him about ten years ago and had a very good conversation; he also kindly lavished praise on HANDBOOK). Of the very famous ones, Donald Keene is basically the last one standing.  And I don't think I will be able to eulogize that Donald in the same way.
I will miss Donald Richie. Feel free to append articles and your thoughts below. Arudou Debito