Posted by Dr. ARUDOU, Debito on March 9th, 2013
Books etc. by ARUDOU Debito (click on icon):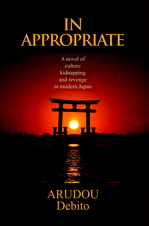 UPDATES ON TWITTER: arudoudebito
DEBITO.ORG PODCASTS on iTunes, subscribe free
"LIKE" US on Facebook at http://www.facebook.com/debitoorg
http://www.facebook.com/handbookimmigrants
UPDATES ON TWITTER: arudoudebito
Hi Blog. I've devoted a couple of blog entries (here and here) plus a Japan Times column to propagandizing journalist Tsutsumi Mika, who has had her "Poverty Superpower of America" book series adapted for Japanese grade-school audiences nationwide and a manga-reading Japanese public.
I've already gone into detail elsewhere about the latent journalistic problems with her reportage (not the least the outright falsification of evidence), and the implicit ironies involved with her demonizing a foreign society as a cautionary tale to audiences without sufficient training in comparative cultural study and critical thinking.
Now here's another irony, sent to me by a friend who wishes to remain anonymous. Further inspection of Tsutsumi's works reveals an odd attitude towards Jews. Consider this excerpt from her "Poverty Superpower of America" manga, courtesy of Amazon Japan:
Courtesy http://www.amazon.co.jp/コミック貧困大国アメリカ-堤-未果/dp/4569708978/ref=sr_1_10?ie=UTF8&qid=1362882715&sr=8-10#reader_4569708978
Here we have a Jew named "David Goldberg" from a financial agency selling bogus house loans to an immigrant Mexican family before the whole US derivatives crisis.  Goldberg announces himself as "the ally of the weak" before destroying all of their hopes and dreams.
Interesting choice of character for Tsutsumi, reflecting the latent bias one sees in elite Japanese society regarding "rich Jews" (not to mention other stereotypes; see below) that surfaces every now and again (such as in our former Education Minister and Prime Minister, and current Deputy PM/Minister of Finance Aso Taro):
==================================
Blue eyes, blond hair: that's US problem, says Japanese minister
Justin McCurry in Tokyo
The Guardian, Thursday 22 March 2007
http://www.guardian.co.uk/world/2007/mar/23/japan.usa
Taro Aso, Japan's foreign minister, risked upsetting his country's strongest ally by suggesting US diplomats in the Middle East would never solve the region's problems because they have "blue eyes and blond hair".
Mr Aso, a straight-talking nationalist, said the Japanese, on the other hand, were trusted because they had "yellow faces" and had "never been involved in exploitation there, or been involved in fights or fired machine guns".
Japan has healthy relations with Arab countries and Iran and imports much of its oil from the Middle East. It is a big contributor of aid to the Palestinian Authority, but also has friendly ties with Israel.
"Japan is doing what Americans can't do," local media quoted Mr Aso as saying in a speech about Japan-sponsored investment in the Middle East. "Japanese are trusted. It would probably be no good to have blue eyes and blond hair. Luckily, we Japanese have yellow faces."
Mr Aso, seen by some as a possible successor to the prime minister, Shinzo Abe, is no stranger to controversy.
In 2001 he said a member of the burakumin, Japan's underclass, could never lead the country. He later angered Japan's indigenous Ainu population by describing the country as unique in being "one nation, one civilisation, one language, one culture and one race". While economics minister, he said he wanted to turn Japan into a country where "rich Jews" would want to live.
In 2003, he sparked protests when he praised imperial Japan's often brutal colonial rule of the Korean peninsula from 1910 to 1945, and last month he described the US post-invasion plans for Iraq as "very immature".
==================================
Back to Tsutsumi.  What makes things even more ironic is not that her current husband is an anti-discrimination activist, but that her former husband was apparently Jewish himself:
http://www.newpaltz.edu/alumni/lost.php?view_by=maiden_name&letter=T
http://www.myspace.com/jeremybaum/blog/395635368
叩けば埃が出る。Tsutsumi Mika is a person replete with irony.  I wonder what the Jewish anti-defamation leagues would make of Tsutsumi's Jewish crook?  The American Embassy (unlike the Japanese Embassy) is pretty lackadaisical about how the US is portrayed in Japan's media.  But I doubt, say, the Simon Wiesenthal Center would be.
Anyone want to let them know about this?  Would be interesting how Tsutsumi, as she did when questioned about the misleading details of her grade-schooler Chagurin article, would defend her editorial choices.  Arudou Debito