Posted by Dr. ARUDOU, Debito on March 15th, 2013
Books etc. by ARUDOU Debito (click on icon):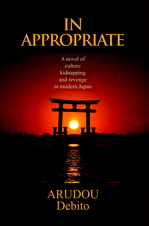 UPDATES ON TWITTER: arudoudebito
DEBITO.ORG PODCASTS on iTunes, subscribe free
"LIKE" US on Facebook at http://www.facebook.com/debitoorg
http://www.facebook.com/handbookimmigrants
Hi Blog. Here's my latest publication, which came out last Sunday, elaborating more on the historical arc of Japan's rightward swing I have already talked about journalistically in three recent Japan Times columns:
Here is how I see the build up to what came to fruition with PM Abe and his cadre's reinstatement to power last December.  Excerpt follows.  Arudou Debito
//////////////////////////////////////////////
The Asia-Pacific Journal, Vol. 11, Issue 9, No. 3, March 4, 2013.
Japan's Rightward Swing and the Tottori Prefecture Human Rights Ordinance
日本の右傾化と鳥取県人権条例
By Arudou Debito
ABSTRACT
Japan's swing to the right in the December 2012 Lower House election placed three-quarters of the seats in the hands of conservative parties. The result should come as no surprise. This political movement not only capitalized on a putative external threat generated by recent international territorial disputes (with China/Taiwan over the Senkaku/Diaoyu islands and with South Korea over Takeshima/Dokdo islands). It also rode a xenophobic wave during the 2000s, strengthened by fringe opposition to reformers seeking to give non-Japanese more rights in Japanese politics and society.
This article traces the arc of that xenophobic trajectory by focusing on three significant events: The defeat in the mid-2000s of a national "Protection of Human Rights" bill (jinken yōgo hōan); Tottori Prefecture's Human Rights Ordinance of 2005 that was passed on a local level and then rescinded; and the resounding defeat of proponents of local suffrage for non-citizens (gaikokujin sanseiken) between 2009-11. The article concludes that these developments have perpetuated the unconstitutional status quo of a nation with no laws against racial discrimination in Japan.
Keywords: Japan, human rights, Tottori, racial discrimination, suffrage, minorities, Japanese politics, elections, xenophobia, right wing
Introduction
As has been written elsewhere (cf. Arudou 2005; 2006a; 2006b et al.), Japan has no law in its Civil or Criminal Code specifically outlawing or punishing racial discrimination (jinshu sabetsu). With respect to the United Nations Convention on the Elimination of Racial Discrimination (which Japan adopted in 1996), Japan has explicitly stated to the United Nations that it does not need such a law: "We do not recognize that the present situation of Japan is one in which discriminative acts cannot be effectively restrained by the existing legal system and in which explicit racial discriminative acts, which cannot be restrained by measures other than legislation, are conducted. Therefore, penalization of these acts is not considered necessary." (MOFA 2001: 5.1)
However, in 2005, a regional government, Tottori Prefecture northwest of Ōsaka, did pass a local ordinance (jōrei) explicitly punishing inter alia discrimination by race. What happened to that law shortly afterwards provides a cautionary tale, demonstrating how public fear of granting any power to Non-Japanese occasioned the ordinance to be rescinded shortly afterwards. This article describes the defeat of a similar bill on a national scale, the public reaction to Tottori's ordinance and the series of events that led to its withdrawal. The aftermath led to the stigmatization of any liberalization favoring more rights for Non-Japanese.
Prelude: The Protection of Human Rights Bill debates of the mid-2000s
Throughout the 2000s, there was a movement to enforce the exclusionary parameters of Japanese citizenship by further reinforcing the status quo disenfranchising non-citizens. For example, one proposal that would have enfranchised non-citizens by giving them more rights was the Protection of Human Rights Bill (jinken yōgo hōan). It was an amalgamation of several proposals (including the Foreign Residents' Basic Law (gaikokujin jūmin kihon hō)) that would have protected the rights of residents regardless of nationality, ethnic status, or social origin.
Read the rest at http://japanfocus.org/-Arudou-Debito/3907
Other Japan Focus articles by Arudou Debito at http://japanfocus.org/-Arudou-Debito