Posted by Dr. ARUDOU, Debito on March 24th, 2013
Books etc. by ARUDOU Debito (click on icon):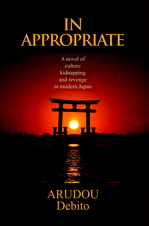 UPDATES ON TWITTER: arudoudebito
DEBITO.ORG PODCASTS on iTunes, subscribe free
"LIKE" US on Facebook at http://www.facebook.com/debitoorg
http://www.facebook.com/handbookimmigrants
Hi Blog.  We've talked about Japan's "Points System" before on Debito.org, where I took a dim view of it as just another "revolving door" labor visa regime to bring people over, leech off their prime working lives, and then boot them back home without letting them settle and reap the rewards for contributing to Japanese society (cf. the "Trainees", the "Nikkei Returnees", and the "foreign caregivers", all of whom I have written about for the Japan Times).
Well, now, in yet another episode of SITYS ("See I Told You So"), Asahi reports the "Points System" is going through similar "revisions" as the visa scams above due to a dearth of applications.  As I thought would happen — the PS's qualifying hurdles are simply too high.
Even if one assumes good faith in Japan's policymakers (some of whom do see the slow-motion demographic disaster in progress due to crushing public debt unsupportable by a society that is shrinking and aging) who might want to treat "foreign laborers" as people, Japan's bureaucrats are so paranoid about NJ somehow "abusing" the system that they make it practically impossible for anyone to ever "use" the system to their benefit.  Again, the GOJ keep wanting "workers" and discover to their surprise later that they imported "people", with livelihood needs beyond mere work hours converted into "the privilege of living in Japan".
These policy failures will keep happening again and again until NJ are treated as "people", and given a fair chance by the GOJ at becoming "Japanese" (with transfers of political, economic, and social power — and that includes input at the policymaking stage too).  But I still don't see that happening anytime soon.  Arudou Debito
////////////////////////////////////////
Strict conditions hamper certification system for foreign skilled workers
Asahi Shimbun AJW March 24, 2013, courtesy of JK
By SEINOSUKE IWASAKI/ Staff Writer
http://ajw.asahi.com/article/behind_news/social_affairs/AJ201303240055
A policy initiative designed to encourage highly skilled foreign professionals to come and stay in Japan is not working out as the Justice Ministry had envisioned.
In fact, the point-based system has proved so unpopular that it is being reviewed only a year after it was introduced.
The program covers the following fields: research, engineering and management. Points are awarded on the basis of a person's experience and capabilities.
An individual who receives a certain number of points can, for example, bring his or her parents to live in Japan or gain permission for a spouse to work, something that few foreign workers had been able to do until a year ago.
According to the Justice Ministry, less than 1,000 will likely be certified in the initial year, compared with 2,000 that officials had expected.
Foreign applicants have complained to immigration offices about the strict conditions, particularly one pertaining to income levels.
Shao Huaiyu, a renewable energy researcher at Kyushu University, applied at the recommendation of school officials soon after the system was introduced last May.
He was certified as highly competent after receiving 100 points out of a maximum 140 in the researcher division based on his doctor's and patented inventions.
Shao planned to ask his parents to come from China and help raise two daughters, aged 2 and under 1 year old.
But his application was refused because of an additional condition that called for an annual income of 10 million yen ($106,000) or more.
"It is almost impossible for a university researcher in his or her 30s to earn 10 million yen," Shao said. "By the time I can earn that much, my children will have grown up."
The Justice Ministry plans to review the system. An Immigration Bureau official said the system has not been widely publicized overseas due to limited budgets.
Junichi Goto, a professor of labor economics at Keio University, is opposed to the planned review, saying looser conditions could jeopardize a ban on unskilled laborers.
He has also expressed concern that some foreigners could abuse the system by bringing their parents over simply to get advanced medical treatment under the nation's universal health insurance system.
A similar point system has been introduced in Canada, New Zealand and other countries eager to accept skilled immigrants.
According to the Canadian Embassy, 90,000 to 110,000 engineers and their families enter the country each year.
Even among industrialized countries, Japan is regarded as exercising very strict control over immigration.
The Japanese program is intended to attract only those whose skills are needed in Japan, rather than increasing the number of foreign nationals working in this country by loosening the immigration control law.
ENDS