Posted by Dr. ARUDOU, Debito on March 27th, 2013
Books etc. by ARUDOU Debito (click on icon):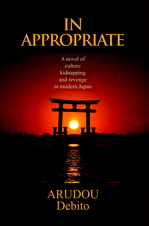 UPDATES ON TWITTER: arudoudebito
DEBITO.ORG PODCASTS on iTunes, subscribe free
"LIKE" US on Facebook at http://www.facebook.com/debitoorg
http://www.facebook.com/handbookimmigrants
Hi Blog.  Debito.org has previously discussed the curious phenomenon of "Gaijin as Guinea Pig", where future reforms that put the general public at a disadvantage to the elite are first tested out and normalized through application on Japan's foreigners.  For example, "Academic Apartheid" (the practice of contracting all NJ educators while granting Japanese educators tenure from day one in Japan's higher education system) gave way to contract employment for every educator in 1997.  More examples here.
Now according to the Asahi we have the previous legally-enshrined practice of making all workers (roudousha) protected by Japan's labor laws being chipped away at.  Previously seen in the labor-law exemption given NJ workers under "Trainee" Visas (e.g., foreign factory workers, farm laborers, caregivers), we are now seeing a similar push to exempt all Japanese workers from labor law protections.
Japan hopes to make themselves more attractive to international labor migration when they're in process of making an exploitative labor market even more so, for everybody?  Again, deserves to be known about.  Arudou Debito
/////////////////////////////////////////
Business leaders call for law to allow firing of workers without justification
Asahi Shimbun AJW, March 16, 2013, courtesy of MP
By TAKUFUMI YOSHIDA/ Staff Writer
http://ajw.asahi.com/article/behind_news/social_affairs/AJ201303160063
Business leaders at a government panel have proposed that employers in Japan be allowed to fire workers at their discretion as a way to improve the nation's economic growth.
Members of the Industrial Competitiveness Council called March 15 for rules that will, in principle, allow employers to dismiss regular employees freely if the workers are compensated with "re-employment support."
The council is chaired by Prime Minister Shinzo Abe.
The proposal was made by Yasuchika Hasegawa, chairman of Keizai Doyukai (Japan Association of Corporate Executives), and president of Takeda Pharmaceutical Co., and others.
Article 16 of the Labor Contract Law stipulates that there must be reasonable grounds for a dismissal. Employers are not permitted to sack workers unless they have valid reasons, such as poor performance, disciplinary offenses or reducing the work force as a result of financial trouble.
Hasegawa and other members suggested that the Labor Contract Law should be amended to allow employers to dismiss workers at their discretion.
They also called for the establishment of a system in which employers would be able to fire workers without a valid reason as long as they provide them so-called monetary re-employment support.
In addition, they said the Labor Contract Law should make it clear in what instances dismissals would not be permitted.
In many European countries, if a court determines that a dismissal is unlawful, the employer can still dissolve the employment relationship by paying the fired employee compensation–usually one to two years worth of salary.
But if a similar court decision was made in Japan, workers would have few options other than returning to their former workplaces.
The system the panel in Japan is pushing differs from the European labor practice in that employers would be able to freely sack workers without reasonable grounds as long as they pay compensation.
Panel members said the proposed system would not only increase liquidity in the labor market, but benefit workers, depending on the amount of compensation paid.
The panel includes 10 leaders from the private sector and is expected to come up with a proposed economic growth strategy by June.
ENDS