Posted by Dr. ARUDOU, Debito on April 9th, 2013
eBooks, Books, and more from ARUDOU Debito (click on icon):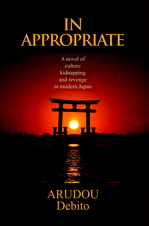 UPDATES ON TWITTER: arudoudebito
DEBITO.ORG PODCASTS on iTunes, subscribe free
"LIKE" US on Facebook at http://www.facebook.com/debitoorg
http://www.facebook.com/handbookimmigrants
https://www.facebook.com/JapaneseOnlyTheBook
Hi Blog.  I am pleased to announce the eBook release of my book "JAPANESE ONLY:  The Otaru Hot Springs Case and Racial Discrimination in Japan" Tenth Anniversary Edition, available for immediate download for Amazon Kindle and Barnes & Noble NOOK.
The definitive book on one of Japan's most important public debates and lawsuits on racial discrimination, this new edition has a new Introduction and Postscript that updates the reader on what has happened in the decade since JO's first publication by Akashi Shoten Inc.  A synopsis of the new book is below.
You can read a sample of the first fifteen or so pages (including the new Introduction), and download the ebook at either link:
Price:  $9.99 (a bargain considering JO is currently on sale on Amazon Japan used for 3100 yen, and at Amazon.com used for $390.93!), or the equivalent in local currency on all other Amazons (935 yen on Amazon Japan).
If you haven't read JO yet (as clearly some media presences, like TV Tarento Daniel Kahl or decrier of "bathhouse fanatics" Gregory Clark, have not; not to mention "My Darling is a Foreigner" manga star Tony Laszlo would rather you didn't), now is a brand new opportunity with additional context.  Here's the Synopsis:
SYNOPSIS OF THE TENTH ANNIVERSARY EDITION OF eBOOK "JAPANESE ONLY"
If you saw signs up in public places saying "No Coloreds", what would you do? See them as relics of a bygone era, a la US Segregation or South African Apartheid? Not in Japan, where even today "Japanese Only" signs, excluding people who look "foreign", may be found nationwide, thanks to fear and opportunism arising from Japan's internationalization and economic decline.
JAPANESE ONLY is the definitive account of the Otaru Onsens Case, where public bathhouses in Otaru City, Hokkaido, put up "no foreigners allowed" signs to refuse entry to Russian sailors, and in the process denied service to Japanese. One of Japan's most studied postwar court cases on racial discrimination, this case went all the way to Japan's Supreme Court, and called into question the willingness of the Japanese judiciary to enforce Japan's Constitution.
Written by one of the plaintiffs to the lawsuit, a bilingual naturalized citizen who has lived in Japan for 25 years, this highly-readable first-person account chronologically charts the story behind the case and the surrounding debate in Japanese media between 1999 and 2005. The author uncovers a side of Japanese society that many Japanese and scholars of Japan would rather not discuss: How the social determination of "Japanese" inevitably leads to racism. How Japan, despite international treaties and even its own constitutional provisions, remains the only modern, developed country without any form of a law against racial discrimination, resulting in situations where foreigners and even Japanese are refused service at bathhouses, restaurants, stores, apartments, hotels, schools, even hospitals, simply for looking too "foreign". How Japan officially denies the existence of racial discrimination in Japan (as its allegedly homogeneous society by definition contains no minorities), until the Sapporo District Court ruled otherwise with Otaru Onsens.
JAPANESE ONLY also charts the arc of a public debate that reached extremes of xenophobia: Where government-sponsored fear campaigns against "foreign crime" and "illegal foreigners" were used to justify exclusionism. Where outright acts of discrimination, once dismissed as mere "cultural misunderstandings", were then used as a means to "protect Japanese" from "scary, unhygienic, criminal foreigners" and led to the normalization of racialized hate speech. Where even resident foreigners turned on themselves, including Japan Times columnist Gregory Clark's repeated diatribes against "bathhouse fanatics", and future "My Darling is a Foreigner" manga star Tony Laszlo's opportunistic use of activism to promote his own agenda at the expense of the cause. Where the plaintiffs stay the course despite enormous public pressure to drop the lawsuit (including death threats), and do so at great personal risk and sacrifice. Remaining in print since its first publication in 2003, JAPANESE ONLY remains a testament to the dark side of race relations in Japan, and contains a taut story of courage and perseverance in the face of seemingly insurmountable odds.
Now for the first time in ebook format, this Tenth Anniversary Edition in English offers a new Introduction and Postscript by the author, updating the reader on what has changed, what work remains to be done, and how Japan in fact is reverse-engineering itself to become more insular and xenophobic in the 2010s. Called "a reasoned and spirited denunciation of national prejudice, discrimination, and bigotry" (Donald Richie, legendary Japanologist), "clear, well-paced, balanced and informative" (Tom Baker, The Daily Yomiuri), "a personal and fascinating account of how this movement evolved, its consequences and how it affected those who participated in it" (Jeff Kingston, The Japan Times), and "the book of reference on the subject for decades to come and should be required reading for anyone studying social protest" (Robert Whiting, author of You've Gotta Have Wa), JAPANESE ONLY is a must-read for anyone interested in modern Japan's future direction in the world and its latent attitudes towards outsiders.
More reviews at http://www.debito.org/japaneseonly.html
ends