Posted by Dr. ARUDOU, Debito on April 12th, 2013
eBooks, Books, and more from ARUDOU Debito (click on icon):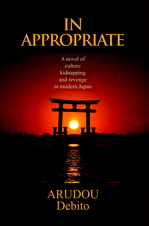 UPDATES ON TWITTER: arudoudebito
DEBITO.ORG PODCASTS on iTunes, subscribe free
"LIKE" US on Facebook at http://www.facebook.com/debitoorg
http://www.facebook.com/handbookimmigrants
https://www.facebook.com/JapaneseOnlyTheBook
Hi Blog. Following up on my last blog post about JAPANESE ONLY: Otaru Onsens Case coming out as a special edition eBook, I am pleased to announce that my nonfiction novel, "IN APPROPRIATE: A Novel of Culture, Kidnapping, and Revenge in Modern Japan", is now downloadable from Amazons worldwide and Barnes & Noble as a Kindle or NOOK eBook. Price: $9.99.
ELECTRONIC DOWNLOAD FROM AMAZON.COM WORLDWIDE IN KINDLE FORMAT (at USD$9.99)
ELECTRONIC DOWNLOAD FROM BARNES&NOBLE.COM IN NOOK FORMAT (at USD$10.00)
My first published foray into fiction, IN APPROPRIATE is a thriller about child abductions in Japan after divorce — where one parent loses all custody and access in Japan regardless of nationality. It is an amalgam of several actual cases of child abduction framed on a fictional character, Gary, an American who falls for a Japanese girl in college, then follows her back to Japan during its Bubble Era aftermath. Not only does IN APPROPRIATE chart the progress of Gary's assimilation into Japanese society, it also marks the slow but steady decline of fortunes for everyone in Japan as the economy sours and opportunities shrink. Gary also realizes that he has married into an elite Japanese family whose priorities regarding his children's future do not match his, and he eventually realizes that he will have to do something drastic to save them.
Praise from readers of IN APPROPRIATE has been very positive. Only yesterday I got this feedback:
"Just bought online and finished reading your Kindle book 'IN APPROPRIATE.' Pretty good short read. You should come up with another using Gary and where he left off in Thailand. I especially liked it being a short read that I could finish in one sitting. I enjoyed your first fiction book and hope you come out with another."
Other readers might concur:
"ARUDOU Debito's depiction of how quickly life gets turned upside down by the crazy family rules in Japan will do more than just grab your attention. It will make you cry at the strange and deplorable tale of love lost in Japan. IN APPROPRIATE sheds necessary light on the twisted norms and laws in Japan that not only allow, but also encourage parents to abduct their children from one another. A must-read primer on the issue." — Eric Kalmus, Children's Rights Network Japan (www.crnjapan.net), and Left-Behind Parent.
"IN APPROPRIATE by ARUDOU Debito is a work of fiction, full of fact… I read the book twice; once to check the facts and once to feel the emotions. There is no other way to describe this but say that on both fronts, the book hits home. Many people reading this will not believe it, but as somebody that has 'been there and done that"' I can honestly say this is one of the most powerful books I have ever read… If an inside, in-depth view of Japan is what you are after, then this book is for you." — John Evans, Left-Behind Parent.
"I am not a left-behind parent but I am a Japan Veteran. I first went to Japan planning to spend a year and in the end spent 7 years of my life there. I married a Japanese, have two kids, and now live back in my home country with my wife and kids. Reading through Gary's early experiences with Japan and the culture was like reading my own diary. Thankfully the second half of the book wasn't. The book is engaging, informative, and authentic. I highly recommend IN APPROPRIATE. At the end I wanted more. Some will take that as a criticism but it's because I began to care about some of the characters and I wanted to know more. Without a doubt the book will appeal more to us Japanophiles, but a good story is a good story. I've read a lot of Japan-centric fiction, both good and bad. I classify this as great, and look forward to future fictional works by Debito." — Steve Fylypchuk
More information, reviews, and ordering details at http://www.debito.org/inappropriate.html.
ELECTRONIC DOWNLOAD FROM AMAZON.COM WORLDWIDE IN KINDLE FORMAT (at USD$9.99)
ELECTRONIC DOWNLOAD FROM BARNES&NOBLE.COM IN NOOK FORMAT (at USD$10.00)
Sample first chapter readable for free at these outlets as well.
Thanks for reading Debito.org, and if you like what you read here, consider supporting the site by downloading a copy of IN APPROPRIATE and/or JAPANESE ONLY.  You get the same good read you get here, and both are now very affordably priced at $9.99 or local currency equivalent anywhere in the world.  Arudou Debito