Posted by Dr. ARUDOU, Debito on May 6th, 2013
eBooks, Books, and more from ARUDOU Debito (click on icon):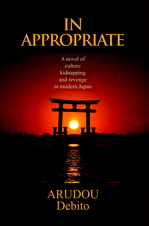 UPDATES ON TWITTER: arudoudebito
DEBITO.ORG PODCASTS on iTunes, subscribe free
"LIKE" US on Facebook at http://www.facebook.com/debitoorg
http://www.facebook.com/handbookimmigrants
https://www.facebook.com/JapaneseOnlyTheBook
https://www.facebook.com/BookInAppropriate
Hi Blog.  Today I'd like to take readers on a bit of a tangent, as this blog tends to focus on minorities in Japan in terms of "race", social, or national origin.  We don't talk much about Sexual Minorities, such as the LGBT communities in Japan (particularly the Douseiaisha, Japanese for Homosexuals), and how they are missing out on the wave of legalized gay marriage worldwide.  Consider this from The Economist:
====================================

Daily chart
Altared states
Apr 22nd 2013, 14:40 by Economist.com
http://www.economist.com/blogs/graphicdetail/2013/04/daily-chart-14?fsrc=scn/fb/wl/dc/altaredstate
More countries legalise gay marriage
TENS of thousands of people thronged the streets of Paris at the weekend to protest against a gay-marriage bill that is set for a second reading in the National Assembly on April 23rd. They are unlikely to stop its passage. The bill, which is an election pledge by the Socialist president, François Hollande, was passed by a large majority at its first reading in February despite fierce opposition organised by conservative and Catholic groups. France is not the only country where gay marriage has been on the legislative or judicial agenda in recent weeks. On April 17th New Zealand became the 12th country to legalise gay marriage, though the law will not come into effect until August. Uruguay, too, has passed a similar bill that awaits the signature of the president before it becomes law. And in late March the American Supreme Court began hearing arguments in a case on the constitutionality of the Defence of Marriage Act, which restricts marriage to a man and a woman. In all these countries—and indeed in much of the West—opinion polls show public support for same-sex marriages.
ENDS
====================================
Debito.org applauds this trend of legalizing gay marriage.  Meanwhile Japan, as you can see above, to its credit has no law criminalizing homosexuality.  It, however, does not permit gay marriages due to the vagaries of the Family Registry (Koseki) System.  In short, only a wife and a husband by gender can create a married family unit.
But as has been pointed out here on Debito.org before, people find ways to get around this.  Gay couples, in order to pass on inheritance rights, adopt each other into the same family unit on the Koseki.  The problem is for international couples that non-citizens cannot be listed on a Koseki as husband or wife.
So here is how LGBT foreigners can get around it:  Naturalize and adopt.  As Debito.org previously suggested might be the case, famous naturalized Japanese Donald Keene has done it, and recently gone public about it:
====================================
ドナルド・キーンさんが養子縁組 三味線奏者の上原さんと
Sports Nippon, April 30, 2013, courtesy of Mumei
http://www.sponichi.co.jp/society/news/2013/04/30/kiji/K20130430005714360.html
日本文学研究者のドナルド・キーンさん(90)が、浄瑠璃三味線の奏者、上原誠己さん(62)と養子縁組したことが30日、分かった。キーンさんが29日、新潟市内で行った講演で明らかにした。
誠己さんによると、キーンさんが日本国籍取得を表明した2011年春ごろから養子縁組の話が持ち上がり、昨年3月に正式に「キーン誠己」となった。
06年11月、誠己さんが古浄瑠璃について教えを請うためにキーンさんを訪問して交流が始まった。大英博物館で台本が発掘された人形浄瑠璃「弘知法印御伝記」を09年、約300年ぶりに復活上演した際も、キーンさんの助言を受けた。
誠己さんは「五世鶴沢浅造」として長年公演に出演。1997年に故郷の新潟市に戻り、家業の酒造会社を手伝いながら、三味線の指導や奏者の活動を続けた。
現在は東京都内でキーンさんと同居し、スケジュール管理や食事作りなどに携わる。誠己さんは「健康管理をしっかりやり、多忙な先生を支えたい」と話している。
ENDS
====================================
Congratuations, Don.  Seriously.  May you accomplish all the goals that remain before you in the years left to you.  My only requests, as I have made several times before, are that 1) you do not make a pandering show of it as some kind of "solidarity with the Japanese" kinda thing; and 2) you do not denigrate others (i.e., NJ, by insinuating statistically incorrectly that NJ are less likely to be loyal to Japan (as "Flyjin") or more likely to be criminals).  Clearly the real reason you naturalized was a lot less selfless than you portray (which is fine, but let's have a bit less public self-aggrandizing and self-hugging, please).  It is unbecoming of a person of your stature in Japan-related academia.
Anyway, that's the template for how you do it.  Gay NJ who wish to marry Japanese and get the same inheritance rights should naturalize and adopt one another.  Or else, barring naturalization, go overseas to a society more enlightened about Same-Sex Marriage and get married.  Bonne chance.  Arudou Debito