Posted by Dr. ARUDOU, Debito on May 9th, 2013
eBooks, Books, and more from ARUDOU Debito (click on icon):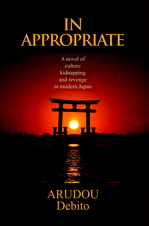 UPDATES ON TWITTER: arudoudebito
DEBITO.ORG PODCASTS on iTunes, subscribe free
"LIKE" US on Facebook at http://www.facebook.com/debitoorg
http://www.facebook.com/handbookimmigrants
https://www.facebook.com/JapaneseOnlyTheBook
https://www.facebook.com/BookInAppropriate
Hi Blog. We now have the xenophobic public demonstrations talked about previously on Debito.org, which had slogans such as "Kill the Koreans!" in Tokyo and "start a Tsuruhashi Massacre like the Nanking Massacre!" in Osaka, being debated and decried in Japan's political circles. Witness this article fresh from the Asahi (translation mine):
==========================================
Justice Minister Tanigaki "Filled with Concern" over Hate Speech
The Asahi Shimbun, May 9, 2013, courtesy of MS
On May 9, the issue of the Zaitokukai's repeated demos containing hate speech, calling for people to "Kill the Koreans", was taken up in the Upper House's Judicial Committee. The Zaitokukai are a citizens' group seeking to deny "special privileges" to Zainichi lifetime NJ residents of Japan. Justice Minister Tanigaki Sadakazu said, "I am filled with concern. This runs directly counter to the course of a civilized nation."
The answer was in response to a question by PM Arita Yoshifu of the opposition DPJ.  In regards to next steps, Tanigaki limited his statement to, "This is extremely worrisome because it is related to freedom of expression.  I wish to observe most carefully to see whether it leads to sentiments of racial discrimination."
As for those who gave permission to a discriminatory demo, the National Police Agency said, "According to the Public Safety Ordinance, we cannot deny permission because demo's slogans become coarse/vulgar (soya) or rough (ranbou).  If there is something concretely illegal under the law, we can take measures."
ENDS
2013年5月9日 朝日新聞
ヘイトスピーチ「憂慮に堪えない」 谷垣法相
http://www.asahi.com/national/update/0509/TKY201305090289.html
「在日特権を許さない市民の会」(在特会)などの団体が「朝鮮人を殺せ」と連呼するヘイトスピーチ(憎悪表現)デモを繰り返している問題が、9日の参院法務委員会でとり上げられた。谷垣禎一法相は「憂慮に堪えない。品格ある国家という方向に真っ向から反する」と語った。
民主党の有田芳生氏の質問に答えた。今後の対応については「表現の自由との関係で、誠に悩ましい。人種差別感情をあおるものになるのか、注視してゆきたい」と述べるにとどめた。
差別的なデモが許可されていることについて、警察庁は「公安条例では、デモの主張が粗野、乱暴だという理由では不許可にできない。具体的な違法行為があれば対処する」とした。
ENDS
==========================================
Comments have also come from the top:
==========================================
Japan's PM Abe criticizes rise of hate speech in country
Japan Daily Press, posted on MAY 8, 2013 by JOHN HOFILENA, courtesy of JK
http://japandailypress.com/japans-pm-abe-criticizes-rise-of-hate-speech-in-country-0828468
Japanese Prime Minister Shinzo Abe expressed his concern on the increase of hate speech in the country in an Upper House Budget Committee session on May 7. The premier criticized the hate-mongering that has become rampant on the internet and in specific areas around the nation, adding that the hate these people show is dishonoring Japan.
"It is truly regrettable that there are words and actions that target certain countries and races," Abe was quoted as saying. This was the prime minister's response to a question from Democratic Party of Japan lawmaker Kan Suzuki, who pointed out that demonstrations in the Koreatowns of Tokyo's Shin-Okubo district and Osaka's Tsuruhashi district have been marred by such vitriol and race-specific hate. Protesters have been shouting, "Kill the Koreans", or that "Koreans are cockroaches", and "Koreans go home, you do not belong here!" Abe called on the Japanese people to show the courtesy that has been the trademark of the nation. "I believe that the Japanese respect harmony and should not be people who exclude others," Abe said. "The Japanese way of thinking is to behave politely and to be generous and modest at any time," he added.
Abe himself has been caught in recent issues where his specific words have caused angry reactions from South Korea and China. This is with regards to his views about Japan's role in World War II, saying that the term "aggressor" can be defined in different ways from different points of view. South Korea has specifically made strong diplomatic reactions, asking Japan to apologize and the international community to exert pressure for Abe to retract what he said.
Abe concluded that those who are spreading hate speech – online or offline – do not represent the Japanese people. He also specifically said that it was his intention to restrict hateful comments posted on his official Facebook page. "It's completely wrong to put others down and feel as if we are superior," he said. "Such acts dishonor ourselves."
ENDS
==========================================
COMMENT FROM DEBITO:  Although I am happy that the LDP is saying that these hateful tendencies are a bad thing, there are two tendencies that should be noted.  One is that these are reactive, not active, stances by the governing parties.  These clear and powerful acts of hate speech happened months ago, and now we're just getting to them during question time, in response to opposition questions?  Far too slow.  The LDP should have denounced this behavior immediately if it ran so counter to what PM Abe can so cocksurely say is not "The Japanese Way of Thinking".  (And given that these people are legislators, where is the proposal for a law against it?)
The other is Abe's disingenuousness.  Abe might now say that those who are disseminating this kind of hate speech "do not represent the Japanese people".  Yet these right-wing haters are precisely Abe's support base.  As I discussed in my articles in the Japan Times ("Keep Abe's hawks in check or Japan will suffer", February 4, 2013) and on Japan Focus ("Japan's Rightward Swing and the Tottori Prefecture Human Rights Ordinance." Asia-Pacific Journal, Vol. 11, Issue 9, No. 3. March 4, 2013), Abe has been intimately involved with the Sakura TV crowd, for years now advocating all manner of hateful invective towards NJ, particularly Japan's neighbors and domestic NJ residents.  Abe is thus talking out of both sides of his mouth here.
Especially in regards to issues of his Facebook page mentioned above, which exists to help rally support amongst the Internet Neto Uyo Rightist crowd.  Consider this academic treatment by scholar Tessa Morris-Suzuki in Japan Focus, excerpted:
==========================================
The Asia-Pacific Journal, Volume 11, Issue 8, No. 1, February 25, 2013.
FREEDOM OF HATE SPEECH; ABE SHINZO AND JAPAN'S PUBLIC SPHERE  ヘイトスピーチ(憎悪発言)の自由ー安倍晋三と日本の公共空間
Tessa Morris-Suzuki
Facebook Friends to the Rescue: Mobilizing the Otakusphere
After a rather slow start, a number of Japanese politicians have taken to social media with great enthusiasm. Among them is the nationalistic mayor of Osaka, Hashimoto Toru, who issues an unending series of tweets on his policies and general view of the world, and caused particular controversy last year with a series of rambling tweets on the "comfort women" issue, in which he denounced the 1993 Kono apology and expressed support for Abe Shinzo's position on the "comfort women". 7 Abe himself has also responded most enthusiastically to the political opportunities created by the Internet age. He was quick to create a personal website, and has maintained a Facebook page since well before his recent election. He or his personal secretary post comments on the page almost every day, and it boasts over 4,800 Facebook friends and more than 230,000 followers.
On 22 December 2012, six days after the election which returned Abe to the prime ministership, NHK devoted its evening prime time to a discussion program about the election results and the implications of the new government for Japan. The participants in the program were the Secretary-General of Abe's ruling party, Ishiba Shigeru, the head of the government's coalition partner, Yamaguchi Natsuo, three university professors and an economist from the influential think tank the Japan Research Institute. NHK invited viewers to send in questions that they would like to have raised during the discussion.
About two hours before the program went to air, Abe's secretary posted a message on the prime minister's Facebook page mobilizing its friends and followers to action. The secretary slammed the "bias" of NHK and warned readers that the forthcoming program would be a "clean sweep of Abe bashing". The web link, email address and fax number of the program were included in the post, and Abe's friends and followers were urged to bombard the program with messages. The secretary's message also made derogatory comments about the discussion program's panelists, describing one (University of Tokyo political scientist Fujiwara Kiichi) as being "famous for saying that 'the five abductees who came home to Japan should be sent straight back to North Korea"'. 8 (8 See here, post dated 22 December 2012 (accessed 15 January 2013).)
Very far from being a "clean sweep of Abe bashing", the program proved to be very much like most other political discussions on the public broadcaster. The early questions were directed to the two government-party politicians, who were allowed a substantial share of the air time, and much of the discussion centred around positive suggestions on the need (for example) to listen to the voices of the young and to address the problems of Japan's aging population. Questions were raised, among other things, about the content of the government's proposed large-scale public work's programs, but the criticism was so calm and reasoned that it would require an unusually thin skin to be offended by it.
Later the same evening, after the program had gone to air, the Prime Minister added his own comment to his secretary's post, describing the program's participants (other, presumably than Ishiba and Yamaguchi) as "too low-level" (osomatsu sugi). One panelist was described as being "beyond the pale", and of two others, the Prime Minister wrote that they should be "ashamed to show their faces in public". 9 (9 See here, comment by Abe Shinzo, 21.59, 22 December 2012 (accessed 15 January 2013).)
Shortly afterwards, Professor Fujiwara posted a mildly worded response on Twitter, pointing out that he has never said or written that Japanese abductees should be returned to North Korea. Energetic efforts by at least one pro-Abe website to prove him wrong ended in failure 10 (10 See here (accessed 20 January 2013)), but meanwhile his supposed "statement" on the abduction issue (which in the Japanese context is roughly the equivalent of an American politics professor expressing support for Al Qaida) was circulating like wildfire through Japan's right wing blogosphere.
Neither Abe nor his secretary has apologized for or revised the comment about Fujiwara, which still remains on the Prime Minister's Facebook page. No opposition politician and no national newspaper or TV station in Japan has questioned the Prime Minister's use of Facebook to libel an academic public commentator. Nor did any of them discuss the propriety of the Prime Minister's Facebook page being used to post a misleading description of a TV discussion program, with the intention of inciting readers to inundate the program with pro-government comments.
The Abe Facebook message can be read as a calculated warning to any Japanese media outlet or commentator proposing to express doubts at government policy that they are likely face officially sanctioned harassment and vilification. In the Internet age, direct intervention by politicians in the media is no longer needed; they can get their Facebook friends to do it for them.
Full article at http://www.japanfocus.org/-Tessa-Morris_Suzuki/3902
==================================
In sum, if Abe wants to keep harping on about "honor" (whatever that means), I think he should be looking at himself and his political activities in the mirror.  These hate-speech activities are a direct result of the political machinations of his political ilk, if not him personally.  That a man could exist in such a powerful position in government not once, but twice, says indicative things about Japan's view of "honor", and about the Japanese public's tolerance of disingenuousness.  Arudou Debito