Posted by Dr. ARUDOU, Debito on September 10th, 2013
eBooks, Books, and more from ARUDOU Debito (click on icon):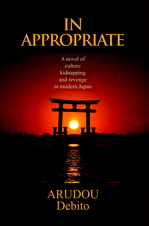 UPDATES ON TWITTER: arudoudebito
DEBITO.ORG PODCASTS on iTunes, subscribe free
"LIKE" US on Facebook at http://www.facebook.com/debitoorg
http://www.facebook.com/handbookimmigrants
https://www.facebook.com/JapaneseOnlyTheBook
https://www.facebook.com/BookInAppropriate
Hi Blog. Interesting report sent to me by Debito.org Reader D. Eleven minutes of video on the Zaitokukai, the Rise of Hate Groups in Japan, and the tensions between Right, Left, and "Foreign" in Japan's public debates. Very much worth a viewing. Courtesy of The Real News Network (theRealNews.com).
Published on Sep 8, 2013
Tensions in East Asia are putting stress on Japanese society as rightwing activists begin to target resident Koreans. This has led to some politicians calling for legislative action against "hate speech"
http://www.youtube.com/watch?v=MgvfMHYYv2E
Arudou Debito