mytest
Books, eBooks, and more from Dr. Debito Arudou (click on icon):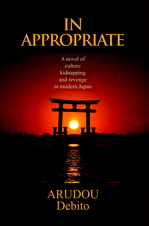 UPDATES ON TWITTER: arudoudebito
DEBITO.ORG PODCASTS on iTunes, subscribe free
"LIKE" US on Facebook at http://www.facebook.com/debitoorg
https://www.facebook.com/embeddedrcsmJapan
http://www.facebook.com/handbookimmigrants
https://www.facebook.com/JapaneseOnlyTheBook
https://www.facebook.com/BookInAppropriate
If you like what you read and discuss on Debito.org, please consider helping us stop hackers and defray maintenance costs with a little donation via my webhoster:


All donations go towards website costs only. Thanks for your support!
UPDATE JULY 14, 2018:  DEBITO.ORG READER MATT HAS CONTACTED ME WITH PHOTOS OFFLIST (AND BELOW IN THE COMMENTS) TO SAY THAT MARUFUKU HONTEN IN FACT IS OPEN TO NJ CUSTOMERS, AND EMPLOYEES. HE WRITES:
=============================
MATT:  My friends and I go to Osaka Honten in Osaka all the time.
Although discrimination against Non Japanese is a very serious issue in Japan, I can 
tell you that Osaka Honten has always been very welcoming to Non Japanese.
It seems that this was a case of a bad attempt at humor/overheard speech/inside joke
reported third hand by a blogger who was passing through and created a 外国人お断り
hashtag that probably (rightly so) alerted one of your readers. 
I say inside joke because most of the staff at Osaka Honten are from Korea or The Philippines, 
including my good friend Leo who has been working for Marufuku for 15 years.
Marufuku Honten is one of the cheapest restaurants in Nishinari. Most of the customers are poor and working class
and cannot afford to eat at more expensive restaurants in Osaka. 
I hope you will issue a retraction as soon as possible.
=============================
I HEREBY RETRACT THIS BLOG ENTRY, LEAVING THE ORIGINAL TEXT UP WITH STRIKETHROUGHS.  GO HAVE A MEAL AT THIS ESTABLISHMENT.  DEBITO
============================
Original text:
Hi Blog. Here's what you get when you allow business establishments legally to refuse service to Non-Japanese, as Japan does. Eventually it becomes so normalized (after all, it's been more than twenty years since Japan signed the UN Convention on Racial Discrimination, and we still have no law against racial discrimination) that people no longer even bother to feel any form of guilt or shame about it.
Here's an example where exclusionism becomes a selling point for an Osaka tachigui bar — gleefully bragging about it on Instagram with "gaikokujin okotowari" hashtags — where the proprietor even mentions how he elicited big laughs from other customers by refusing foreigners!
Clearly a nice place, publicly denigrating paying NJ customers at their own expense.  Contact details below.  Dr. Debito Arudou
//////////////////////////////
From: PC
Subject: Owner brags about refusing foreigners on Instagram
Date: July 12, 2018
To: debito@debito.org
Hello Dr. Debito.
I have recently come across these posts (screenshots attached) on instagram of an izakaya owner (I presume) joking about refusing foreigners and even going as far as stating "This drinking establishment is cheap for the sake of Japanese people!" or something along those lines (maybe you can translate better) and even using #外国人お断りin the tags. The store is located in Osaka and is called ホルモン マルフク. Regards, PC
//////////////////////////////
Name:  Marufuku Honten (Izakaya bar selling Horumon, or fried offal)
Address: 1-6-16 Taishi Nishinari-ku Osaka 557-0002
557-0002 大阪府 大阪市西成区 太子 1-6-16
Phone: 050-5890-9648 or 06-6641-8848
https://tabelog.com/en/osaka/A2701/A270206/27042773/dtlphotolst/4/2/?smp=s
https://oosaka-marufuku.jimdo.com
ENDS
================================
Do you like what you read on Debito.org?  Want to help keep the archive active and support Debito.org's activities?  Please consider donating a little something.  More details here. Or even click on an ad below.