mytest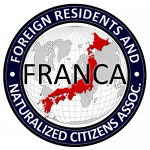 Hi Blog.  It seems the "NJ blame game" I mentioned earlier this year is still continuing in the Japanese media.  Japan Today reports tabloid magazine Spa! coining a special word to describe "monster gaikokujin" wreaking havoc and laying waste to Japan.  Of course, Japanese tourists are ever so well behaved, and they don't do things like deface a world heritage site and the like.  And Japanese overseas don't commit crime.  Never ever.  But imagine the howls of protest in the J media (and the J embassies) should the Italian media decry "mostruoso niapponese".  Ah well.  More bad social science by media that seems convinced that the Japanese language is some kind of secret code unintelligible to the outside world.  Twits.  Arudou Debito in Sapporo
============================================
'Monga' in our midst
Japan Today, February 11, 2009.  By Magda Lupescu.  Courtesy of SH, MS, and many others.
http://www.japantoday.com/category/commentary/view/monga-in-our-midst

"They get into jacuzzis at onsens still covered with body soap, punch out taxi drivers and so on. Here we pursue the mode of life of the foreigners who swagger in our faces during Japan's recession!"
This week's issue of Spa! (Feb 17) then proceeds with a four-page polemic against foreign tourists and residents titled "Report of Monster Foreigners on the Rampage."
Spa! employs the word "monga" for this phenomenon, a neologism of created by combining "monsutaa" (monster) and "gaikokujin" (foreigner).
The article's opening page is topped with a dorsal view of the British tourist who went skinny dipping in the Imperial Palace moat last October, just seconds prior to his arrest. How ironic, the magazine notes, that the same month the gentleman took his swim the Japanese government established a new Tourism Agency under the umbrella of the Ministry of Land, Infrastructure, Transport and Tourism.
The first half of Spa's article is devoted to mutterings over the misadventures of foreign tourists, whose irritating peccadilloes range from utilizing their flashes (which is prohibited) at Tsukiji's early morning fish auctions to haggling tenaciously over the prices of optional extras in an erotic massage parlor.
One "maid" employed by a shop at Akihabara relates her own tale of woe: While distributing flyers on the street she was pursued by a group of five or six cackling black males, exclaiming "Meido-san! Meido-san!" as they recorded her image with video cameras.
"I was terrified, fled for my life," she shudders.
A kaiten-zushi shop owner, meanwhile, is convinced the plastic bottles of water from which South Korean patrons sipped while seated at his counter really contained shochu (grain spirits) that they had "ripped off" from somewhere.
An accompanying sidebar titled "What is the source of the increase in foreigners who wander off the beaten track?" complains that foreign-language guidebooks fail to instill proper decorum and frequently guide readers to places that are irrelevant, while downplaying spots that foreign visitors are likely to enjoy—such as the Mitsuo Aida Museum in Yurakucho and Museum of Swords (Token Hakubutsukan) in Yoyogi, Shibuya Ward. (Neither museums' websites however, provide maps in English and it appears the latter's has not been updated for about one year.)
The same sidebar also complains bitterly that in its introduction to Yanaka Cemetery in Nippori, the Michelin guide mentions Tokugawa Yoshinobu, the last Tokugawa Shogun, in the same breath with Oden Takahashi, a notorious murderess who was the last woman to be executed by decapitation — while completely overlooking other famous individuals interred therein.
The second half of the article swivels its guns toward foreigners living in Japan, featuring such "monga" as a satyric Turk who reveled in enticing local women to participate in his Roppongi orgies, and Filipinas who have overstayed their entertainer's visas by a decade or longer.
Vernacular articles focusing on misbehavior by foreigners have regularly appeared in Sapio, a bimonthly magazine with a strong nationalistic slant published by Shogakukan. But Spa!, until fairly recently at least, has been largely indifferent to foreigners here, preferring to cover behavior by the natives. As such, its entry into the fray came as something of a surprise.
Spa!, known as Shukan Sankei until 1989, is published by Fusosha, a wholly owned subsidiary of Fuji TV. The Audit Bureau of Circulation put its weekly sales at 113,397 copies in the first half of 2008.