mytest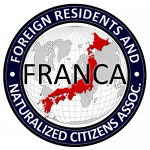 UPDATES ON TWITTER: arudoudebito
Hi Blog.  Coming on the heels of news two months ago, of GOJ reports of record numbers of labor violations and NJ Trainee deaths from overwork, here we have Nj fighting back regarding overtime.  Unpaid or underpaid, that is.  Which has been happening for decades now, since the "Trainee" and "Researcher" came online almost twenty years ago.  It's just going to keep happening until the GOJ finally enforces its already weak labor laws, and these workers fight back through unions and courts to claim what's rightfully theirs — minimum standards for work and pay.  Bonne chance.  Arudou Debito in Sapporo
================================
Chinese trainees file complaint with labor bureau over 350 yen per hour overtime
(Mainichi Japan) October 27, 2009, Courtesy of JK
http://mdn.mainichi.jp/mdnnews/news/20091027p2a00m0na020000c.html
Chinese trainees, including the five who filed a complaint with the Shimabara Labor Standards Inspection Office, attend a rally calling for better working conditions. (Mainichi)
SHIMABARA, Nagasaki — Five Chinese trainees at an underwear manufacturer here have filed a complaint with the local labor bureau claiming they were forced to work overtime for just 350-400 yen per hour.
"We came to Japan with hope, but we are not treated like human beings," the five women stated. "One other trainee complained that our wages were low and was sent back to China. We want to work in Japan for three years under reasonable conditions."
The complaint, filed on Oct. 21, also claims that the women had their break times deducted for washroom visits, and the Shimabara Labor Standards Inspection Office has launched an investigation into the company for possible violations of the Labor Standards Act.
"The labor bureau is conducting an inquiry, so I cannot comment," said the 62-year-old company president.
The five women, aged 21 to 27, arrived in Japan between December 2006 and December 2007 under the Industrial Training and Technical Internship Program, administered by the governmental Japan International Training Cooperation Organization.
According to the complaint and other sources, the women each worked as many as 209 overtime hours per month, and about 2,000 hours per year. The 350-400 yen per hour the women claim they were paid for that overtime falls short of Nagasaki Prefecture's minimum wage of 629 yen per hour, and well below the standard set by the Labor Standards Act, which requires employers to pay 1.25-1.6 times the regular wage for overtime.
The women claim that during busy periods they each worked from 8 a.m. to 12 a.m., and sometimes did not have a single day off per month. They apparently signed a contract paying them a monthly salary based on the minimum wage, but that excluded provisions for overtime. Working an average of 173 hours per month at the minimum wage would equal a monthly paycheck of about 110,000 yen.
However, the women claim that the company told them their pay was being directly deposited in their bank accounts and did not show them the payment details. Furthermore, the company held both the women's bankbooks and passports. The company president also apparently checked the clock whenever one of the women went to the washroom and deducted that time from their breaks.
A person who knew of the women's working conditions reported the company to the Kumamoto Prefecture branch of the Zenroren union, which passed on the report to the Nagasaki branch. The five women enrolled in the Nagasaki branch, and began collective bargaining with the company. That resulted in the return of their bankbooks, but apparently no progress was made on the wage issue.
In response to growing criticism from experts on the rising number of foreign worker exploitation cases, the central government amended the Immigration Control and Refugee Act in July. The changes will go into effect in July 2010, and the government continues to review the system.
ENDS
================================
中国人研修:時給350円、トイレ分は休憩減 5女性申告
毎日新聞 2009年10月27日
http://mainichi.jp/select/wadai/news/20091027k0000e040080000c.html

集会で過酷な労働実態を訴えた中国人女性=長崎市で2009年10月25日、阿部弘賢撮影
長崎県・島原半島内の女性下着縫製会社で働く中国人女性5人が、時給350~400円で残業させられているなどとして、島原労働基準監督署に労働基準法違反の申告をした。「トイレに行くと休憩時間から引かれた」などとも訴えている。申告を受け、同労基署は労働実態調査に乗り出した。同社の社長(62)は「労基署が調べているのでコメントできない」としている。
外国人研修・技能実習制度により、06年12月~07年12月に入国した21~27歳の中国人女性。今月21日に申告した。
申告などによると、同社は時給350~400円で多い月は1カ月に209時間、年間約2000時間の残業をさせたとしている。労基法は時間外勤務について賃金の1.25~1.6倍の割り増しを定めているが、同県の最低賃金(現在629円)も大幅に下回っていると主張している。
女性らによると、繁忙期は午前8時~午前0時ごろまで働き、休日が1カ月に1日もなかった月もあったとしている。残業代を除く1カ月の給料は、県の最低賃金で計算する契約。1カ月平均173時間で約11万円になるが、同社は「通帳に振り込んでいる」などとして明細を出さず、通帳やパスポートも預かられていたという。また、女性らが勤務時間中にトイレに行く際は、社長が時計で時間を計り、その分を休憩時間から差し引かれたという。
女性らの労働状況を知った関係者が9月上旬、熊本県労連を通じて長崎県労連に連絡。女性らは団体交渉での解決を目指し、県労連の労働組合に加入し、会社側との団交を続けている。この結果、通帳などは返されたが、賃金についての進展はみられないという。
女性らは「希望を持って日本に来たが、私たちは人間として扱われていない。実習生のうち1人は『給料が少ない』と言ったら中国に帰国させられた。私たちは適正な環境で3年間、日本で働きたい」と訴えた。
同制度を巡っては、専門家らから「労働搾取」が相次いでいると批判の声が出ており、政府は今年7月に入管法を改正したほか、来年7月の改正法施行に合わせ、更なる制度見直しを進めている。【阿部弘賢】
ENDS