mytest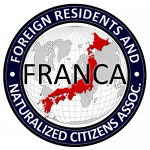 UPDATES ON TWITTER: arudoudebito
Hi Blog.  Here's a little update on the current debate regarding granting local suffrage to PR holders.  As ruling parties go, the Social Democrats led by Fukushima Mizuho support it, the (tiny) Kokumin Shintou led by Kamei Shizuka opposes it, and the DPJ itself (as usual) is split.  No surprises there, but we'll see how the cards fall if and when it's brought to a vote.  Of course, watching public policy being made is famously like watching sausages being made (you don't want to know what goes into it), but the fact that the Cabinet in general supports it is telling.  And enough people are feeling threatened by it that there is quite visible public protest (but I'll get to that later), which is also telling (if people felt no threat of it actually coming to pass, they wouldn't bother).
My take is that whenever you have an opposition party in power (particularly a leftist one), you always have deep internal divisions, because the left in particular has trouble rallying around one issue.  The right has it a lot easier:  either rally around money issues (very clear cut), or else just keep the status quo ("there's a good reason why things are the way they are, so if they ain't broke…").  So the DPJ having divisions and mixed feelings about this is only natural — it's par for the course on the political spectrum.  Majority rules, anyway.  So let people grouse about it for an adequate amount of time, and let's see how the vote turns out.  Arudou Debito in Sapporo.
//////////////////////////////////////////////////////
Government split over bill to give non-Japanese permanent residents right to vote
Mainichi Daily News November 7, 2009. Courtesy HJ
http://mdn.mainichi.jp/mdnnews/news/20091107p2a00m0na009000c.html
A bill proposed by a key member of the ruling Democratic Party of Japan (DPJ) to grant permanent foreign residents the right to vote in local elections has split the party.
DPJ Diet Affairs Committee Chairman Kenji Yamaoka has declared that he intends to submit a bill to the current session, and recommended that parties allow their legislators to freely decide whether to vote for or against the bill.
His move is widely viewed by many politicians as an attempt to drive a wedge between the largest opposition Liberal Democratic Party (LDP), which is reluctant to give foreigners the right to vote, and its former coalition partner Komeito, which is enthusiastic about the move.
However, the issue has drawn opposition from within the DPJ and the coalition government it leads.
DPJ legislators are divided over the issue. There are numerous legislators within the governing party in favor of giving permanent foreign residents the right to vote in local elections, including Prime Minister Yukio Hatoyama, Foreign Minister Katsuya Okada and DPJ Secretary-General Ichiro Ozawa.
However, there are a certain number of opponents, including Chief Cabinet Secretary Hirofumi Hirano and Deputy Chief Cabinet Secretary Yorihisa Matsuno.
"There are over 140 new members of the House of Representatives who have just been elected to their first term in the latest general election. It's necessary to hold in-depth discussions on the issue within the party," Hirano told a news conference on Oct. 22.
Moreover, in order to ensure that the bill be passed into law, it will require an extension to the Diet session — which has drawn complaints from officials at the prime minister's office and ministries, for fear that a longer Diet session could adversely affect their compilation of the fiscal 2010 state budget draft.
The government has limited the number of bills it submitted to the current Diet session to make sure that it can complete the compilation of the fiscal 2010 budget draft by the end of this year.
Even Hatoyama, who is in favor of the permanent foreign residents' rights to vote in local elections, has taken a cautious approach toward the bill. "I'm enthusiastic about the move, but it's an extremely serious theme within the party. There are various opinions on the issue. We have no intention of trying to forcibly push ahead with the bill," Hatoyama told a Lower House Budget Committee session on Thursday.
Furthermore, Yamaoka's move runs counter to the DPJ's policy of leaving policy-making entirely to the Cabinet and banning legislator-sponsored bills in principle.
Even Komeito, which is in favor of the move, has displayed skepticism. "I don't think we've completely formed a consensus among party members," a senior member said.
LDP Secretary-General Tadamori Oshima also voiced opposition to allowing its members to decide whether to vote for or against the bill at their own discretion.
"It's different from the Organ Transplantation Law (that political parties allowed their legislators to freely decide to vote for or against). It's a matter involving sovereignty. I sense a bit of resistance to the recommendation," he said.
ENDS
臨時国会:外国人参政権焦点に 政府・民主党、足並みの乱れ露呈--法案提出浮上
毎日新聞 2009年11月7日 東京朝刊
http://mainichi.jp/select/seiji/news/20091107ddm002010042000c.html
臨時国会の焦点に6日、永住外国人への地方参政権付与法案が急浮上した。民主党の山岡賢次国対委員長が今国会に議員立法で提出し、党議拘束をかけずに採決する考えを示したためだ。参政権の付与に積極的な公明党と、消極的な自民党の間にくさびを打ち込む狙いがあるとみられるが、法案の成立を図るには会期延長は必至だ。10年度予算編成への影響を懸念する政府は反発し、逆に政府・民主党の足並みの乱れが露呈する結果となった。
「今国会で(の提出を)考えている」
山岡氏は6日、民主・自民両党の国対委員長会談を終えた後、記者団に語った。民主党は政権交代後、政策決定を内閣に一元化し、議員立法を原則行わない方針だったが、早速、例外が生じる。
同党内では鳩山由紀夫首相や岡田克也外相、小沢一郎幹事長ら付与への賛成議員が多い一方で、平野博文官房長官、松野頼久同副長官ら反対派も一定数おり、意見集約は終わっていない。平野氏は10月22日の記者会見で「(衆院選で初当選した)新人が百四十数人いる。党内でしっかり議論する場面が必要だ」と強調しており、議員立法での提出は党内の意見集約を省略する意図もある、とみられる。
小沢氏は、衆院選前から在日本大韓民国民団(民団)の会合に出席するなど接触を続けており、民団側は付与に賛成する候補者の支援に踏み切っていた。
政府は10年度予算の年内編成を確実にするため、今国会への提出法案を絞り込んでいる。賛成派の鳩山首相も、5日の衆院予算委員会で「前向きに考えるが、党内でも大変大きなテーマ。さまざまな意見があり、強引に押し通さない」と述べた。
野党側も、付与に積極的な公明党でさえ「党の意思と確定したとは思えない」(幹部)と疑心暗鬼だ。自民党の大島理森幹事長は6日、党議拘束なしの採決に関し記者団に「臓器移植法とは異質だ。主権にかかわる問題で、いささか抵抗感を持つ」と反対の考えを示した。【田中成之、田所柳子】