mytest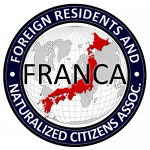 UPDATES ON TWITTER: arudoudebito
DEBITO.ORG PODCASTS now on iTunes, subscribe free
Hi Blog.  One of the more interesting proposals from the new DPJ-run Administration is suffrage for Special Permanent Residents.  The Cabinet is ready to send a bill to the Diet so that Permanent Residents (in American terms, essentially "Green Card holders") obtain the right to vote in local elections.
Regardless of whether you support or disapprove (Debito.org is in support, given how difficult it can be to get PR in Japan, not to mention how arbitrary the naturalization procedures are), what is interesting is the invective in the debate by people who oppose it.  Numerous and very visible demonstrations by right-wing fringe elements (who also seem to get all xenophobic at, say, Hallowe'en being celebrated in Japan) are resorting to daft arguments that defy calm and common sense.  Here are some photos and flyers, received from a witness of one demonstration in Shibuya November 28, 2009, courtesy of ER.  Drink in the alarmism and panic by people who are probably going to lose the debate.  Arudou Debito in Sapporo
PHOTOS FROM THE PROTESTS (click to expand in browser)
Lower flyer with PM Hatoyama proclaims with menace that the DPJ is trying to give foreigners the right to vote.  Chinese and Korean flags background text that is illegible.  Upper flyer proclaims opposition to the suffrage measure, declaring it unconstitutional, and throwing in a red herring that American league baseball players Ichiro and Matsui wouldn't get suffrage in the US.  (Okay.  But Ichiro and Matsui aren't AFAIK Permanent Residents there, nor at this time clearly immigrants; and would these opponents of suffrage for foreigners here be in opposition if fellow members of Team Japan COULD as foreigners vote in the US?  Somehow I doubt it.)
The sound trucks and picketers in Shibuya depict "JAPAN IS IN DANGER" (nihon ga abunai), and "BLOCK THE DISSOLUTION (kaitai) OF JAPAN".  If I read correctly the yellow sign on the sound truck on the left, they are even claiming that Okinawa will even be snatched away if suffrage goes through!  Not sure how that follows, but anyhoo…
This shirt lumps together a completely hitherto unestablished linkage between NJ suffrage and the Protection of Human Rights Bill (the jinken yougo houan, which is another item these alarmists get all dry-throated about).  (And for those kanji nerds, the upper kanji are read soumou kukki, which I have looked up and pieced together a translation for; but never mind — it's pretty esoteric.)
And finally, some more basic "We won't give the vote to foreigners."  "Now this is a threat to Japan", etc.
Freedom of speech allows more interesting arguments to be made in their flyers (click on image to expand in your browser), some of which I daresay would qualify as hate speech under UN Treaty:
This one makes the case that granting NJ suffrage is bad because:
1) It gives voting rights to people that don't want to naturalize (i.e. don't want to become Japanese), yet want to participate in the politics of this easy-to-live-in country Japan. (Oh, but you see, it's so easy to naturalize, after all.  Not.)
2) They have voting rights already in their home country of nationality (yet want to participate… repeated argument)
3) They don't want to give up their special rights as Zainichi (such as tax breaks (??)) [even though not all PR are Zainichi, i.e. descendants of former colonial citizens of empire, generational foreigners born in Japan yet not citizens, usually Korean or Chinese "Special Permanent Residents"] (yet want to… repeated argument)
4) There are illegal overstayers and illegal entrants amongst these Permanent Residents [wait, that's contradictory; that's not how the visa system works], therefore criminals (yet want to… you get the idea).
5) There are some PRs who hold grudges against Japanese and Japan… [oh?]
6) They will vote for Diet candidates who will allow in huge amounts of immigrants from their mother countries. [I bet these people would make the same argument to take away voting rights from anyone they perceive would vote against their interests.  They don't believe in plurality and majority rule, I guess, even when they are in the majority.]
And more.  The final question, with a poke at the DPJ, "We ask you, as Japanese citizens, ARE YOU [GODDAMN] SERIOUS?" [emphasis added to accommodate for expanded font size and boldface]
Here's another:
This one's all about protecting Japan from DPJ Dietmembers who are "selling the country off", with little thunderbolts stabbing photos and points (particularly against Dietmember Madoka Yoriko, the Dietmember apparently submitting the suffrage proposal).  Labelled as discriminatory against Japanese (!!), we've now rolled into this protest the gaikokujin jinken kihon hou (Basic Law for Human Rights for NJ), which has been on the drawing board for over a decade now) but now suddenly in the crosshairs (naturally; it just might come to fruition).  Arguments against it include how it will empower Chinese and North Koreans (the perpetual boogeymen in these debates — it even asserts that the Chinese Embassy is controlling things), and how after only five years they could get the power to vote!  (Methinks they don't actually know how difficult it is to get PR.)  And more.  Love how the invective changes font sizes for individual kanji to project even more alarmism.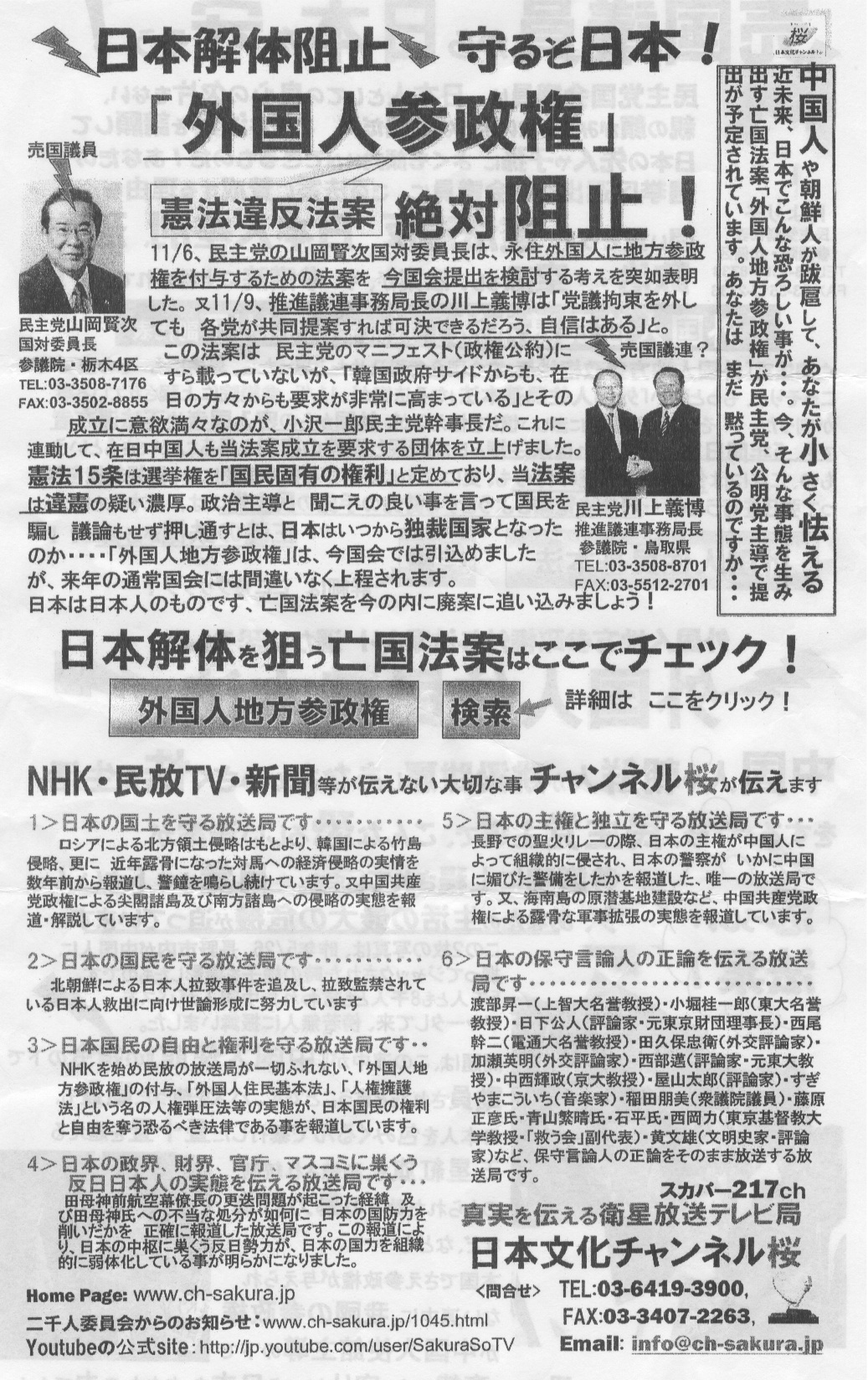 Here's another target for Zeus's lightning bolts.  Much the same arguments as above (except now accusing the media in being complicit in stifling the debate; that's rich), except the focus is on the next "sell-out", Dietmember Yamaoka Kenji and his treasonous gang promoting NJ suffrage and the dissolution of Japan, by merely giving a few hundred thousand NJ (far less than 1% of the entire Japanese population, and scattered around Japan) the right to vote.  Maa, you get the idea.  Moving on:
Next on the laundry list of grievances against NJ is the claim that the Tsushima Islands (not the Takeshima/Tokdo disputed rocks, but the much larger islands in the channel between South Korea and Kyushu) will be invaded by Korea!  Being wheeled out for speeches is pet former LDP xenophobe Hiranuma Takeo (from Okayama; I watched him get reelected in August with a comfortable margin — see his website and enjoy his depiction in English lamenting about how kids nowadays are ignorant of the date his family mansion was burned down) and pet former Japanese military revisionist Tamogami Toshio (who is clearly more in his element with extreme rightists after being kicked out of the JSDF last year).  Oh, but these events bring out the self-important, don't they.  Particularly those who predict that any concessions towards foreigners means that Japan gets carved up.
And here's a petition saying that Yonaguni Island, just off Taiwan, needs a JSDF military base to protect against Chinese invasion of Okinawa.  Just imagine what cases these nutcases would come up with if Japan actually had any international land borders.
And here we have the webs the DPJ weaves (as opposed to the webs that the perpetually incumbent LDP wove during its 50 plus years in power):  Supporters include leftist extremists and labor unions, socialists, revolutionary laborers, the Chuukakuha, Nikkyousou, the Red Army, North Korean group Chousen Souren, South Korean Mindan, the Buraku Liberation League, the Yakuza, the media (controlled by the DPJ regarding what you see and hear; again, that's rich), and the kitchen sink.  Great fun.
Finally:
In the same vein of how the DPJ has totalitarian powers, this last flyer declares that PM Hatoyama believes the Japanese Archipelago is not the property of the Japanese.  And the DPJ's grand plans include Okinawa getting 30 million Chinese (and, oh, giving Okinawa to China), and the abovementioned Human Rights Bill (which will allegedly enable searches without warrants, and has no Nationality Clause within to ensure that people who man the enforcement mechanisms are kept secure from foreigners).  And of course that NJ suffrage thingie.  But of course you're not hearing about all this because the DPJ controls the media.  Naturally.
ENDS