mytest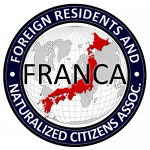 UPDATES ON TWITTER: arudoudebito
DEBITO.ORG PODCASTS now on iTunes, subscribe free
Hi Blog.  We had a NGO FRANCA (Foreign Residents and Naturalized Citizens Association) meeting last Sunday in Sendai.  We'll be having another one this coming Saturday evening in Tokyo, so if you like what you read below, please consider coming to our meeting and joining our group.
FRANCA Chair Arudou Debito gave a presentation on what FRANCA is and what it's doing.  (You can download that presentation at https://www.debito.org/FRANCA.ppt)
Attendees were
FRANCA Sendai Chair Ben Shearon
Riji Ryan Hagglund
Guest and new FRANCA Member Shaun Dyer
and Chair Arudou Debito
We had a very productive meeting, talking for more than three hours on various aspects of making life better in Japan for NJ and NNJ (Non Native Japanese — an abbreviation I doubt will catch on).  We came up with the following ideas for projects:
PROPOSED FRANCA PROJECTS

Having all family members of household listed on jūminhyō Residency Certificate regardless of nationality (currently under GOJ revision, proposed changes by July 2012).
Having koseki Family Registry forms include NJ under spouse column.
Eliminating requirements for jōji keitai, 24/7 carrying of the "Gaijin Card", must present to authorities within set time period (3 days?).
Other letter writing campaigns (e.g. Sumo Association) as issues come up.
Stop border fingerprinting for all visa holders, esp. Permanent Residents.
Allow dual nationality even after naturalization.
Stop street "Gaijin Card" checkpoints by police, bring into line with Police Execution of Duties Law for questioning J citizens.
Send positive stories of NNJ doing community activities to media (local papers), hope they take the story (we need more positive engagement with J society, not just "whining").
Allow for flexibility in registration and naming systems to reflect ethnic diversity (spellings, order, middle names for Double children).  Let us decide our official identity.
Include optional question about ethnicity (not just nationality) in National Census.
A Law against Racial Discrimination.
Survey on rental refusals (us or GOJ?)
List of small issues you can say in passing to GOJ bureaucrats, as "pinprick protests"?
The last item, "pinprick protests", was the most inspiring to me.  It's a list of little ways that we all can just register small protests orally and/or in writing, on the spot when we encounter an inconvenience or a targeting.  For example, when you get border fingerprinted, say a little something, or hand over a small piece of paper in Japanese, registering your displeasure with the process.  Or when a bank calls you for ask what your most recent overseas money transfer is for (because the presumption is that NJ bank accounts receiving money from overseas must be doing money laundering), say this or that in Japanese.  Or police racial profiling, or Gaijin Card checks by hotels or video stores, or anything else that systematically treats us as somehow less trustworthy or equal compared with the rest of the Japanese population.  We can register a little "I don't really like this treatment" in comfortable Japanese.
Enough of these little "pinprick" protests and it becomes mendoukusai for the enforcers to have to deal with us.  It's already showing when you see apologetic border control bureaucrats (yes!), and hotel clerks who check us less and less frequently.  We should stand up for ourselves more, and encourage others to do so.  I will create an artery site a la debito.org/whattodoif.html called debito.org/pinprickprotests.html, offer downloadable bilingual text, and devote a blog entry to each category, linking them all together over time.  Contributions welcome.
As for the suggestions for projects above, please come and comment at this coming Saturday's Tokyo FRANCA meeting, and let's get a good lot of ideas circulating.
Thanks for reading!  Arudou Debito, FRANCA Chair, in Tokyo, speaking to the UN today.