mytest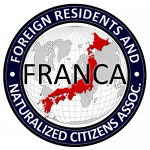 UPDATES ON TWITTER: arudoudebito
DEBITO.ORG PODCASTS on iTunes, subscribe free
CJFF writes:
October 21, 2010
For press/blog release…
Afternoon of October 13, 2010 immigration officers questioned Victor de la Cruz in his work site at Gako Ishikaya located at the basement of Tokyo's Shimbashi station of JR line. The immigration officer is asking if he and his wife, Susan Lubos de la Cruz who is an employee of an African embassy and Victor as her dependent are real husband and wife. There is no established case and Victor went home afterwards.
Today, October 20, 2010 at around 11:30 a.m. the immigration officers went to the home of Mr. and Mrs. de la Cruz in Meguro-ku and Victor was alone in the house. Later an immigration officer who gave his name as Mr. Kato of Shinjuku immigration with telephone number 03 5155 0496 called Susan, the wife of Victor, informing that they, the immigration officers, sent Victor to the National Organization Tokyo Medical Center at around 1:00 p.m. Victor suffered heart attack and in comatose given a 10-20 % chance to live by the doctor as of this writing (October 20, 2010, 11:50 pm).
Susan learned that her husband heart have stopped beating for an hour before Victor was sent to the hospital. Upon arriving home, Susan found all of their things and belonging are scattered and she also learned from the immigration officers that they went to their house to look for evidence if their marriage is real or not.
The fact is Victor and Susan have been married since 1989 or 21 years now and have been living together in the same house in the past 15 years in Japan. Susan and Victor have three children.
Susan, a member of Gabriela-Japan, a chapter of the Philippine national women organization Gabriela with 2 seats in the Philippine House of Representatives, is asking her organization for legal assistance and possibly to question the Immigration Bureau about the legality of their actions. Nobody knows what transpired and what kind of treatment, pressure, or intimidation or whatever the immigration officer employed to make Victor to suffer from heart attack. Susan is also doubtful about the legality of the immigration officers' action in raiding her house.
The Gabriela-Japan, together with its Philippine national chapter Gabriela Philippines and its parliament representatives in the Philippine House of Representatives, is launching the JUSTICE FOR VICTOR AND TO ALL FOREIGN MIGRANTS VICTIMS OF UNJUST ACT OF AUTHORITIES, ABUSE OF POWER AND MALTREATMENT. The campaign network will seek to unite various groups and individuals to push for legal actions in demanding the Ministry of Justice and legal courts to rule on the legalities on handling the Victor case.
The Justice for Victor Campaign Network is calling on all foreign migrants support groups and justice loving people of Japan to joint the cause. As initial move, we are asking all the network supporters to make a barrage of inquiry to the Justice Ministry regarding their knowledge about the Victor case and to register our strongest protest against excessive use of power of immigration officials in raiding foreign migrants suspects that cause the sufferings and being in state of comatose of Victor at present.
For all interested parties to join the Justice for Victor Campaign Network please send an email to sa_ryo AT hotmail DOT com
Justice for Victor and to all foreign migrants victims of authorities excessive abuse of power!
Cesar V. Santoyo
Mission Director, Center for Japanese-Filipino Families (CJFF)
http://home.att.ne.jp/banana/cjff/homepage.htm
ENDS