mytest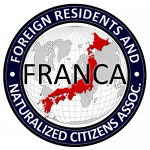 UPDATES ON TWITTER: arudoudebito
DEBITO.ORG PODCASTS on iTunes, subscribe free
Hi Blog.  Here's another article from David McNeill on how the power shift in Asia is fueling domestic xenophobic jingoism.  Although we've seen far too much coverage of this raving right-wingnut Sakurai in recent months, the point is still valid that people here are feeling (or at least the domestic media is promoting the feeling) that Japan is being squeezed by emerging neighboring economic powers.  How that will affect Japan's treatment of its NJ residents is something Debito.org and journalist contributors should keep an eye on.  (A recent Debito.org Poll, currently fifth from the top, indicates that Readers don't think it will matter much. Hope so.)  Arudou Debito on his way to JALT Nagoya
//////////////////////////////////////////////////////
The Independent, November 5, 2010
Japan: The land of the rising nationalism
By David McNeill
The emergence of China as an economic superpower is bringing out the jingoism in the Japanese
http://www.independent.co.uk/news/world/asia/japan-the-land-of-the-rising-nationalism-2125690.html
Most Tokyo districts will fortunately never experience Makoto Sakurai and his noisy flag-waving mob. But the city's normally quiet Moto-Azabu area is home to the Chinese embassy and there are few countries Sakurai hates more than China. His group's favourite insult – directed at the embassy via megaphone – is shina-jin roughly equivalent to "chink".
"The Chinese are making fools of us," said Sakurai, a baby-faced 30-something and the unlikely ringleader of what one academic calls: "Japan's fiercest and most dangerous hate group today." Like many nationalists, he is infuriated by what he sees as Chinese expansionism.
"If Japan had any guts, it would stand up to them," he said.
Two decades ago, Japan was the rising Asian upstart that was barging its way on to the world's front pages. "We are virtually at the mercy of the Japanese," The LA Times famously blared in 1989, after a slew of high-profile takeovers by Japanese companies. Now it's faltering Japan's turn to tremble at the power of foreign capital; Chinese capital.
Japan's conservative media have been sounding alarm bells all year as the rumblings from China's economic juggernaut grow louder. In a 24-page feature in March, the right-wing Sapio magazine warned that China is set to "buy up Japan", noting how Chinese conglomerates are gobbling up real estate and forests and even eyeing uninhabited islands around Japan's coast. Another magazine ran a front-page story titled "Your next boss could be Chinese".
Japan's insecurity at its reduced status has been hammered home this week in a dispute with another neighbour. Russian President Dmitry Medvedev's decision to visit one of four islands off northern Japan, seized by Moscow after the Second World War, was called "regrettable" by Prime Minister Naoto Kan. Sakurai's followers were more blunt – and bitter. "Russia and China are both taking advantage of Japan's weakness," said one. "China has a dagger pointed at Japan's heart – what are we going to do about it?"
The disputes could not have come at a worse time. The summer news that China overtook Japan as the world's No 2 economy – a position Japan had held for four decades – has sparked painful soul-searching in a country that was once seen as a serious economic rival to America. Indications of Japan's decline are all around. Per capita GDP fell from fourth in the world in 2001 to 22nd last year. Its share of global production has fallen below 10 per cent for the first time since 1982; its economy grew by a pallid 0.8 per cent in the decade till 2009. After years of government pump priming, public debt approaches 200 per cent of GDP – the worst in the developed world.
Blue-chip firms like Sony and Hitachi have lost their lustre. Last year's decision by Toyota, once the gold standard of manufacturing, to eventually recall 14 million cars seemed symbolic of a faltering global brand – Japan Inc. Yasuchika Hasegawa, president of Takeda Chemicals, summed up Japan's sense of crisis this year when he said: "We need a new vision or we face the decline of our nation."
Japan is still struggling to deal with the fallout from a separate territorial dispute with Beijing over the Senkaku (as they are known in Japan) or Daiyou (as they are known in China) islands. China pressured Tokyo into releasing the captain of a fishing boat that had collided with a coastguard vessel in waters claimed by Japan, in part by choking off supplies of rare earth minerals – vital for the electronics industry. The timing of the maritime spat confirmed some fears that China's expanding economic clout is increasingly matched by political and military muscle.
"Lots of nations disagree, but it doesn't get down to an eyeball-to-eyeball game of chicken," says Jeff Kingston, a China expert in Temple University Japan. "It's about the huge shift of power from Japan toward China over the last 15 years.
"It's about who gets to call the shots in Asia – the US or China and China is saying it wants a bigger say and the key issue is for the US to decide if it wants to cede more space to them – and history is not littered with good examples of that."
All of which could be used to paint a very bleak picture of one of the planet's most important bilateral relationships, were it not for cold economic facts. China gobbled up a record 19 per cent of Japan's total exports last year, while Japan in turn bought 22 per cent of its imports from China. Two decades of often bit
ter disputes over history, territory and politics have failed to knock the onward march of economic progress off course: China last year overtook the US to become Japan's most important trading partner.
In Tokyo's upscale Matsuzakaya department store, a couple of miles from where Sakurai and his supporters shout racist-tinged invective at the Chinese embassy, a very different picture of Sino-Japan relations is on show. Like thousands of Japanese businesses struggling with inert domestic demand, this crusty shopping landmark is turning its gaze to an alluring new customer and as such has had to hire Mandarin-speaking staff to deal with the influx of Chinese customers. "They turn their noses up at Chinese-made goods," explains Le Hui, one of the new assistants. "They want Japanese and European brands."
Long seen by Japanese companies as a source of cheap labour, China is increasingly now a market for tourism and finished Japanese products. For China, meanwhile, Japan is not only an important market but a source of advanced technologies and investment. "For China to continue along its path of development, it needs a peaceful environment and a good relationship with Japan," says Zhu Jianrong, a professor of international relations at Tokyo's Toyo Gakuen University, who is optimistic the current tension can be overcome.
Still, the political impact of Japan's growing despondency is unpredictable as it adapts, sometimes uncomfortably, to the growing Chinese bulk. One ominous route for frustrations was on display after the freeing of the Chinese captain, which was greeted with fury by Sakurai and some 3,000 other nationalists, who protested at the Chinese embassy.
The Yukan Fuji tabloid newspaper branded the release dogeza gaiko – appeasement diplomacy; Tokyo's right-wing governor Shintaro Ishihara said the Chinese were acting like "gangsters" and that it was time for Japan to seriously consider developing nuclear weapons. One hero of the neo-nationalist movement, Toshio Tamogami – a sacked former air force general – even floated the possibility of war. The end result was to "increase Japanese insecurity on the one hand and greater dependency on the US on the other," points out Mark Selden, a veteran Japan-watcher based at Cornell University in the US. That twin-punch deals a serious blow to what was once seen as a potentially promising initiative of the centre-left Democrat (DPJ) government.
The previous prime minister Yukio Hatoyama flirted with what he dubbed Yuai – a fraternal relationship with old enemy China that could have brought both sides closer: more political and cultural exchanges, an EU-style Asian market, even a military alliance were discussed.
With Hatoyama gone and both sides again in the political trenches, that initiative seems for now to be dead in the water. Prime Minister Kan, under fire for his handling of both the Chinese and Russian disputes, is suffering the consequences with approval ratings now below 40 per cent. Old rivals like former prime Minister Shinzo Abe are making political hay, advocating a much tougher diplomatic line in street protests and editorials.
Even mainstream publications like the Nikkei business daily are fuelling anti-Chinese sentiment, airing speculation – unproven – that Chinese cash is buying up Japanese land as a hedge against future food shortages at home. Conservative publications have honed in on the scenic area around Lake Kawaguchi, close to national icon Mt Fuji, where Chinese investors this year snapped up 17 luxury houses. Sakurai's group, the Citizens League to Deny Resident Foreigners Special Rights, is far to the right of the mainstream press advocating, among other things, the expulsion of long-term Chinese residents and a beefed-up military.
But he believes the political tide is turning his way. "Japan has been asleep for a long time," he says. "It's time we woke up."
ENDS