mytest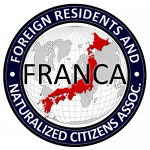 UPDATES ON TWITTER: arudoudebito
DEBITO.ORG PODCASTS now on iTunes, subscribe free
Hi Blog.  More word from cyberspace today, courtesy of AT:
/////////////////////////////////////////
December 13, 2010
Hey Debito, you gotta check out this YouTube video showing a prime example of the incompetence of the Japanese police. A guy riding a bicycle gets stopped by a police officer for no reason, which happens a lot in Japan. As the officer is asking him questions (which the guy is under no obligation to answer), we can hear an obvious traffic accident take place in the background just around the corner, and both the police officer and the bicyclist hear it. A reasonable police officer would realize that that was a traffic accident and that people may be injured and need first aid, etc. But no, this cop continues to question the bicyclist as if nothing happened. At one point he even denies that it may be a traffic accident. After the bicyclist convinces him to do so, he notifies dispatch of the traffic accident, and then continues to question the bicyclist rather than tending to the possibly injured! This cop neglected to tend to a possibly serious and fatal traffic accident, all so he can perform 職務質問 (voluntary questioning) on a bicyclist!
/////////////////////////////////////////
COMMENT:  Yes, it happens aplenty to those riding while foreign in Japan, but as I've argued before (in my Japan Times article Gaijin as Public Policy Guinea Pig), things foisted upon the NJ population to increase police powers are soon foisted upon the Japanese population as well.  This video is evidence of that.  Since the Keystones cannot stop people ostensibly without probable cause, stopping people with bicycles (using the excuse that they might have stolen them) or with bags (they might have knives etc.) is one way for the NPA to put the people in their place (i.e., if you can't avoid cycling or carrying any luggage in public, too bad; suffer our suspicions).  Of course, the Keystones need no excuse to stop NJ: being foreign-looking alone in Japan is probable cause of suspicion for a visa overstay.  Again, this fortifies my theory of Japan as Mild Police State.  One that I believe is trying to increase its power in the name of "making Japan the world's safest country again".  Even if, in this case, the safety of others in first-aid cases is subordinated to an individual cop's power trip.  A bit of a tangent today, but it's germane to Debito.org.  Arudou Debito