mytest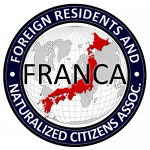 UPDATES ON TWITTER: arudoudebito
DEBITO.ORG PODCASTS on iTunes, subscribe free
Happy Weekend, Blog.  Today I'd like to write about something that came to mind when I was listening to National Public Radio's "Fresh Air" podcast of February 21, 2011, which interviewed author and Columbia University professor Eric Foner for his book "The Fiery Trial:  Abraham Lincoln and American Slavery". (NPR information site on this show, excerpt from the book, and link to audio recording here.)
It was an excellent interview, shedding insights on just how entrenched unequal treatment towards people was in a system that on paper and in its very declaration of independence proclaimed that all men are created equal.  I found similarities in the attitudes that people have towards foreigners in Japan, based not only on recent confessions by a public prosecutor that criminal jurisprudence training seeks to systematically deny human rights to foreigners, but also consequent twitter comments that justified the status quo of unequal treatment for foreigners.  It shows just how far Japan as a society (not to mention the GOJ's Bureau of Human Rights, which itself misunderstands the very concept of human rights in its surveys and awareness raising efforts; see my Japan Times article, "Human Rights Survey Stinks:  Government effort riddled with bias, bad science", of October 23, 2007) has to go before it understands that concepts of human rights are universal, not based upon citizenship.
Now for the disclaimers:  I am aware that apparently linking the treatment of NJ in Japan to slaves in America is not an apt comparison (although Japan's "Trainee/Researcher" system for importing cheap NJ labor has encouraged widespread labor abuses, child labor, and, yes, even slavery).  I am aware that most NJ are in Japan of their own free will (if one ignores the forced labor of many Zainichi ancestors), whereas slaves were brought to the US by force.  Et cetera.  But the two concepts are related if not co-joined, as racial discrimination and justified unequal treatment is common to them both.  What I want you to think about as you read the interview is how the contemporary debate arena and concepts of fundamental equality were blurred in both Pre-Civil-War USA and are still being blurred in contemporary Japan, tying the hands of even someone as able and firm in his convictions as Abraham Lincoln.
Excerpt of the interview follows, transcribed by me.  Errors mine.  Quick comment from me below.  Arudou Debito
INTERVIEW BEGINS
/////////////////////////////////////////////
TERRY GROSS:  Did Lincoln always believe that slavery was unjust?
ERIC FONER:  […]  The problem arises when you ask the question, "What do you do about slavery, given that it's unjust?"  Lincoln, like many many other Americans, took a long time to figure out exactly what steps ought to be taken…
GROSS:  I want you to read a statement that he made in Peoria in 1854, and let's start with the significance of this speech.
FONER:  1854 is when his great rival, Sen. Stephen A. Douglas forced the Kansas-Nebraska Act through Congress, which [repealed the Missouri Compromise of 1820, and] opened up a good portion of the Midwest to the possible expansion of slavery… He comes out as a leading proponent against the westward expansion of slavery.  He talks about the evil of slavery in and of itself… Lincoln says,
"This declared indifference, but as I must think covert real zeal for the spread of slavery, I cannot but hate.  I hate it because of the monstrous injustice of slavery itself.  I hate it because it deprives our republic of its just influence in the world, enables the enemies of free institutions to a plausibility to taunt us as hypocrites, causes the real allies of freedom to doubt our sincerity, and especially because it forces so many good men among ourselves into an open war with the very fundamental principles of civil liberty, criticizing the declaration of independence, and insisting that there is no right principle of action but self interest."
That little paragraph somehow condenses Lincoln's thinking about slavery.  "Slavery is a monstrous injustice."  That's the language of abolitionists, not politicians… But then he goes on to more practical issues:  It makes the United States look ridiculous in the world.  We claim the American Revolution to be the exemplar of freedom and justice in the world.  And yet, we have this giant slave system.  And it enables the enemies of democracy to say, "These Americans are just hypocrites.  They don't believe in their own founding principles.
GROSS:  So when hearing this you might think that Lincoln wanted to abolish slavery.  But as you pointed out he wasn't yet an abolitionist.  And in another paragraph in the same speech he says some things that I think will surprise many Americans.
FONER:  Well, he goes on to say that slavery is wrong, but what should we do about it?  Here he candidly admits that he doesn't know what to do about it… and Lincoln is thinking through his own position on slavery here.  Lincoln:
"If all earthly power were given me, I should not know what to do as to the existing institution.  My first impulse would be to free all the slaves and send them to Liberia, to their own native land.  But a moment's reflection would convince me that however high hope there may be in this, in the long run its sudden execution is impossible.  What then?  Free them all and keep them here among us as underlings?  Is this quite certain that this betters their condition?  Free them and make them politically and socially our equals?  My own feelings will not admit of this, and if mine would we all know that the great mass of White people will not.  Whether this feeling accords with justice and sound judgment is not the sole question if indeed it is any part of it.  A universal feeling, whether well- or ill-founded, cannot be safely disregarded.  We cannot, then, make them equals.  It does seem to me that systems of gradual emancipation might be adopted, but for their tardiness in this I will not undertake to judge our brethrens of the South."
Again, here are some remarkable comments by Lincoln which epitomize views until well into the Civil War.  Slavery really ought to be abolished but he doesn't really know how to do it.  He's not an abolitionist who criticizes Southerners… for not taking action.  His first impulse is to free them and send them back to Liberia.  At this point Lincoln does not see Black people as an intrinsic part of American society.  They are kind of an alien group who have been uprooted from their own society and unjustly brought across the ocean.  Send them back across the ocean.  This was not an unusual position at the time.
GROSS:  …I wonder how Lincoln interpreted the Declaration of Independence when it said, "All men are created equal"?  Did he think it meant all White men?
FONER:  No, Lincoln always insisted that that phrase meant everybody.  The question is, "What does it mean when you say they are created 'equal?'"  And during the great Lincoln-Douglas Debates, Douglas is constantly badgering Lincoln, saying, "Lincoln is a believer in Negro equality."  That was like the nuclear weapon of politics back then.  And Lincoln had to deny it.  And he did deny it.  The statements that most disturb Lincoln's admirers come out of the Lincoln-Douglas Debates, where he explicitly denies believing in Blacks having the right to vote, the right to serve on juries, the right to intermarriage with White people.  What then did "equality" mean?  Lincoln is very specific about it:  Equality means the right to improve your condition in life.  As he had, of course, growing up in very modest circumstances.  Black people, he always insisted, should have the rights to the fruits of their own labor, the right to improve their condition in society.  That's why slavery is wrong, and on that ground he says that they are equal to everybody.  But these other rights — political rights, civil rights, are conventional rights, which the majority of society has the right to regulate.  Women, for example, do not have the right vote, but that does not mean they should be slaves.  Lincoln makes that distinction.   To us, that sounds like an untenable decision.  How can you improve your condition in life if you lack all the legal rights?… And Lincoln had not yet thought that through.  It isn't until the middle of the Civil War that Lincoln begins thinking seriously about the future role of Black people in American society.  But on this question of Black equality, he's walking a tightrope — between his belief in a basic equality for all people, and on the other hand the unwillingness to challenge the racist views of his state [Illinois], which was a deeply racist state…
/////////////////////////////////////////////
COMMENT:  Let's consider the similarities.  Here we have the status quo in pre-Civil War USA interfering with both conscience and practice of promoting universal equality.  We have the status quo in Japan today asserting both in practice and in debates interfering with the promotion of universal equality by nationality (and by extension, race).  For example, if any Japanese politician were to say, more so now than ever, that certain NJ should have the right to vote in local elections, they would most likely lose their seat.  If we have people protesting that criminal prosecution treats NJ less fairly, even denies them fundamental human rights, we have people shouting them down online — with no exceptionalists piping up — with assumptions that NJ have criminal association.
The rest of the developed world has mostly moved on to accept universal human rights (as has Japan, both under its constitution and under the international treaties it has signed).  But public awareness of the issue, as Mark in Yayoi said yesterday, is sorely lacking:
"The Twitter comments that follow [yesterday's article] are dispiriting — nobody seems to notice the fundamental incongruousness of discussing members of a criminal organization and people who happen to have different nationalities in the same breath. And then there are the other commenters who support the idea of certain people not having human rights. Others claim that foreign embassies should be the ones to guarantee the rights of immigrants. They miss the fundamental meaning of 'human' rights: rights are inherent aren't handed down by the government! The government can restrict certain people's rights, but the default state is not 'zero rights'."
In the United States, it took a war to get rid of institutionalized slavery, and more than 100 years to get equal treatment by race before the law.  I am not sure what it will take for Japanese society to realize that fundamentally unequal treatment towards NJ has to stop. Arudou Debito