Posted by Dr. ARUDOU, Debito on January 27th, 2012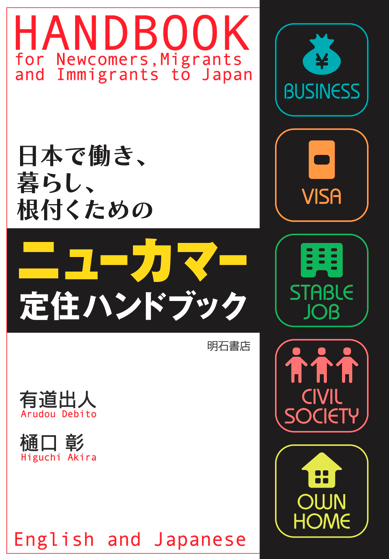 UPDATES ON TWITTER: arudoudebito
DEBITO.ORG PODCASTS on iTunes, subscribe free
Hi Blog.  Something I've noticed about Japan's anti-crime campaigns:  1) These campaigns are not temporary (as in, "the campaign expires on this date"), meaning inevitable future crackdowns are cumulative (see for example here and here), 2) they quickly take on a racist bent (as NJ are officially depicted as more likely to commit crime, or even just be criminals by existing, as potential "illegal visa overstayers") and encourage racial profiling in practice (see here and here), and 3) a general lack of legal oversight over the Japanese police means the cops go too far, bending laws (see for example here and here) and in this case targeting politically-disenfranchised people (NJ) who can't fight back through the system or the media, or even through their political representative (who are basically in on the gaijin bashing for political capital and budgetary gain).
These are all elements of a police state, and the systematic mistrust of foreigners in Japan enables the bureaucracy to carry out in microcosm what Submitter PS (a pseudonym) reports below.  Fortunately this time, PS had the presence of mind to take photographs of these toughs from Immigration, who clearly felt their need to police gaijin overrode their need to treat people with respect and dignity (not to mention without resorting to physical force and with due process under the law).  Arudou Debito
///////////////////////////////////////////////////////////
January 23, 2012
Dear Debito,
My name is PS. I'm a 45-year-old American living and working in Tokyo, where I've resided for the last 8 and a half years. I have a valid working visa, pay my Japanese taxes (both national and local), and have never had any unpleasant encounters with the authorities; that is, until last Thursday, Jan. 19. It's something that I think you should know about.
That morning, an Immigration official showed up at the door of my apartment, unannounced, and demanded to see my passport. I was very suspicious that Immigration (not the police) would make a sudden home visit to do a spot-check, especially since I've lived in the same apartment since 2003, and since my address has been registered with the Shinagawa Ward office for over 8 years. Anyway, I asked this gentleman to show me his badge so that I could write down his name and badge number. He quickly flashed me some ID, but I pointed out that I didn't have the opportunity to see, much less write down, the details. In a belligerent tone, he said in English, "Passport first!" I refused, bid him a good day, and started to close my door. It was at this point that things got out of hand.
The aforementioned gentleman physically blocked my door from closing, and we got into a shoving match that led to my door getting knocked off its tracks. Then, suddenly, four of his associates (2 men and 2 women), who'd apparently been hiding in the stairwell, appeared en masse. Things continued to verbally escalate, though with no further physicality, until one of them finally relented and let me take a photo of his badge. I took the further liberty of photographing the three "men" who were harassing me. The photos are attached. The person wearing the surgical mask in Photos #2 and 3 is the one with whom I tussled. The name stitched on his uniform was "S. Maeda."
(NB from Debito: This crappy rubber-stamped and handwritten note passes for GOJ ID??)
After I was satisfied that these people were who they claimed to be, I retrieved my alien registration card, which I presented to them. One of these individuals tried to take it from me, but I made it quite clear that the card wasn't leaving my hand. My name and number were written down, and these people finally took their leave. I will admit to getting very upset and giving them quite the tongue-lashing as they were walking away. I couldn't help but point out the infringements on my human rights, not to mention the ridiculous waste of manpower – 5 officials to harass one law-abiding "gaijin" who pays their salaries through his tax payments.
After they left, I called my landlady, who rang Immigration on my behalf. The official she spoke said to confirmed that it was indeed their staff who paid me a visit, though the reason was not forthcoming. After I got to work, I rang the U.S. Embassy to report the matter and told my employer as well. My deep concern was that I might "disappear" and wind up in some windowless dungeon, so I wanted to be sure I had some lifelines established.
This experience has left me terribly shaken and deeply resentful. Given my long tenure in Japan, I was aware that the police on occasion took certain liberties that would not be tolerated in most Western countries (e.g. no Habeas Corpus statute, leading to lengthy incarcerations without charges being filed). However, I had no idea that I was living in a virtual police state in which my home could be practically invaded without cause, and I could be harassed by what struck me as a pack of Gestapo agents, the presence of the two women notwithstanding.
Thanks to the excellent resources available on your website, I was able to do some research. As far as I can tell, what Immigration did to me was not legal. I know that the Foreign Registry Law, Section 13, compels me to present my alien registration card to a Ministry of Justice official if he/she asks for it. But can such a person just show up at my doorstep out of the blue and make me produce said ID? The people at issue in my case had no just cause to suspect me and produced no warrant, without which I can't see how they could justify blocking my door and getting physical with me.
I know you get a lot of e-mail, so I won't go on any further. However, if you can shed any light on what happened to me (and perhaps spread the word), I'd be very grateful. As I said, this is the first incident of its kind I've ever heard of taking place in this country. Thanks for your time in reading this long e-mail.
Best regards, PS
///////////////////////////////////////////////////////////
FOLLOW-UP FROM PS:
Yes, by all means, please post my story (with the photos) at your website.  It's fine to use my initials:  "P.S."
By the way, the American Embassy also got back to me.  They were not much help, just referring me to a link where I could find a lawyer.  In closing, they gently reminded me that, as a foreigner, I was obliged to obey the laws of the country in which I reside, even if they are very different from those of the U.S.  That's not a point I was disputing, so I wonder if they read my e-mail carefully.
ENDS
///////////////////////////////////////////////////////////
FINAL COMMENT FROM DEBITO:  Ironic how the USG expects their citizens to obey the laws of the land when even Japanese law enforcement won't.  Would be nice if the USG et.al would at least make their citizens less disenfranchised by giving them an avenue for channeling complaints of this nature.