mytest
Books, eBooks, and more from Debito Arudou, Ph.D. (click on icon):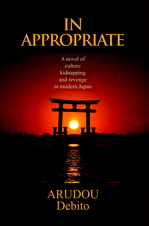 UPDATES ON TWITTER: arudoudebito
DEBITO.ORG PODCASTS on iTunes, subscribe free
"LIKE" US on Facebook at http://www.facebook.com/debitoorg
https://www.facebook.com/embeddedrcsmJapan
http://www.facebook.com/handbookimmigrants
https://www.facebook.com/JapaneseOnlyTheBook
https://www.facebook.com/BookInAppropriate
If you like what you read and discuss on Debito.org, please consider helping us stop hackers and defray maintenance costs with a little donation via my webhoster:


All donations go towards website costs only. Thanks for your support!
Hi Blog.  Here's my latest column from the Shingetsu News Agency.  Enjoy.  Debito Arudou, Ph.D.
//////////////////////////////////////////////
Visible Minorities: Carlos Ghosn's Escape from Japan Was the Right Move
SNA (Tokyo) — I have to admit more than a twinge of sympathy for Carlos Ghosn's Great Escape.
Ghosn, the former CEO of Nissan, Mitsubishi, and Renault, was arrested in November 2018 on the initial suspicion of falsifying his compensation levels, and subjected to more than a year of Japan's "hostage justice." That is, he was held hostage to a judicial system that detains you until you confess to a crime, and subjects you to days, weeks, months, or conceivably even years of interrogation and tortuous conditions until you crack. Understandably, most do crack, and Japan's conviction rate after indictment is famously more than 99%.
But as you have probably heard, at the end of December Ghosn suddenly turned up in Lebanon, one of three places he has citizenship. Out on bail in Japan, he made a daring escape that people are still trying to piece together, including man-sized musical instrument cases, an uncharacteristic lack of Japanese border security, and a mysterious visit to Lebanon's president by Japan's state minister for foreign affairs mere days before Ghosn jumped bail.
Ghosn is now making good on his threat to expose everything that happened to him while in custody. His multilingual press conference in Beirut two weeks ago was breathtaking to watch, full of documentation, pointed fingers, and hot-tongued accusations of the human rights denied to Japan's incarcerated.
This has been covered exhaustively worldwide, so what more is there to say? My perspective comes as a person who also tried to change Japanese rules and practices, and found that The System similarly fought back dirty…
Rest at http://shingetsunewsagency.com/2020/01/20/visible-minorities-carlos-ghosns-escape-from-japan-was-the-right-move/
//////////////////////////////////////////////
======================
Do you like what you read on Debito.org?  Want to help keep the archive active and support Debito.org's activities?  Please consider donating a little something.  More details here. Or if you prefer something less complicated, just click on an advertisement below.