mytest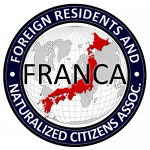 Hi Blog. Full report (rewriting previous "quick update" earlier today) on today's meeting with the Hokkaido Police, and the subsequent press conference.
Meeting with the Hokkaido Police (Doukei) took about 30 minutes, seventeen minutes spent with the police trying to get me to switch off my recording device (which they finally succeeded in doing, after three people warned me to remove the batteries for the sake of "privacy" and "ningen kankei" –or else they wouldn't even accept my protest letter).  Or rather, I met with Mr Kawabe, alone, just him and me (reporters were kept outside the building, on the public sidewalk outside the Doukei front gate; police in Japan can thus avoid any contact with the press) in a sequestered room inside the Doukei Soudan Madoguchi.  
Our conversation lasted a little over thirty minutes, in which he made clear, inter alia (again, I was not allowed to record it) the following:
They wouldn't accept my letter as a "Letter of Protest" (kougibun).  It would have to be a "Letter of Request" (youseibun).  Whatever.  Just take the darn thing.
They don't believe they're targeting foreigners in particular.  (And say as such in their official statements to the media.  I pointed out that any good detective would not draw this conclusion after all the evidence presented.)  
They make no promises that they will answer any or all of the two questions I presented in writing (i.e. what criteria are they using to target people, and, how will they improve this so they aren't merely targeting people who look foreign) at any time orally or in writing; and 
No reporters would be allowed entry into our tete-a-tete.  This avoids any secondary witnesses to our conversation, or complete record of what was said between us. Mr Kawabe wasn't even from the anti-terrorism department (despite his promises when I made an appointment the day before).  All he could do is pass up the information without quotable comment to me (I said I would be writing a Japan Times column on this, and would welcome a comment to include in the article in writing by Friday.  He indicated that would probably not happen.)  Complete evasion of responsibility, plus enabled plausible deniability.
Mr Kawabe did in fact towards the end make a defense of targeting foreigners, in that foreigners might in fact be illegal workers or overstayers, so there was a need to keep them checked on a regular basis.  He seemed to know NJ as criminals well, it seemed, but he knew next to nothing (as I asked, and I had to tell him) about the number of naturalized citizens, permanent residents, international marriages, or international children who fall into the grey area of "visibly foreign yet Japanese/earnest residents of Japan".  I think he understood my position, and even said that he'd wouldn't have minded having a beer with me under different circumstances.  Anyway, I received no meishi, and we shook hands as I departed to address the cameras and mikes waiting patiently outside.
The Press Conference at the Hokkaido Govt. Building (Douchou) Press Club took 35 minutes, about ten of them questions from the floor. I have made a recording of the entire thing, and you can listen to it without cuts (34 minutes–excerpting for my trip to the bathroom beforehand and the meishi exchange at the very end) from here:
https://www.debito.org/pressconf062508edit.mp3
(Photo credit–Hokkaido Shinbun)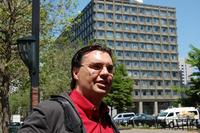 道警本部前で抗議文提出の経過を報告する有道出人さん 
(Photo Credit, Kimura Kayoko, Nikkan Beria)
(For the record, I hate listening to recordings of myself speaking Japanese in public–so much going through my mind–how to speak concisely, how to not show consternation whenever I speak about difficult topics, how to give both TV soundbites and newspaper quotes the reporters can work with, and all in a non-native tongue, which keeps tripping me up mid-sentence time and time again; damned hard work, this, and I'm envious of the Dave Spectors out there who can look composed and deliver under any circumstances.)
I think it went well, despite all my stuttering, broken Japanese in places, and reiterating points in concentric circles, in hopes of ultimately arriving at a sound bite for the TV cameras.  In terms of press attention, it was the third-best press conference I've ever done (first and second were our Otaru Onsens Lower and High Court decision days, respectively), with all the major media in attendance (the room was filled with reporters, with at least four TV stations and all the major newspapers). Seemed to truly be the issue du jour this jour.
Meanwhile, eyes peeled for articles, everyone–if you see any, please post them (full text with links) in the comments section below. I have the feeling that a lot of people are getting sick of how expensive this Summit has gotten (think USD 700 million and counting, the lion's share for security) and will perhaps latch onto this occasion to prove a point. Let's hope so, anyway.
But with the Hokkaido Police's attitude towards foreigners, accountability, and press scrutiny, pressure to reform won't be coming from within.  
You see, that's three strikes now.  First, the Airport ID Checks in 1998 and 2002 (and the demands for improvement made to the Kouan Iinkai and the Jinken Yougobu, which went completely unrequited), then the 2002 World Cup in which they made every NJ a potential hooligan, and now this with the Summit.  Again, it's a pattern from which we can now, even under mathematical definitions, triangulate.
Arudou Debito in Sapporo