mytest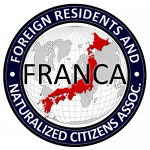 DEBITO.ORG NEWSLETTER APRIL 7, 2006 (Excerpt)
//////////////////////////////////////////
1) ASAHI SHINBUN ON "GAIJIN MAPS"
2) PERU'S FUJIMORI OUTSOURCING ELECTABILITY THROUGH NEW WIFE
3) H.I.S. TRAVEL AGENCY ALLEGEDLY OVERCHARGING GAIJIN
4) POLICE INTERROGATION ACCOUNT FROM RELEASED INNOCENT INTERNEE
//////////////////////////////////////////
Released April 7, 2006
1) ASAHI SHINBUN ON "GAIJIN MAPS"
Welcome to the future of law enforcement. Introducing… Gaijin Mapping! So you can tell where the "hotspots" are for foreign crime (kinda like Cancer Maps for insurance companies; pity foreigners are the cancer.) Never mind Japanese crime, of course; I don't understand why they don't just biochip everyone and be done with it… Well, again, because they can't. Just do it to the foreigners, because they can. But as the article hints, I don't think this sort of thing is going to stop at the foreigners… Article follows:
//////////////////////////////////////////
New tool eyed to find foreigners staying illegally
04/07/2006 The Asahi Shimbun
http://www.asahi.com/english/Herald-asahi/TKY200604070156.html
In another controversial plan, the Justice Ministry will use electronic maps to locate foreigners believed to be staying here illegally, as well as businesses that have hired illegal workers, sources said.
The system is expected to start in fiscal 2007. Immigration personnel will carry hand-held terminals showing such maps to speed up the process of taking suspected illegal foreigners into custody, they said.
Criticism had already been lodged against the plan, much like the Justice Ministry's system set up in 2004 of having the public send e-mail information about foreigners who seem to be living in the country illegally. The Japan Federation of Bar Associations has criticized the e-mail tip-off system for encouraging citizens to betray their neighbors.
Critics say the ministry's map plan will unfairly treat overstayers as hard-core criminals. "It's wrong to treat overstaying foreigners as if they constitute a hotbed for serious crimes," Manami Yano, a member of the Solidarity Network with Migrants Japan, said.
But the ministry is determined to reach the government's goal of halving the number of illegal foreigners by the end of 2008 from the estimated 250,000 who overstayed their visas or entered Japan illegally in 2003.
An estimated 193,000 foreigners were living in Japan illegally in January this year.
The ministry receives about 16,000 pieces of information annually via e-mail, letters and telephone calls about suspicious foreigners, ministry officials said.
In addition, about 19,000 foreigners around the nation in 2004 registered their names and addresses with city, town and village offices, although they did not have proper visas.
Ministry officials said many register because registry as a foreigner is needed as a form of ID to open bank accounts or buy cellphones.
Such information is available in writing, but it has been difficult to piece that data together with the information given by informants in different municipalities, even if all the information concerns the same individual.
Ministry officials said the electronic maps will combine all the information and plot the likely whereabouts of the suspicious foreigners.
But human rights groups and those who help non-Japanese say foreigners without the proper visa status often register to allow their children to attend public schools.
Yano also noted that it is rare for foreigners without proper visas to get involved in serious crimes in Japan.(IHT/Asahi: April 7,2006)
ARTICLE ENDS
//////////////////////////////////////////
2) PERU'S FUJIMORI OUTSOURCING ELECTABILITY THROUGH NEW WIFE
Former Peru Prez and refugee of Japan Alberto Fujimori is up to his old tricks again…. outsourcing through a newfound bride in yet another attempt to somehow get relected in Peru after deserting his safe haven via citizenship in Japan…. Boy this guy is a character! Hope he gets what's coming to him.
===========================
Fujimori to wed hotelier before poll
http://search.japantimes.co.jp/cgi-bin/nn20060314a2.html
The Japan Times: March 14, 2006
LIMA (AP) Former Peruvian President Alberto Fujimori will wed longtime girlfriend Satomi Kataoka, a Japanese hotel magnate, ahead of Peru's presidential election, a spokesman for the jailed ex-leader said Sunday.
Kataoka, who owns many luxury hotels and is known for her political pull in Japan, made the announcement to 2,000 Fujimori supporters in a Lima discotheque Saturday, spokesman Carlos Raffo told The Associated Press. She did not specify a date, but Peru's election is set for April 9.
Kataoka arrived in Peru on Friday to support pro-Fujimori candidates in the election, and traveled Sunday to Santiago, where Fujimori has been held since his surprise arrival in Chile in November.
Fujimori fled to Japan in 2000 when his 10-year autocratic regime collapsed amid growing scandals. He had said Chile was to be a stopover on his way back to Peru, but Chilean authorities arrested him at Peru's request.
Fujimori, who is fighting extradition, faces charges in Peru including sanctioning a death squad accused of murdering 25 people, illegal phone tapping, diversion of public funds to the intelligence service, bribing lawmakers and transferring $ 15 million to his spy chief, Vladimiro Montesinos.
===========================
ARTICLE ENDS
//////////////////////////////////////////
3) H.I.S TRAVEL AGENCY ALLEGEDLY OVERCHARGING GAIJIN
Here's something to consider before buying any more plane tickets–shop around a bit.
Forwarding collated emails with permission:
===========================
From: gameboy rock
Date: March 17, 2006 9:30:15 PM JST
Subject: H.I.S. travel agency, different ticket prices for japanese/gaijin
Hi Debito. Just a heads up, you might consider writing about:
My girlfriend called H.I.S. travel agency in Shinjuku about tickets from Narita to LA this May. After my GF gave all the details (dates, etc), the staff asked if the buyer was Japanese. she told them no, Canadian. The price for me was quoted at 70000yen, and for Japanese customers it was 57000yen.
The justification was vague, something about a cancelled tour, so they were offering the tickets at a discount, to Japanese only.
We called another HIS-affilliated travel agent "No.1 Travel" in Shinjuku, which serves a large majority of foreigners here in Tokyo. They had the same deal.
Finally, my GF went to the HIS Iidabashi branch office with a mic and recorder, and recorded a conversation with the staff about the tickets, giving the different prices, and claiming it was legal, and saying that they do these Japanese-only campaigns regularly. That recording is available at
http://www.baitohell.com/his/voice20.mp3
(There's a lot of silence as the agent checks the ticket info. Near the end, you can hear the agent explain the pricing difference. Also, the general volume is low.)
I don't know how legal this is, but if you'd like to talk to HIS yourself, the website is:
http://www.his-j.com/index.html
I spoke to a cabin attendant I know at ANA, and she said it was unlikely that the pricing is from ANA. Debito: feel free to post it on the forums. I figure the more people who stop dealing with HIS, the better.
===========================
Contact email for this information (in case the above email address doesn't come out): the6955 AT yahoo dot com
ENDS
//////////////////////////////////////////
4) POLICE INTERROGATION ACCOUNT FROM RELEASED INNOCENT INTERNEE
Another horror story from the annals of people who get taken into custody and interrogated by Japan's police forces. Under suspicion because he happened to be a foreign neighbor of a suspected foreign drug dealer. Result: 23 days of hell, then turfed out without so much as an apology or a written acknowledgement of innocence, or incarceration! Have a look at it. It's a harrowing tale:
http://noiman.com/gefaengnisd.html
(Starts out with introduction in German, then switches to English…)
//////////////////////////////////////////
That's all for this update. Thanks for reading!
Arudou Debito
Sapporo
debito@debito.org
https://www.debito.org
DEBITO.ORG NEWSLETTER APRIL 7 2006 ENDS