mytest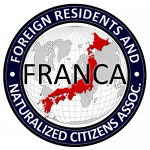 DEBITO.ORG NEWSLETTER APRIL 28, 2006
////////////////////////////////////////////////////////
1) INTERNATIONAL MARRIAGES INCREASE TO ONE IN FIFTEEN
2) UN'S DOUDOU DIENE COMING BACK TO JAPAN MAY 15 TO 19
3) PART TIME UNIV TEACHERS GET HISTORICALLY BIG SETTLEMENT
4) NEW JAPAN TIMES COLUMN ON TOTTORI DEFEATED HUMAN RIGHTS ORDINANCE
5) FORMER JAPANESE ARMY MAN RETURNS AFTER 63 YEARS
6) FUTURE UPDATES ON HIS TRAVEL AND JAL HOTEL MILEAGE
////////////////////////////////////////////////////////
1) INTERNATIONAL MARRIAGES INCREASE TO ONE IN FIFTEEN
The Sankei Shinbun (the Japanese equivalent of a Fox News-paper) did a story on international marriage on April 17, 2006 (which was the lead discussion on TV Wide Show "Tokudane", which is where I first got wind of it).
http://www.sankei.co.jp/news/060417/sha065.htm
It's a puff piece in Japanese, speculating about what could possibly induce people to tie the knot with a foreigner (gasp!), of course mentioning the obligatory stories of where problems in international relationships arise. Still, the important points to squeeze out of it are these:
1) One out every fifteen marriages (used to be 1 in 16), or 6.6% of the total marriages in Japan, are international. This was in 2004, mind.
2) 9.5% of all Tokyo marriages are international.
3) 80% of all international marriages are Japanese men to foreign women (up, IIRC, from 70% previously). 39% are Chinese brides, 27% Filipina.
And that's about it. Can't find a comparable article on it in the English press, nor easily the original Ministry of Health, Labour, and Welfare report cited in this article, so there you go.
Does Japan still hope to get along without a law against racial discrimination as the international children with Japanese citizenship continue to increase?
////////////////////////////////////////////////////////
2) UN'S DOUDOU DIENE COMING BACK TO JAPAN MAY 15 TO 19
The United Nations' Special Rapporteur of the Commission on Human Rights on contemporary forms of racism, racial discrimination, xenophobia and related intolerance, M. Doudou Diene, is scheduled to visit Japan again in a followup to his July 2005 visit.
The outcome of M. Diene's late 2005 report on unfettered racism in Japan sent shocks to policymakers dealing with issues of human rights, and was a huge shot of substantiation and recognition for the activist community. His preliminary report called Japanese society "still closed, spiritually and intellectually centered." His formal report, issued January 2006, went even farther, saying "Racial Discrimination is practiced undisturbed in Japan." "It can hardly be argued that Japan is respecting its international obligations."
Full links to what went on last year and what he said this year are at
https://www.debito.org/rapporteur.html
Although M. Diene's schedule and itinerary is not yet set and made in public, he will be in Japan between May 15 and 19. What he will be here to accomplish is yet unpublicized, but FYI. He'll be giving a press conference at the Foreign Correspondent's Club in Tokyo on May 17. I hope to meet the man again myself.
////////////////////////////////////////////////////////
3) PART TIME UNIV TEACHERS GET HISTORICALLY BIG SETTLEMENT
Just heard this from friend Kevin. He and his wife, both foreign part-time educators at the International University of Health and Welfare (Kokusai Iryou Fukushi Daigaku) in Odawara, Tochigi, have undergone years of negotiations for illegal acts (including egregious contract nonrenewal and pay cuts) and harassment at their workplace.
The Labor Board hearing their case took their side, and yesterday, they received a settlement (amount undisclosed as yet) which was Japan's highest for part time teachers in history.
This made some newspapers, none in English so far. Here's hoping. Meanwhile, here's today's Tokyo Shinbun's writeup of it in Japanese at
http://www.tokyo-np.co.jp/00/tcg/20060428/lcl_____tcg_____001.shtml
Well and good. Given that contract labor has been Japan's way of keeping foreign (and increasingly Japanese) disposable and with no labor rights, this is a definite upturn. Pity it takes so much effort just to enforce the labor laws.
More on how contract labor has been destroying Japan's once strong labor rights at
https://www.debito.org/acadapartupdateoct05.html
Contact me if you want to do a story on Kevin. debito@debito.org
////////////////////////////////////////////////////////
4) NEW JAPAN TIMES COLUMN ON TOTTORI DEFEATED HUMAN RIGHTS ORDINANCE
Next Tuesday, May 2, my 30th column (hooray!) for the Japan Times Community Page will be coming out. This time on Tottori Prefecture passing Japan's first human rights local ordinance last autumn, then UNPASSING it in March. Bad form. Bad precedent. What went wrong? What are the lessons of this case?
Pick up a copy of the Japan Times next Tuesday if you're still in the country. It was one of the hardest ones I've had to write, as there was a lot of information to process and distill down to 1350 words…
The previous 29 columns available at
https://www.debito.org/publications.html#JOURNALISTIC
////////////////////////////////////////////////////////
5) FORMER JAPANESE ARMY MAN RETURNS AFTER 63 YEARS
Every now and again, we hear stories of long-lost soldiers from the Imperial Japanese Army resurfacing after years overseas, unable to believe that the war ever ended, or finally revealing themselves as alive for their own reasons.
The case of Uwano Ishinosuke was one of the latter. A native of Iwate Prefecture in northern Honshu, Uwano was stationed in Karafuto (present-day Sakhalin) and taken prisoner after the postwar Soviet Union reassimilated the Japanese half of the island back into its borders. Japanese families were often forced to share houses with Russians, and military veterans were put into concentration camps for years until they were repatriated under the San Francisco Peace Treaty of 1952.
Uwano, for reasons best known to himself, wound up in the Ukraine, and has lived abroad for the past 63 years. He came back on April 19 to meet family, and left yesterday, April 27.
http://search.japantimes.co.jp/cgi-bin/nn20060421a5.html
Two things I find interesting about this case:
1) He lost all ability to speak Japanese, it seems. All of his press conferences were in Russian, and all communication with Japanese family were conducted with a Russian interpreter present. Although he said that his disappeared ability was due to a self-imposed moratorium of speaking Japanese, the reasons for this linguistic exile remain unclear. What is interesting is that apparently someone can rewire their native language given enough time and pressure.
2) The Japanese government, since they declared him as war dead, stated that Uwano no longer has Japanese citizenship. According to Reuters, the government has said, in their remarkable ability to plumb the depths of callousness, that he may have to give up Ukranian citizenship in order to get Japanese.
—————————————–
"He is visiting Japan as a foreigner this time. We are trying to restore his family register so that he can be confirmed legally as Japanese citizen," a Health Ministry official said.,,, "He might have to give up his Ukrainian nationality, but it is up to him whether he picks either Japanese or Ukrainian nationality," the official said.
(Link is now dead, but here it was:
http://today.reuters.com/news/articlenews.aspx? type=worldNews&storyID=2006-04-19T042934Z_01_T3950_RTRUKOC_0_US-LIFE-
JAPAN-SOLDIER.xml&pageNumber=0&imageid=∩=&sz=13)
—————————————–
That's stunning. Guy serves his country like this and then they treat him like that. I wonder how re-exiled despot Alberto Fujimori got his citizenship then? Prewar births like Fujimori's got grandfathered in, according to the government (which is also remarkable in its ability to come up with lame excuses, to justify arbitrary political decisions benefiting the elites). So why not Uwano? Guess he's not elite enough.
I watched as much press on Uwano as I could. He seems in remarkable physical and mental health, but never seemed all that comfortable during his stay in Japan. He's made a life for himself in the Ukraine, and I bet that's where he'll stay.
////////////////////////////////////////////////////////
6) FUTURE UPDATES ON HIS TRAVEL AND JAL HOTEL MILEAGE
I have followed up on two recent points of contention–travel agents HIS and No. 1 Travel charging foreigners substantially higher fares than Japanese (try 57000 yen for Japanese, 70000 yen for foreigners for NRT to LAX). Friend Kirk even found an HIS website requiring Japanese citizenship for eligibility to purchase some tickets.
http://www.his-j.com/tyo/air/ovs/ovspar.htm
(do a word search for "kokuseki" in Japanese)
I contacted the Ministry of Land, Infrastructure and Transport (www.mlit.go.jp) about this. They made it clear that this is not legal.
I then contacted customer service at HIS and told them I told MLIT all about it.
I got something from HIS in writing in Japanese saying that they would cease this practice off (I haven't had time to translate it yet) more than a week ago. Yet the abovementioned link still contains the Japanese-citizens-only fares. More to come.
Finally, I got contacted from a non-Japanese resident about trying to redeem JAL miles. He tried to book hotels overseas (in Ireland, through JAL-system hotels) only to be told that foreigners must pay double miles than Japanese. He said he would give me more information on them if they didn't knock this practice off (he even told them he would sic me on them–this is quite an odd feeling…), but so far no word back. Maybe it worked.
Anyway, more on these two items in a future update if it gels into something conclusive.
All for today. As always, thanks for reading!
Best wishes,
Arudou Debito
Sapporo, Japan
debito@debito.org
https://www.debito.org
APRIL 28, 2006 DEBITO.ORG NEWSLETTER ENDS