mytest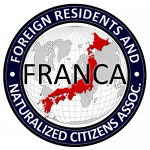 Hi Blog. This marks the 1000th post on the Debito.org blog since it started a little over two years ago, in June 2006.  Long may we run. To celebrate, some good news about the developing documentary called FROM THE SHADOWS, on child abductions after divorce in Japan, and the growing attention being devoted to it (including NHK). Word from David Hearn, one of the directors (along with Matt Antell). Arudou Debito in Sapporo
=======================
A brief update: Matt told me that the filming of Murray Wood in Vancouver went well last weekend.
It was a busy three days and a lot of material was shot. Our volunteer assistants were very helpful.
I joined 5 other panelists at the Oyakonet event today. There are a couple photos below. I talked about my experience growing up to show an example of how custody after divorce was handled in the US.
At one point they asked for a show of hands for how many people were first timers to an Oyakonet event. About half of the crowd of 50 put their hands up.
There was also quite a bit of discussion afterward that the 20 minute segment which appeared on NHK (zenkoku) last Tuesday was well received. Many people also pushed attending the Nichibenren (Japanese Bar Association) event this coming Saturday Nov. 15th.
That's all for now. Warm regards, David Hearn, one director, FROM THE SHADOWS documentary (reachable at ghosty eighty seven [write as numbers, no spaces] AT cablenet DOT ne DOT jp)
This is the video clip from the BBC that has been in the works for a little while now.
http://news.bbc.co.uk/2/hi/asia-pacific/7668654.stm
=======================
REFERENTIAL LINKS:
Filmmakers tackle contentious issue of parents' abduction of children to Japan 
THE JAPAN TIMES, Tuesday, Aug. 26, 2008
https://www.debito.org/?p=1881
Spirited Away: Japan Won't Let Abducted Kids Go
American Parents Have Little Hope of Being Reunited With Children Kidnapped to Japan
By RUSSELL GOLDMAN
ABC News (USA) Feb. 26, 2008
https://www.debito.org/?p=1370
Here's the powerpoint my speech last December 2007 at the upcoming film documentary on this subject, FOR TAKA AND MANA. Glad he's gotten the attention his horrible case deserves. 
More on this issue on Debito.org here.