mytest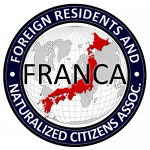 Hi Blog. I'm glad the media is picking this up. People who have been here for decades are being laid off. And instead of getting the representation that shuntou regularly entitles regular Japanese workers, they're resorting to the only thing they have left (save repatriation): Taking it to the streets.
A reliable source told me yesterday that he expects "around 40%" of Brazilian workers to return to Brazil. They shouldn't have to: They've paid their dues, they've paid their taxes, and some will be robbed of their pensions. They (among other workers) have saved Japanese industries, keeping input costs internationally competitive. Yet they're among the first to go. A phenomenon not unique to Japan, but their perpetual temp status (and apparent non-inclusion in "real" unemployment stats, according to some media) is something decryable. Glad they themselves are decrying it and the media is listening. Kyodo article follows, with more on Japan Probe. Arudou Debito in Sapporo
===============================
Brazilian workers protest layoffs
Kyodo/Japan Today Monday 19th January, 06:56 AM JST, Courtesy of AW
http://www.japantoday.com/category/business/view/brazilian-workers-protest-layoffs

TOKYO —Some 200 Brazilian workers on Sunday protested over layoffs by Japanese companies, which are forcing many of them to leave the country despite their community having been integrated in Japan for more than two decades. The demonstrators, who included mothers with their children, marched through the center of the Ginza shopping district, calling for the government's support for stable employment.
The crowd, many holding Brazilian flags, demanded "employment for 320,000" Brazilians in Japan. "We are Brazilians!" they shouted in unison. "Companies must stop using us like disposable labor." Since 1990, Japan has given special working visas to hundreds of thousands of Brazilians of Japanese descent, many of whom have taken up temporary positions as manual laborers in factories.
Amid the global economic downturn, however, many are being laid off and being forced to return to Brazil. They are often overshadowed by the 85,000 Japanese contract workers also said to be losing their jobs by March.
"No matter how hard we worked in Japan, we are being cut off because we are contract laborers," said Midori Tateishi, 38, who came to Japan nearly 20 years ago. "Many of us are totally at a loss with children and a housing loan."
Wire reports
ENDS