mytest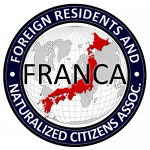 Hi Blog. Here's a mail I got from The Community. Arudou Debito
=============================
This is an email I got through a left mailing list which describes a 'Foreigner Expulsion' demonstration that happened in Saitama, which passed right by the elementary school of the Philipino Calderon family whose case has recently come to national attention.
Apparently a 'kyuuenkai' (support group) has been set up for two people arrested protesting against the demo.
Here is their blog:
http://d.hatena.ne.jp/oidashino/
Here's an example of the debate going on with the rightists.
http://blog.livedoor.jp/the_radical_right/
More on this issue from FG:
http://www.fuckedgaijin.com/forums/showthread.php?t=22775

—– Original Message —–
To: parkfw-info@yahoogroups.jp
Sent: Tuesday, April 14, 2009 10:56 PM
Subject: [parkfw-info][02797] FW:「外国人追い出しデモ」に抗議した2名が逮捕!]
—
取り急ぎ表題の記事を転送します。
—-
2009年4月12日
     「外国人追い出しデモ反対行動」救援会
この追い出しデモに対する抗議行動も行われましたが、
抗議した男性2名が逮捕されたそうです!
詳しくは以下の救援会声明を読んでください。
この救援会の背景には、埼玉県蕨市で4月11日土曜日、蕨市で暮らす外国人を
追い出そうという暴力的なデモが行われたということがあります。
この「追い出しデモ」の主催者(在日特権を許さない市民の会)は、この地域に
住む外国人を「犯罪者」扱いして彼ら彼女らの生活を脅かそうとしています。
特に日本での滞在地位を求めるフィリピン人カルデロン親子を標的に、「不法入
国・不法残留外国人」を追い出せというキャンペーンを行い、一家を個人攻
撃しています。信じられないことに「追い出しデモ」は、カルデロン一家の子ど
もが通っていた小学校、そして現在通っている中学校の前をわざわざ行進ルー
トに入れているのです。
デモの様子の動画です。http://www.youtube.com/user/nandeyanenmou
■□■□■□■□■□■□転送・転載歓迎■□■□■□■□■□■□
救援会声明
4月11日、外国人「追い出しデモ」に抗議した二人の男性が埼玉県警蕨署に
逮捕される事件が起きました。
ひとりは「追い出しデモ」の主催者が掲げていた紙製の横断幕を「盗んだ」容疑で、
もうひとりはそのおよそ3時間後、公務執行妨害容疑での逮捕でした。
彼らの友人として、私たちは両名の救援を呼びかけるとともに、彼らの行動の意義
と逮捕の不当性を訴え、埼玉県警に即時釈放を求めます。
この日、外国人「追い出しデモ」を主催したのは、「在日特権を許さない市民の会」
という右翼団体でした。彼らはこれまであちらこちらで「外国人=犯罪者」という
扇動を続けてきた団体です。彼らはあたり前に地域と関係を作り暮らしている外国
籍の人々を「犯罪者」扱いして、国外への追放を求める活動を続けています。
そのあげく彼らは個人攻撃を開始し、長期に地域に滞在する一家を「追い出せ」と
まで言いだしたのです。
このことをネットなどで知り、当日「在特会」のデモに抗議しようと蕨市外から
駅前に40名ほどの個人が集まりました。それぞれの思いは異なるにしても、
共通していたのは彼らの煽る排外主義への危機感と、弱い立場にある人を標的にし
て攻撃する彼らの卑劣さへの怒りでした。
あろうことかこの日のデモコースには、長期滞在の外国人ご一家のお子さんが通っ
ていた小学校と、現在も通っている中学校が含まれていました。
そこで彼らが「一家を追放せよ」と叫ぶことは、その一家に対してだけでなく、
長期滞在するすべての外国人に対する暴力です。
「特権を許さない」と彼らは言います。
しかし、彼らが攻撃の標的としたのは、もっともこの社会の特権からは遠い外国人
の、しかも子どもです。
彼らの言う「国民大行進」は、そのような卑劣かつ卑怯なデモだったのです。
午後1時から「在特会」は「一家の追放」を叫ぶ集会を駅近くの公園で開始しまし
た。その集会の終わりごろになって、公園の入口に彼らが作成した紙製の横断幕が
運ばれてきたのです。
そこに書かれていたのは「不法入国は犯罪だ。『かわいそう』のペテンにだまされ
るな」という文字でした。蕨に住む家族を明らかに標的としたこの言葉は言葉の名
に値するものではありません。これは地域に住む超過滞在の外国人を攻撃する暴力
なのです。「追い出しデモ」への抗議に参加していた彼が行ったのはこの暴力への
抵抗でした。警察は当初、彼に「任意同行」を求め、彼もそれに応じました。
ところが「在特会」はあろうことか「窃盗」事件として被害届を出し、そのため
彼は「窃盗犯」として逮捕されいまなお蕨署に留置されています。
その後、抗議活動に参加した人々の多くは蕨署に集まり、正規の手続きに則って
逮捕された人への面会を求めました。ところが蕨警察署はバリケードを築き警察官
を配置し、根拠も無く面会を拒みました。それどころか弁護士が身分を提示して
面会を求めても1時間以上にわたって面会を拒否し続けたのです。
そして突如そこに蕨警察署に先導された右翼が登場しました。彼らは抗議活動に参
加した人々に罵声を浴びせかけ、その際に生じた混乱の中で一名が公務執行妨害容
疑で逮捕されたのです。
今回の行動については、参加者の間に充分な意思統一がはかれず、抗議行動を呼び
かけた側の不手際も多々あったようです。抗議行動を呼びかけた側はその点を十分
認識しなければならないと私たちも考えます。
しかし、抗議行動が企図した「在特会」への抗議そのものは正当なものだと私たち
は考えます。彼らの行ったデモは多くの外国籍で暮らす不安定な法的地位の人々を
恐怖にさらす重大な犯罪です。裁かれるべきは彼らです。
一方で、「在特会」が「犯罪者」と叫び排除を求めているのは、この社会で生き、働
き、人々と友情関係を結ぶ人々です。ビザがないことはだれを傷つけているわけでも
誰を侵害しているわけでもないのです。生きることは犯罪ではありません。
私たちは排外主義扇動を終らせることを求めて逮捕された二人をただちに釈放するこ
とを要求します。
2009年4月12日
「外国人追い出しデモ反対行動」救援会
連絡先:oidashihantai@gmail.com
ブログ:http://d.hatena.ne.jp/oidashino/
★カンパの御願い★
2名をいちはやく釈放させるために両名の友人が中心となってボランティアで活動
しています。差し入れ、面会、弁護士の手配などに
お金が必要です。まことに心苦しい限りですが、救援会にカンパを寄せて下さい。
よろしくお願いします。
銀行振込 みずほ銀行 早稲田支店 店番068 普 2223022
タノ シンイチ
ENDS