mytest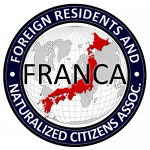 Hi Blog. The Japan Times scoops again. After two articles exposing approaches of the LDP (their slavish obeisance to the policing MOJ, who fed them the law) and the DPJ (who took the LDP's nonsense evidence about policing of foreigners in other countries at face value), Matsutani-san now gets the viewpoint of those bureaucrats who designed the new Gaijin Cards and NJ policing regime. And it ain't pretty. Strikes me as pretty paranoid. Sounds even like they'd police everyone if everyone were in such a weak position in society as foreigners; more on that tomorrow. Meanwhile, it also seems clear that the original proposal has been watered down a bit thanks to public outrage, but there is still no consciousness within the bureaucratic mien of how these laws, once put in the hands of the police, can further encourage racial profiling and targeting (current laws with more lax policing than now already do that, and there are no real safeguards to protect human rights as ever).
Anyway, excerpted below. Have a read. And there are more viewpoints to come. Well done Japan Times. Get your local library to subscribe to it, everyone. Arudou Debito in Sapporo
////////////////////////////////////////
CONTROLS ON FOREIGNERS
Drawing a bead on illegal residents
New law would tighten up oversight of foreigners
Saturday, June 27, 2009
By MINORU MATSUTANI Staff writer
Excerpt follows. Full article at http://search.japantimes.co.jp/cgi-bin/nn20090627f1.html
… "As the current laws stand, it is difficult to grasp the precise situations of foreign residents," Immigration Bureau General Affairs Division official Kazuyuki Motohari told The Japan Times…
Although Lower House lawmakers changed the government's version of the bills and passed a revised one that exerts less control over foreign residents than the original, the bureau will accept what the lawmakers decided, Motohari said.
"There were no corrections that dramatically changed the main idea of our version of the bills," he said.
While the bureau hopes the bills help provide a clearer picture of overstayers, this will not be achieved unless foreigners properly report their status.
Under the new system, it will be difficult for illegal residents to remain illegal because foreigners' personal information will be centralized with the Justice Ministry and punishments for failing to report changes in information will be harsher…
Human rights groups complain that because the justice minister can access foreign residents' personal information with residence ("zairyu") card numbers, which are to be given to every documented foreigner, it is an infringement of privacy. Motohari defended the bureau by saying, "It is not unusual for us to hold information that helps us confirm the identify of foreign residents."

Rest of the article at http://search.japantimes.co.jp/cgi-bin/nn20090627f1.html
ENDS