mytest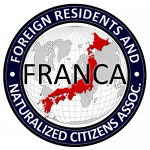 UPDATES ON TWITTER: arudoudebito
Hi Blog. Trying to limit myself to one post per day, and timing is off with Roppongi Piss Issue. Let me post this briefly, then send something later after midnight.
Just heard from Akira today. Our book ("our" meaning friend Akira Higuchi and myself) HANDBOOK FOR NEWCOMER, MIGRANTS, AND IMMIGRANTS (Akashi Shoten Inc.) has just been featured (well, listed, anyway) in this month's "Nihon Gyousei", a national magazine for legal scriveners.
Great news. The book has really come into its own. If you don't have a copy, you really oughta consider getting one. It deals with things you need to know to make a better life in Japan. Debito.org does its best, but the Handbook is one-stop shopping. And if you want to support Debito.org's activities in some financial way, consider purchasing.
More on what's in Handbook and how to get a copy here. (Amazon.co.jp is not the best way, BTW.) Arudou Debito in Sapporo


ENDS