mytest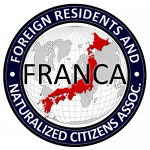 UPDATES ON TWITTER: arudoudebito
Hi Blog. The Japan Times is still at it, getting viewpoints regarding new legislation controlling NJ movements and visas and traceability (which looks like it will pass the Diet) from Dietmembers, bureaucrats, and left-wing opponents. Now we have the view of someone who thinks the laws, which will tighten things in directions Debito.org is not comfortable with, are too lenient! Excerpt follows. Arudou Debito in Sapporo
/////////////////////////////////////////////
The Japan Times Wednesday, July 1, 2009
CONTROLS ON FOREIGNERS
Visa overstayers given too many breaks: rightist
By MINORU MATSUTANI, Staff writer
Fourth in a series
Full article at http://search.japantimes.co.jp/cgi-bin/nn20090701a3.html
…Arikado also takes issue with the humanitarian reasons often cited by the justice minister when granting an illegal foreigner special permission to stay in Japan.
"Some foreigners claim to be political refugees. But in many cases, they just want to work," he said. "Some Japanese died of hunger after they lost their jobs, so is it right to prioritize helping foreigners? Right now, everybody in Japan is losing their spirit as Japanese nationals."…
Arikado cited the case of the Calderon family as an "obvious example" of the government's softness.
Justice Minister Eisuke Mori ordered the undocumented Filipino parents, who entered Japan using someone else's passports, to leave Japan in April. But he allowed their daughter, Noriko, 13, who was born and raised in Japan and speaks only Japanese, to stay.
"Mori established a precedent that children get to stay if illegal foreign parents beg," he said, criticizing the media for overly sympathetic coverage of the family…
Arikado said he has no problem with giving the justice minister a certain amount of discretion in granting special permission to stay, but he wants the minister to prioritize the welfare of Japanese over foreigners.
Despite the faults he finds with the bills, he still praises them for boosting the government's ability to wield greater scrutiny over foreigners. Hopefully, punishment for violating the regulations stipulated in the bills will be more strictly imposed than now, said Arikado, whose day job is as a journalist at the Chuo Tsushin news service.
/////////////////////////////////////////////
EXCERPT ENDS
Full article at http://search.japantimes.co.jp/cgi-bin/nn20090701a3.html