mytest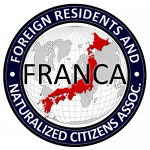 UPDATES ON TWITTER: arudoudebito
Hi Blog.  SCMP reports:
======================
Foreigners fail to see joke over McDonald's dorky-white-guy ad
Julian Ryall in Tokyo
South China Morning Post, August 21, 2009
http://www.scmp.com/portal/site/SCMP/menuitem.2c913216495213d5df646910cba0a0a0/?vgnextoid=9dedf41d04833210VgnVCM100000360a0a0aRCRD&vgnextfmt=teaser&ss=Asia+%26+World&s=News (registration required)
He's white, dorky and speaks mangled Japanese.
Meet Mr James, McDonald's Japan's fictitious white envoy, who has managed to outrage foreigners' rights groups, which labelled him an offensive racial stereotype.
The chain began its "Nippon All Stars" campaign on August 10, fronted by what the Foreign Residents and Naturalised Citizens' Association (Franca) said was an "oddball-looking Caucasian" praising a new line of burgers in pitifully broken Japanese.
With trousers worn high, Mr James' thick-framed glasses and polo-shirt-and-tie combination is unmistakably nerdy. He is travelling around Japan and keeping a blog of the places that he visits. As part of the advertising campaign, people who see him are encouraged to take a photo and send it to McDonald's, with the best one photo winning a 100,000 yen (HK$8,220) prize.
"The idea behind the campaign is that Mr James used to live in Japan as a student, heard about the new McDonald's product and wanted to try it again, so he has come back to travel around the country," spokesman Junichi Kawaminami said.
The actor playing Mr James, whom the company declined to identify or provide contact details for, was until recently in the southern city of Fukuoka.
"McDonald's has obviously put a lot of money into this campaign as there are full-length posters and banners in every restaurant that I see as well as by the side of roads here, and the company is apparently not concerned that they are offending people and hope we continue to buy their burgers," Franca chairman Debito Arudou, a naturalised Japanese born in the United States, said.
"This is untenable in a Japan with ethnic minority residents," he said. "They are being ill-portrayed by this stereotype and their lives may be affected by this careless campaign by one of the world's most influential multinational companies."
McDonald's Japan confirmed that it had received complaints about the campaign and said it was examining the matter. Similar complaints to its US headquarters have been referred back to the Japanese firm.
"What really angers me is that no one involved in the process here thought that anyone would take offence to see a caricature such as this advertising their company," Mr Arudou said. "Can you imagine the outrage there would be in the US or any other country if a restaurant chain used an image of a Japanese man with big, round glasses, buck teeth, geta sandals and a kimono telling people to `buy flied lice, is velly good! "That's the sort of thing that gets embassies and global human rights' groups angry and involved," he said.
ENDS