mytest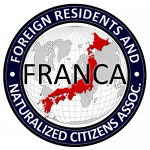 UPDATES ON TWITTER: arudoudebito
Hi Blog.  NPO FRANCA received this morning a response from McDonald's Japan Director of Corporate Relations, a Mr Kawaminami Junichi, regarding our protest letters in English and Japanese on the "Mr James" sales campaign.
I appreciate him taking time to respond, but he toes the line he narrated to various world media stressing the lack of intention to offend, again without discussing any of the possible ill-effects to NJ residents from stereotyping.
He also only answered in English, wish is a bit of a disappointment.  I presume he doesn't want the discussion to expand to the Japanese debate arenas.  Letter follows below.
Meanwhile, I have devoted my next Japan Times JUST BE CAUSE column to the "Mr James" phenomenon and what it might mean, with a historical context.  Out Tuesday, September 1, get a copy!  Arudou Debito in Sapporo
ENDS