mytest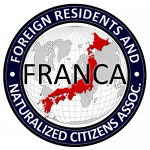 UPDATES ON TWITTER: arudoudebito
Forwarding. Flyer for rally also enclosed. Arudou Debito
Street Rally this Saturday (Oct. 24) on Rights of Children and the Hague Convention
Dear parents, friends, and friends of the media,
In connection with UN Week 2009, and to commemorate the founding on the UN on October 24, a street rally will be held this Saturday to support the Rights of Children, Joint Custody and Visitation, and the Hague Convention.
The rally will begin at 1:30 pm from Shibuya (meeting in front of muscle theatre at 12:30 pm) and will march to Children's Castle in Aoyama. (Please see attached flyer below).
The rally is being collectively organized and supported by numerous organizations, including:
The Group on Joint Custody
Oyako-net
Left Behind Parents Japan
SOS Parents Japan
CRC Japan
Please invite your friends, families and everyone you know to join us for this important event in support of the Rights of Children and the Hague Convention and enjoy the beautiful fall day! Numerous members of media will also be in attendance.
Hope to see many of you this coming Saturday!
Flyer (click to expand in browser):
ENDS