mytest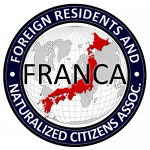 UPDATES ON TWITTER: arudoudebito
Hi Blog. Sakanaka Hidenori, head of the Japan Immigration Policy Institute and author of Nyuukan Senki (his experiences within Japan's Immigration Bureau), has just had his most recent paper translated into English. Debito.org is proud to feature this paper downloadable in full here, with an excerpt immediately below.
Sakanaka-san has written for Debito.org before, and his 2007 work, "A New Framework for Japan's Immigration Policies" can be found here. He has taken great efforts to encourage immigration policy within Japan (his prognosis on "Big Japan vs. Small Japan" is worth considering).
Now for his latest, translated by Kalu Obuka. Excerpt, then full download. Arudou Debito in Sapporo
Towards a Japanese-style Immigration Nation
Japan Immigration Policy Institute
Executive Director SAKANAKA Hidenori
Translated by Kalu Obuka

Contents
1 Policies towards non-Japanese in a shrinking society 9
2 Robots to the rescue? 11
3 Immigrants will save Japan 13
4 Getting revolutionary immigration policies on the political agenda 16
5 Envisioning a Japanese-style immigration policy 20
6 10 million immigrants: A strategy for building a new Japan 24
7 Immigration policies that develop human resources 30
8 Successful policies towards foreign students,
successful policies towards immigration 34
9 Corporate social responsibility 36
10 Revitalising Japanese farmland with 50,000 immigrants 39
11 Multiethnic societies are "spicy" societies 43
12 The demographic crisis: an opportunity to create a multiethnic nation 45
13 The development of social workers for immigrants is essential 49
14 Japanese language education and multiethnic education 51
15 The Japanese can create a multiethnic society 56
16 50 years later: An illustration of an immigrant nation 58
Full 64-page Word file from
https://www.debito.org/sakanakaimmigrationnation2009.doc
Foreword
As the population crisis deepens Japanese youth, perhaps due to increasing uncertainty about the future, are in a state of malaise. I hear that the number of Japanese who choose to study overseas has fallen. Indeed it certainly seems as though the number of young people with an interest in the world has dropped, while the number of those who choose to shut themselves up within Japan's borders has risen. I wonder if in the age of population decline Japan is becoming an insular country.

What can be done to tackle the population crisis and offer hope for a bright future? I believe the answer to that question is to open the doors to immigrants, and entrust our younger generations with the dream of a multiethnic society. This ideal society will stir up the passions of young Japanese. Over several years, my desire to provide a national vision that could captivate young people from Japan, and across the world has culminated in this work. What is presented here is a concept for accepting ten million immigrants over the next fifty years, tackling the problems of our low fertility rate, and rapidly aging population by building a new nation with immigrants.

Should this concept be made a reality, we can expect the cooperation of an additional ten million young people, which ought to significantly ease the burden the aging of our population will place on those under thirty. Immigrants will be thought of as comrades by the birth decline generation, who would be forced to drastically adapt to our population crisis. Immigrants will not simply be brought in to rescue us from population crisis however, they are also the driving force that will change us from a country will high levels of homogeneity to a country rich with diversity.

What I most want to emphasise is that we must create a country that can give dreams to immigrants if we are to revive Japan by opening the doors to immigration. My vision has received support from elites in every field who are concerned about the fate of the nation and society. The Japan Immigration Policy Institute was formed as a base from which the work needed to achieve this vision could be carried out.

We are building a new Japan. Working towards a revolution similar to the Meiji Restoration. In order to be successful, this kind of project requires those in their twenties and thirties to rise to action, like Takasugi Shinsaku and Sakamoto Ryoma did during the Bakumatsu period (1853-1868). I am waiting for a Japanese generation X to open up a path to the future.

This book is an immigrant nation manifesto. It will discuss the process of forming Japanese-style immigration policy, and its future prospects, the synthesis of an immigrant nation, the specific mechanisms through which immigrants will be accepted, and a vision of the Japanese immigration nation of the future.

The people I most want to read this book are the immigrants who will work hand in hand with the younger generation to establish a multiethnic society. Should this booklet succeed in acting as a guiding light to a Japanese nation of immigrants, I would be overjoyed.

August 2009.
Sakanaka Hidenori
Executive Director Japan Immigration Policy Institute.
EXCERPT ENDS
Full 64-page Word file from
https://www.debito.org/sakanakaimmigrationnation2009.doc