mytest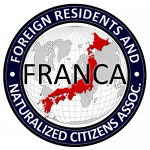 UPDATES ON TWITTER: arudoudebito
Hi Blog.  In probably one of the most embarrassing criminal investigation bungles in recent memory, the prime suspect in the Lindsay Ann Hawker murder case, Ichihashi Tatsuya, is still at large after closing in on three years since he gave the slip to cops who knocked on his apartment door.
Recent reports are that he has probably had cosmetic surgery and has a new face.  Here are the mug shots.
Fuller reports courtesy of Black Tokyo and Japan Probe here, with some TV news reportage:
http://www.blacktokyo.com/?p=4466
http://www.japanprobe.com/2009/11/08/examining-tatsuya-ichihashis-new-face/
What gets me is that he can't be on the lam this long without some sort of financial support.  Rumors abound (from temporary work in construction to doing tricks for the gay community; all apocryphal), but his family denies that they are supporting him.  I find that especially hard to believe now that he's undergone very expensive cosmetic surgery.
Like Ichihashi, keep your eyes peeled, everyone.  Let's get this suspect in jug where he can answer a battery of questions about his whereabouts and motives for the past few years.  Arudou Debito in Sapporo