mytest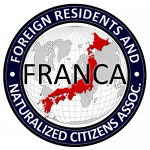 UPDATES ON TWITTER: arudoudebito
Hi Blog.  I had a conversation with Upper House Dietmember Aihara Kumiko (62, from Hokkaido, elected 2007 on Proportional Representation) yesterday.  With a labor union background, she has an eye on a number of human rights issues, including the Nikkei Visa and NJ "Trainee" Programs.
I took the opportunity to ask about a few things that are overdue for NJ resident rights in Japan (which the recent polls on Debito.org cover), namely:
She answered that the DPJ ruling coalition would be submitting the bill for local suffrage in next year's Diet session.
The other three were currently not being considered in any committee or study group at this time.  I asked when they might be, and she didn't know.
Just letting readers of Debito.org know.  Comments douzo.  Arudou Debito in Sapporo