mytest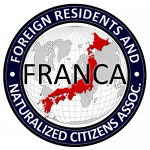 UPDATES ON TWITTER: arudoudebito
DEBITO.ORG PODCASTS now on iTunes, subscribe free
Hi Blog.  Let's look how deep the rot runs.  It's not just human traffickers bringing in NJ on "Entertainer Visas" sponsored by the State.  It's not just factories bringing in NJ on "Trainee and Researcher Visas" to exploit as sweatshop labor — again, sponsored by the State.  It's even now according to the Mainichi article below the Immigration Bureau profiteering, using their power for rents-seeking (in the academic sense) to skim off money again from migrants.
Although not an elixir for all these problems, an Immigration Ministry with clear immigration policies (and not mere policing powers, given how unaccountable the Japanese police are; even below an "internal investigation" has been promised; bah!) would in my view help matters.
The big losers are of course the commodities in these exchanges — people, i.e. the NJ, who are here at the whim, pleasure, and profit of the powers that be.  Sickening.  Arudou Debito in Sapporo
PS:  Note the stats of mizu shoubai workers, ahem, "Entertainers" included below.
////////////////////////////////////////////////////////
Senior immigration officer arrested on suspicion of corruption
(Mainichi Japan) December 5, 2009, courtesy of JK, MS and others
http://mdn.mainichi.jp/mdnnews/news/20091205p2a00m0na010000c.html
A senior immigration officer arrested on suspicion of accepting bribes is believed to have told his briber to set up an office in Kawasaki as a front.
Arrested on suspicion of accepting bribes in return for favors in the screening of residence permits for female bar workers was Masashi Ogura, 54, a chief screening officer at the Narita Airport District Immigration Office. Also arrested on suspicion of bribery was Shingo Ito, 46, the president of a Shibuya company that accommodates overseas entertainers.
Ogura is accused of accepting a total of about 6 million yen from Ito between July 2007 and November this year, while he served in positions at the Yokohama and Narita Airport district immigration offices. Both parties have reportedly admitted to the allegations against them.
Police said that Ito's company had mainly Filipino women come to Japan as dancers and singers and work at a pub that he operated in the Tokyo city of Fuchu. He also introduced them to other restaurants, investigators said. Ogura reportedly used immigration computer terminals to look up the criminal history and immigration logs of the foreign women that Ito was planning to bring to Japan, and leaked the information.
"He (Ogura) silently accepted the fact that there were false details on application forms," Ito was reported as telling investigators.
On Friday police searched about 20 locations in connection with their investigation into the alleged bribery, including the Tokyo Regional Immigration Bureau.
Investigators suspect that Ogura had Ito set up an office under the jurisdiction of the Yokohama District Immigration Office. They said Ito had earlier heard from a man involved in the same type of business that screening at the Yokohama immigration office was lenient, and approached Ogura, treating him to meals and a round of golf.
Ito's company did not have any business facilities under the jurisdiction of the Yokohama immigration office. To obtain residence permits at the office, the company applying must have a business facility under the office's jurisdiction with at least five permanent employees. Ogura reportedly told Ito to get his "appearances in order" and set up an office in Kawasaki. The office had just one desk and no permanent manager.
It's believed that tightened immigration procedures played a part in the pair's actions. In the past, there were many cases in which women entered Japan on entertainment visas but ended up working as bar hostesses, which promoted immigration authorities to tighten screening of the places where they were working in 2005. According to the Justice Ministry, some 135,000 people entered Japan in 2004 as entertainers, but in 2005 the figure dropped to about 100,000 and in 2008 the number sunk to about 35,000.
Masahiro Tauchi, director-general of the Justice Ministry's Immigration Bureau, expressed regret over Ogura's arrest.
"It is extremely disappointing that a worker has been arrested. We will thoroughly carry out an internal investigation and deal with the matter strictly," he said.
Original Japanese story follows:
入管汚職:贈賄側に事務所開設を指示…逮捕の入管職員
毎日新聞 2009年12月4日
http://mainichi.jp/select/jiken/news/20091205k0000m040106000c.html
東京入国管理局の入国審査を巡る汚職事件で、便宜を図った見返りに現金580万円を受け取ったとして逮捕された同局成田空港支局統括審査官の小倉征史容疑者(54)が横浜支局に勤務していた07年当時、贈賄側の業者が川崎市に実態のない事務所を開設していたことが警視庁捜査2課の調べで分かった。同課は、便宜を図るために小倉容疑者が横浜支局管内に開設させたとみている。同課は4日、東京入国管理局(港区)など約20カ所を家宅捜索した。
同課によると、贈賄容疑で逮捕された外国人芸能家招へい会社「パーフェクトインターナショナル」(渋谷区)社長の伊東信悟容疑者(46)は、同業の男性から「横浜支局は審査が緩い」と聞き、07年4月ごろから、ゴルフや飲食の接待で小倉容疑者に接近。事務所開設の相談を持ちかけた。
パ社は横浜支局管内に事務所を持っておらず、同支局で在留資格証明を取るには管内に5人以上の社員が常勤する事務所を構える必要があったが、小倉容疑者は「体裁を整えておけばいい」と助言。川崎市内に開設するよう指示したという。事務所には机が一脚あるだけで、事務局長も常駐していなかった。
また、同課は05年3月に施行された改正省令が事件の背景にあるとみている。以前は外国政府が発行する芸能人資格証明などの書類がそろっていれば在留を許可していた。
しかし、興行ビザで入国しながら飲食店でホステスとして働くケースが相次ぎ、入管が勤務先を調査するなど審査が厳しくなったという。
法務省によると、興行目的の入国は04年は約13万5000人だったが、05年は約10万人、08年には約3万5000人に減少した。
田内正宏・法務省入国管理局長は「職員が逮捕され誠に遺憾。内部調査を徹底し厳正に処分する」とコメントを出した。【酒井祥宏、川崎桂吾】
======================
収賄容疑で東京入管職員を逮捕 在留資格認定で便宜、580万受領
産經新聞 2009.12.4 11:52 Courtesy of MS
http://sankei.jp.msn.com/affairs/crime/091204/crm0912041105003-n1.htm
外国人ダンサーらの在留資格認定で便宜を図る見返りに、現金約580万円を受け取ったなどとして、警視庁捜査2課は4日、収賄の疑いで東京入国管理局成田空港支局統括審査官、小倉征史容疑者(54)=東京都新宿区四谷=、贈賄の疑いで外国人芸能家招聘業「パーフェクトインターナショナル」社長、伊東信悟容疑者(46)=杉並区高井戸東=を逮捕した。同課によると、2人は容疑を認めている。
同課の調べによると、小倉容疑者は平成19年7月下旬から21年11月中旬にかけ、計29回にわたり、フィリピン人ダンサーらの在留資格認定手続きで便宜を図った見返りとして、伊東容疑者から現金計約580万円を受け取った疑いが持たれている。
毎月、20万円ずつの入金を受けていたといい、同課の調べに対し、小倉容疑者は「金はパチンコなどの遊興費に使った」と供述している。
小倉容疑者は18年4月から昨年3月の間、東京入官横浜支局統括審査官を務め、同年4月以降は成田空港支局に異動。外国人の在留資格認定証明書の審査などを担当していた。
小倉容疑者は19年4月ごろ、知人を通じて伊東容疑者と知り合い、通常は1ヶ月かかる証明書発行を早めたり、記載内容が虚偽と知りながら黙認するなどの便宜を図っていた。現金供与以外にも、複数回にわたり飲食やゴルフ接待を受けていたという。